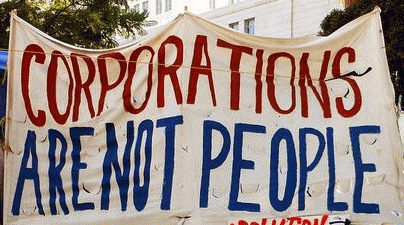 Corporations are Not People

(

Image

by

Eye on Miami

)

Details DMCA



127.

That's the number of years corporations, artificial legal creations of government, have possessed inalienable rights protected by the U.S. Constitution.

The idea that corporations are "persons" with constitutional rights is a radical concept concocted by the Supreme Court based on a fraud 127 years ago -- 124 years before the Citizens United vs FEC Supreme Court decision in 2010. On May 10, 1886, the Santa Clara vs. Southern Pacific Railroad decision established that a railroad corporation possessed equal protection "rights" identical to living human beings under the 14th Amendment of the Constitution. The 14th Amendment was a post-Civil War decision specifically intended to apply to freed slaves.



Santa Clara is often attributed as the pillar of all corporate rights cases, including Citizens United . Yet the Supreme Court never actually concluded that corporations were legal persons. Chief Justice Morrison Waite (from Ohio) said the case settled no constitutional issues. Nevertheless, that exact conclusion was placed by the Court Reporter in the "headnotes," or brief summary, at the beginning of the case. Many members of the Court at the time agreed with the sentiment that corporations were persons but the text itself did not actually address corporate personhood. The case only dealt with taxes on railroad fences.

The fraudulent Santa Clara decision, however, was consecrated in 1889 when the Court cited the case as a precedent for corporate 14th Amendment due process "rights" in Minneapolis & St. Louis Railway Company v. Beckwith.

All subsequent corporate personhood cases over the last 127 years are built on Santa Clara . And there have been many: 1st Amendment free speech "rights," 4th Amendment search and seizure protection "rights," 5th Amendment takings and double jeopardy protection "rights," 6th and 7th Amendment "right" to a jury trial, and others.



That's 127 years of corporations shielding themselves beneath the never-intended protective armor of the Constitution. Corporations grow stronger and more powerful each and every year --- more involved in politics, economics, science, media, education, health care, agriculture, transportation, housing, finance, culture, energy, environment, defense/security and virtually every other realm of our existence.

Corporations are creations of the state, with terms of existence defined by government. Without governments, there would be no corporations. They are not the product of a private contract or arrangement. No one is forced to form a corporation. Since governments make incorporation possible, governments and We the People should possess the authority to define the terms of incorporation. That's how it used to be before the corporate personhood constitutional concoction of 127 years ago.

The 2010 Citizens United decision was where this bizarre concept of corporations possessing inalienable constitutional rights meant to apply solely to human beings all began. It's perfectly logical if one thinks this was the start of the problem to believe that simply reversing the decision via a Constitutional Amendment would end the problem.

It will not.

Reversing Citizens United would reverse some portions of corporate 1st Amendment free speech "rights," but it won't address the many other Bill of Rights (including other types of free speech "rights") and other Constitutional protections that corporations have high jacked for 127 years used to acquire and expand their power and control. They would all remain.

It's essential we understand the entirety of the problem so not to be misled into focusing on only a portion of it. It is why Move to Amend (http://www.movetoamend.org) has declared May 10 as a "Day of Action against Corporate Personhood."

Freeway bannering will take place in dozens of communities across the nation. A complete listing is at https://movetoamend.org/May10

"Corporate personhood" didn't begin, nor will it end, with Citizens United . The anniversary of today is a reminder of that critical democratic lesson.

Move to Amend advocates a more comprehensive solution -- the We the People Amendment (https://movetoamend.org/wethepeopleamendment). This Amendment not only overturns Citizens United, it kicks corporations out of the Constitution entirely -- where they never were to begin with nor intended to be. It also establishes that political money is not equivalent to free speech.

The root of the issue is 127 -- not 3 -- years old. May we be wise enough to embrace a solution that corrects this very old, not very new, problem.