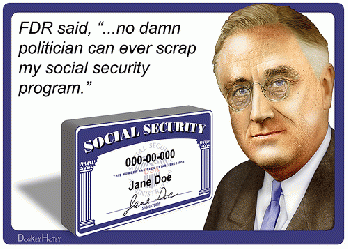 FDR on Social Security

(

Image

by

DonkeyHotey

)

Details DMCA
Heading Toward Tax Victory, Republicans Eye Next Step: Cut Spending - The New York Times
Republicans are preparing to use the swelling deficits made worse by the package as a rationale to pursue their long-held vision: undoing the entitlements of the New Deal and Great Society, leaving government leaner and the safety net skimpier for millions of Americans.
Speaker Paul D. Ryan and other Republicans are beginning to express their big dreams publicly, vowing that next year they will move on to changes in Medicare and Social Security. President Trump told a Missouri rally last week, "We're going to go into welfare reform."
Their nearly $1.5 trillion package of tax cuts...