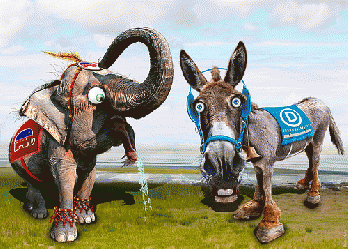 Both parties are hobbled by infighting and incompetence. Only one keeps winning elections.
(
Image
by
DonkeyHotey
)
Details
DMCA
Optimism in a new brand of democracy, a vibrant explosion of commitment and overtime involvement that is changing things from the bottom up, fueled by the youth and energy of millennials among others, is evident and contagious in this interview of author Lee Drutman.
His newly published "Breaking the Two-Party Doom Loop" advocates for a multiparty system that "allows for greater fuildity, actual compromise and more accurate representation of voters."
The interviewer, David Daley, author of the forthcoming (March 17)"Unrigged: How Americans Are Battling Back to Save Democracy," shares and illustrates this optimism in his highly readable volume filled with inspiring anecdotal accounts.