Articles Listed By Date List By Popularity
Page 1 of 6 First Back Next 2 3 4 5 6 View All
Tuesday, July 26, 2016 (1 comments)









Is The Trans-Pacific Partnership Obama's Vietnam? It's hard to see how we gain credibility by pushing a bad trade deal that was designed to serve the interests of our largest corporations. If we want a new trade deal with these and other countries, it would be better to go back to the drawing board and start from scratch. If President Obama can't sell the TPP based on its economic merits, then it would be best to let it quietly die.
Thursday, July 21, 2016









Brexit, Austerity and the Future of the European Union The euro zone countries could take advantage of the low borrowing costs to build up their infrastructure, pay for energy conservation measures and/or clean energy, and improve their education and health care systems. This policy would both boost the economy in the short-run and increase productivity and output in the long-run.
Tuesday, July 19, 2016 (1 comments)









Is Donald Trump Serious About Trade, Or Anything? If Trump thinks this is a story of beating up China he has missed the boat. It's a story first and foremost of beating up the U.S. corporations that profit from the trade deficit with China. And, it means telling a lot of other companies that their concerns are going to take a back seat in negotiations with China, since our priority is getting the trade deficit down.
Tuesday, July 5, 2016 (3 comments)









Bill Gates to Fund Huge XPrize to End Austerity in Europe If Gates really did want to help the world, it's hard to envision a better use of $1 billion or so of his money than to post this sort of prize, especially at a time when needless austerity is threatening the survival of the European Union. In the wake of the Brexit vote, we may need an XPrize winner to keep the European Union alive.
Wednesday, June 29, 2016 (2 comments)









Full Employment And The Democratic Platform: Hillary Can Fix What Bill Broke We will not get back the 4.4 million manufacturing jobs we've lost since Bill Clinton took office, but a smaller trade deficit could get back 1-2 million, and that would make a noticeable difference in the labor market. It would be a big step forward if Hillary reversed a mistake made by Bill Clinton and reaffirmed the Democratic Party's commitment to full employment.
Monday, June 27, 2016









In the Wake of Brexit Will the EU Finally Turn Away From Austerity? The UK is hardly the only country where much of the public is unhappy with the EU. If the UK can engineer a relatively painless departure, then other countries may wish to follow its lead. From this vantage point, punishment is important since it will show the rest of Europe that leaving the EU really hurts. If the EU goes tit for tat and tries to punish Britain, Brexit will be the first round of a very unhappy story.
Sunday, June 26, 2016 (6 comments)









Elizabeth Warren Should Stay in the Senate Remaining in the Senate would provide the best platform for Elizabeth Warren to advance a progressive agenda during a Clinton administration. The inalterable reality is that her agenda is fundamentally different from the agenda Clinton will want to pursue, and no president is going to give their vice president a blank check to sabotage their agenda.
Tuesday, June 21, 2016 (11 comments)









The Secret To The Incredible Wealth Of Bill Gates We have pushed the case for patent and copyright protection overseas, making it a top priority in trade deals like the Trans-Pacific Partnership (TPP). Instead of using our economic and political power to push for things like labor rights or a better environment, we have demanded that other countries pay Disney more for its movies and Pfizer more for its drugs.
Tuesday, June 7, 2016 (1 comments)









Weak Job Numbers Will Delay Fed Rate Hikes The economy and the labor market is still very far from normal, as the May jobs report reminded us. It doesn't make sense to have an interest rate policy that is consistent with a normal economy at a time when the economy is still badly in need of stimulus and remains far below its potential level of output.
Wednesday, June 1, 2016 (6 comments)









The Elites and the Rise of Donald Trump There is no excuse for supporting a racist, sexist, xenophobic buffoon like Donald Trump. But we should be clear; the workers who turn to him do have real grievances. The system has been rigged against them. And it is a bit hypocritical of those who have benefited from this rigging to be mocking the poor judgment of its victims.
Wednesday, May 25, 2016









Getting High On Interest Rates: What's New at the Fed If the Fed deliberately weakens the labor market at the first hint of wage acceleration, it will be locking in place this redistribution from workers to corporations. This is money going from ordinary workers to those who own large amounts of stock, as well as CEOs and other top executives. People who get hit hardest by high unemployment are those at the bottom of the income ladder.
Tuesday, May 17, 2016 (1 comments)









Can Donald Trump Teach Us About the National Debt? If we don't change the interest burden, why would anyone care that we lowered the notional value of the debt? The answer is that Washington debates on budget and economic policy are chock full of people who care hugely about the notional debt. Anyone who tries to evaluate generational equity by the size of our national debt is clearly clueless and should be laughed off the stage more quickly than Donald Trump.
Tuesday, May 10, 2016









Will the Unfair TPP Turn Silicon Valley Into Detroit? The TPP can accurately be described as a pinata, that is chock full of special deals for the corporate interests who negotiated it. It will likely do more to impede trade than promote it, and in the process it creates rules that potentially override democratic decision-making at all levels of government. In reality, it's about advancing corporate interests and free trade has nothing to do with it.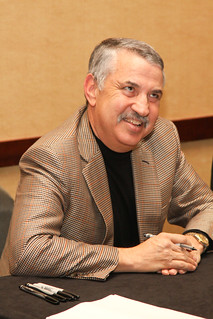 Wednesday, May 4, 2016 (5 comments)









Thomas Friedman's Grand Bargain Scheme: Lie About the Folks You Disagree With As Friedman reminds us, a big part of the Grand Bargain was cutting Social Security and Medicare. Is it really true, that in a world where few workers now have traditional pensions and most are not able to accumulate substantial sums in 401(k)s or other savings, Social Security is too generous? The vast majority of the public does not hold this view. On what basis has Thomas Friedman decided it is true?
Saturday, April 30, 2016









Big Business and the Overtime Rule: Irrational Complaints Business lobbyists have complained that Obama's new regulations will hurt business, costing jobs and leading to higher prices. In actuality, in each case, Obama is simply implementing common-sense reforms that should have been in place long ago.
Monday, April 18, 2016









Summing Up the Clinton-Sanders Policy Debate in One Line the single Medicaid mother as victim is a silly scare story being passed off as serious policy expertise. It isn't, and the fact that serious policy wonks are trying to sell it as such is exposing more about them than Senator Sanders' proposal to move to single-payer.
Wednesday, April 13, 2016









Will ObamaCare End "Job Lock"? The Center for Economic and Policy Research analyzed the rise in part-time employment in the first year after the ACA took effect and found that the increase was largest among young parents. This suggests that many parents are choosing to spend more time with their kids now that they have the option to buy healthcare insurance on the exchanges.
Monday, April 11, 2016 (1 comments)









From DC's Deficit Panic to Flint's Poisoned Water Since the crash in 2008, we have needlessly foregone more than $7 trillion in potential output. Millions of people have been kept out of work, with their children thereby growing up in families that were in or near poverty levels. We also have the stories like the children in Flint exposed to lead, all because Milbank and his friends want to whine about budget deficits.
Thursday, April 7, 2016









DC Press Corps Spins Itself Silly Over Sanders' Specifics When asked how he would break up the big banks, Sanders said he would leave that up to the banks. That's exactly the right answer. The government doesn't know the most efficient way to break up JP Morgan; JP Morgan does. If the point is to downsize the banks, the way to do it is to give them a size cap and let them figure out the best way to reconfigure themselves to get under it.
Tuesday, April 5, 2016 (2 comments)









A Trade Deal for the 21st Century: An Alternative to the TPP The major media outlets are doing their full court press to lay the groundwork for the passage of the Trans-Pacific Partnership (TPP). In recent weeks the news and opinion pages have been filled with articles and columns on the wonders of trade and why all good people should support trade deals like the TPP.
Thursday, March 31, 2016 (1 comments)









The reign of the robots: economists getting it badly wrong The story of the rising robots should mean that we are seeing a rapid increase in the amount of output per hour of work. The logic is that the robots are doing work that humans used to do, so we have more output for every hour of human labor. In fact, we are seeing the exact opposite. The rate of productivity growth, which measures output per hour of work, has slowed sharply in recent years.
Tuesday, March 29, 2016 (1 comments)









Think Trump's 45 Percent Tariffs Are Bad? Try Obama's 10,000 Percent Tariffs The Obama administration is pushing for stronger and longer patent and related protections in the TPP and other trade deals. Unfortunately most media outlets are perfectly happy with protectionism when the main beneficiaries are drug companies. It is only when someone proposes protectionist measures with the idea that they could help ordinary workers that they get upset.
Monday, March 21, 2016 (1 comments)









Is the "Gig Economy" Here to Stay? The gig economy operates over the Internet and involves workers in a wider range of occupations, some relatively skilled. However, just as some day-labor companies hope to profit by evading regulations and cheating workers, many gig economy companies hope to legally skirt labor laws that apply to other employers.
Monday, March 21, 2016









NYT Promotes Study by Private Pension Company That Says Not to Trust Public Pensions Economist Dean Baker shows why this is bunk and scare tactics. The only thing he got wrong is that even Detroit was not broke either, as I showed in my article "Detroit is Not Broke!" a couple of years ago. But the main point remains: corporate-bank funded studies are designed to make you distrust government & put your retirement savings in "trusty" big banks instead.
Friday, March 18, 2016









How to Fight Poverty Through Full Employment Although full employment is not the complete solution to poverty, reaching it would go a long way. It should also be an area of bipartisan agreement. After all, conservatives are supposed to like the idea of people working hard to lift themselves up. But they can only work hard if jobs are available, and they can only lift themselves up if their wages are just.
Tuesday, March 1, 2016 (5 comments)









We Poisoned Kids in Flint to Keep Their Parents From Having Jobs when we ask why the federal government could not ensure that the people of Flint, Michigan had safe drinking water, or address the enormous infrastructure needs around the country, the answer is that our politicians didn't want more people to have jobs. That's a great reason for poisoning kids.
Sunday, February 28, 2016









The Trans-Pacific Partnership and Team Pfizer Obama and other proponents of the TPP speak of the stronger and longer patent and copyright rules in the deal as though these are provisions that offer benefits for the country as a whole. The reality is 180 degrees in the opposite direction. These protections offer benefits to the executives of these companies and to their shareholders, but they are likely to mean fewer jobs and lower income for the rest of the country.
Thursday, February 18, 2016 (23 comments)









NYT Invents Left-Leaning Economists to Attack Bernie Sanders Whatever standard of scrutiny the NYT chooses to apply to presidential candidates it should apply them equally. It is not good reporting to apply one standard to Senator Sanders, and even inventing credentials to press its points, and then apply lesser standards to the other candidates.
Tuesday, February 16, 2016 (1 comments)









Bernie Sanders, Hillary Clinton, and the Money Suppose Bernie Sanders had spent four years in President Obama's cabinet during which time he did everything he could to try to break up the big banks and have corporate criminals put behind bars. Does anyone believe Goldman Sachs would pay him $250,000 to recount his experiences?
Thursday, February 4, 2016 (4 comments)









New Yorker Shooting Blindly at Bernie Sanders we are seeing endless shots at Sanders' plans for financial reform, healthcare reform and expanding Social Security. Many of these pieces raise perfectly reasonable questions, both about Sanders' goals and his route for achieving them. But there are also many pieces that just shoot blindly. The view of many in the media is that Sanders is a fringe candidate. The New Yorker is clearly in this attack mode.
Tuesday, February 2, 2016 (4 comments)









If Bill Gates Turned to Philanthropy: Publicly Funded Clinical Drug Trials There are serious questions about the industry's actual research spending. Much money goes to marketing, since the industry has enormous incentive to promote the sale of a drug selling for 300 times the cost of production. So, will any philanthropic types among the wealthy step for a free market and better health care system?
Thursday, January 28, 2016 (2 comments)









Washington Post's Wild Swings at Sanders The Washington Post tells you to disbelieve in Bernie Sanders' "future to believe in."
Tuesday, January 26, 2016 (1 comments)









Mission Possible: Breaking Up the Big Banks and Universal Medicare Senator Bernie Sanders is getting a lot of heat from political establishment types for proposals they view as outlandish. The top of the list is breaking up the big banks and universal Medicare. The complaint is that these proposals are so far off the political agenda, Sanders is wasting everyone's time by raising them.
Tuesday, January 19, 2016 (2 comments)









Wall Street Rocks! As economic theory tells us, the remedy for weak demand is more demand. The quickest way to get more demand is to have the government spend money on things like infrastructure, clean energy, education, health care and all sorts of other goodies. That would create jobs today and make the economy stronger in the future.
Wednesday, January 6, 2016









Making America safer for predatory capitalism In today's economy, getting rich does not necessarily require better serving your customers. A series by the New York Times on arbitration clauses in contracts shows that one of the best ways to make money is to find ways to rip off your customers. The point of these arbitration clauses is to take away the right of consumers to bring class action lawsuits against improper practices.
Friday, January 1, 2016 (6 comments)









Why Your Retirement Prospects are Bleaker Than Ever It's increasingly obvious that there's a major hole in the retirement system, and that the government can help fill it. That's why President Obama asked the Treasury Department to set up a new low-cost, low-maintenance savings plan for workers -- called myRA for "my retirement account."
Tuesday, December 22, 2015 (13 comments)









The Federal Reserve Board and the Presidential Candidates If the presidential candidates have not incorporated the Fed's reactions into their economic plans, then they really don't know what they are talking about. They will have no hope of boosting growth if they have a Fed determined to prevent the economy from creating more jobs.
Monday, December 21, 2015 (8 comments)









The Fed's premature rate hike The prospect of higher interest rates in the United States and economic weakness elsewhere has caused the dollar to rise against most other currencies. This makes our goods and services less competitive in the world economy. The Fed should be much more concerned about the economy's continuing weakness than the prospect its strength will lead to spiraling inflation.
Sunday, December 13, 2015 (5 comments)









Hillary Clinton, Bernie Sanders, and Cracking Down on Wall Street Sanders FTT would almost certainly do more to change behavior on Wall Street then everything that Clinton has proposed taken together by a rather large margin. It's sort of like evaluating the New England Patriots' Super Bowl prospects without discussing their quarterback.
Tuesday, December 8, 2015









Republicans attempt to weaken consumer financial protections If the Republicans want to have a public debate on allowing the financial industry to pursue deceptive practices, they can do that with freestanding bills. When Obama vetoes the bills, they will have the ammunition they need to make this issue play a central role in the 2016 elections. Then the public will get to decide.
Monday, November 30, 2015 (1 comments)









Economic Weakness No Excuse for Inaction on Global Warming If governments commit themselves to rapidly transitioning to clean energy sources for electricity, to retrofitting homes and businesses to reduce energy use, and to promote mass transit and/or electric cars, they can collectively generate trillions of dollars of additional demand and employ millions of workers who would otherwise be unemployed.
Tuesday, November 17, 2015 (1 comments)









President Obama's Forum: High Theater on High Drug Prices The Obama administration is sponsoring a forum this week on the problem of high drug prices. Publicly funded clinical trials would be the sort of item that would be on the agenda at serious discussion of high drug prices. Unfortunately, innovative alternatives to patent-supported research are not likely to be discussed at the Obama administration's show this week.
Tuesday, November 10, 2015









The TPP's Children's Table: Labor Rights and Currency Proponents of the TPP are hoping that the rest of us will be happy that we got seats at the children's table. We will be hearing much about this table as they push to have the deal approved. But it's long past time that the rest of us be treated like adults. Trade and investment policy does not have to be designed to make the rich richer.
Monday, November 9, 2015









Economic myths are a bipartisan affair Since we can identify a monster myth for both parties, we should have the basis for a deal. Suppose the Republicans agree to stop touting tax cuts as a way to send growth soaring and the Democrats agree to stop saying that Clinton's balanced budgets gave us the economic boom of the late 1990s. It will lead to a much more honest debate on economic policy.
Friday, October 30, 2015









David Brooks Praises Marco Rubio for Pushing 20-Year-Old Ideas on Welfare Reform Brooks' characterization of Speaker Ryan as a forward looking moderate is questionable. He has repeatedly advocated extreme positions that are far outside of the mainstream of both parties. He has called for privatizing Social Security and Medicare and shutting down the non-military portion of the government by the middle of the century.
Monday, October 26, 2015 (1 comments)









Monopoly patent protections endanger middle class jobs We used to have all these relatively high-paying jobs in manufacturing and other sectors requiring routinized work, which are now being displaced by machines or, in the near future, robots. Pretty soon robots will also be driving our cars, buses and trucks, as the technology for self-driving vehicles becomes cost efficient.
Thursday, October 22, 2015 (1 comments)









Paul Ryan Wants to Shut Down the Government, Permanently In addition to wanting to privatize both Social Security and Medicare, Ryan has indicated that he essentially wants to shut down the federal government in the sense of taking away all of the money for the non-military portion of the budget.
Monday, October 19, 2015









George Will, Bernie Sanders, Freedom and Income Inequality We have to try to create a situation in which a single-parent can provide a comfortable upbringing to their children. This means child care, paid sick days and family leave, and decent wages. But that may require some government interventions of the sort advocated by Bernie Sanders.
Tuesday, October 13, 2015









Getting the Export-Import Bank to Pay Dividends If we have to give handouts to big corporations it seems reasonable to put some conditions on the cash. After all, we put all sorts of conditions on TANF benefits of $500 a month, it seems reasonable to ask something of the companies that get tens of millions of loan subsidies through the Ex-Im Bank. This should be a great opportunity to see where people really stand.
Tuesday, October 6, 2015









Why is Donald Trump's tax plan ridiculed but the TPP deal gets a pass? The Obama administration opted not to include currency values in the deal. The lack of interest in currency rules says pretty much everything we need to know about the TPP. It was a deal done for corporate interests over the heads of the American people. Now we get to see how our representatives in Congress will respond on the final vote, in an election year.
Saturday, October 3, 2015 (6 comments)









Washington Post Won't Let Journalistic Integrity Stand in the Way of Scaring You Away From Sanders The Washington Post's difficulties in separating its news and opinion pages showed up again in a piece by David Fahrenthold that warned the public against Sen. Bernie Sanders' agenda in his presidential campaign. We get it. The Washington Post really does not like Bernie Sanders, and is willing to ignore standards of journalistic integrity to try to undermine his campaign.
Wednesday, September 16, 2015 (13 comments)









Lehman Day: Making Fun of the Second Great Depression Crowd Rather than acknowledge that they made a colossal blunder, it's much better to build up the myth that it's all so complicated. And, if we didn't give Wall Street everything it wanted, we would be subject to the curse of the second Great Depression (SGD).
Wednesday, September 16, 2015 (1 comments)









Biggest lesson from financial crisis: Wall Street gets what it wants The story of the decade of double-digit unemployment from which we were supposedly spared by the bailout depends on Congress sitting on its hands and doing nothing through the worst slump in 70 years. This is a political prediction, not an issue of economics. And it is a political prediction that has absolutely zero basis in modern history.
Tuesday, September 8, 2015









Labor Unions: The Folks Who Gave You the Weekend In the last several years many state and local governments have raised their minimum wage, even as the Republican Congress has stymied any efforts at the national level. In every case where a higher minimum wage has approved, either by a legislature or through a referendum, the support of the labor movement has been essential.
Monday, August 31, 2015









China stock panic could pop housing bubbles China is going through a transition from growth led by investment and exports to growth led by domestic consumption. The stock market run-up helped this transition as people increased their consumption based on bubble-generated wealth. The plunge in prices will hurt this process, but note that stock prices are still almost double their level of last summer.
Tuesday, August 25, 2015 (2 comments)









The Stock Market Is Not the Economy The stock market is not the economy. The stock market has fluctuations all the time that have nothing to do with the real economy. The most famous was the 1987 crash, which did not correspond to any real-world bad event that anyone could identify.
Wednesday, August 19, 2015 (1 comments)









Loss of Manufacturing Jobs Isn't "Tectonic" -- It's a Policy Choice We have at least acquiesced in, if not actively supported, policies that have led to a seriously over-valued dollar. The result of these policies is a large and persistent trade deficit, which puts further downward pressure on the wages of those workers who have been most exposed to international competition.
Saturday, August 15, 2015 (6 comments)









Is There Anything Progressive About Hillary's Economic Plan? It is still early in the campaign and we need many more specifics, but Secretary Clinton's proposals to date do not appear to be an effective way to advance her stated agenda. Most of the candidates from both parties are pledging to help the middle class. Presumably the winner will be the person who does the best sales job in this area. Hopefully, the sales pitch will be grounded in economic reality.
Tuesday, August 11, 2015 (2 comments)









Disciplining Corporate Directors: The Real Culprits in CEO Pay The most obvious story is that there is no effective check on CEO pay. While most workers have bosses who don't want to pay them a nickel more than they have to, CEOs don't live in that world. The pay of CEOs is determined by corporate directors who decide their compensation package.
Friday, August 7, 2015









Explaining Donald Trump's Rise With Economic Misinformation It is not just non-college grads who have struggled since the turn of the century. Most college grads have seen little or no wage gains since then. The data clearly show that most people have been seeing little or none of the gains from economic growth over the last decade, not just people on the bottom.