jboone86@gmail.com
SHARE



Jeb Boone (View How Many People Read This)

I have 1 fans:

Become a Fan.
You'll get emails whenever I post articles on OpEdNews
Jeb Boone is a freelance journalist based in Sana'a, Yemen. He regularly contributes to the Sunday Telegraph, the Independent, the Guardian's Comment is Free and Global Post. Boone is also the managing editor of the Yemen Times.
OpEdNews Member for 513 week(s) and 1 day(s)
7 Articles, 0 Quick Links, 4 Comments, 0 Diaries, 0 Polls
Articles Listed By Date
List By Popularity
SHARE

Friday, April 8, 2011
Saleh rejects GCC mediation, scrambles to maintain control over Yemen
Yemen's embattled president Ali Abdullah Saleh rejects offers of mediation for a peaceful transfer of power as tribes liberate territory across the rural country.
SHARE

Sunday, February 20, 2011
In Yemen, regionalism may force civil war, not revolution
Yemen's southern secessionist movement and northern Houthi rebellion threaten to force the country into a civil war should protests continue to grow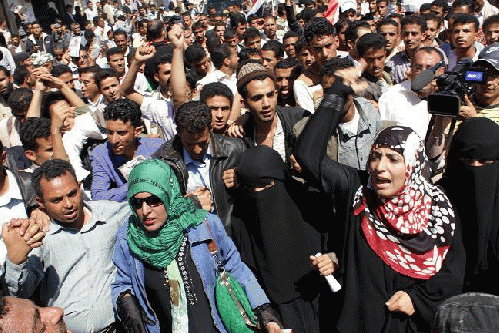 SHARE

Tuesday, February 15, 2011
Yemeni Police Clash with Protesters
Thousands of grassroots anti-government protesters were attacked by soldiers in riot gear following a 2 mile long march calling for Yemen president Ali Abdullah Salih to resign from office.
(1 comments) SHARE

Saturday, February 12, 2011
Yemen opposition strongman involves tribe, violence in politics
Yemen's opposition strongman, Hamid al-Ahmar, brings tribe and violence into the political debate. In Yemen, tribal and national politics are often inseparable.
(4 comments) SHARE

Friday, February 4, 2011
Anonymous, Wikileaks joins Yemen's "Day of Rage"
The face of global change, Anonymous and Wikileaks, assist protesters in their efforts to oust the Saleh regime in Yemen.
SHARE

Thursday, February 3, 2011
Yemen's Day of Rage ends in a whimper
Protesters across Yemen's capital city of Sana'a begin filing out as lunchtime approaches, the traditional time to buy qat.
(6 comments) SHARE

Sunday, January 30, 2011
Yemen protests lack grassroots base
As the rest of the Middle East is experience true grassroots pushes for change, Yemen's demonstrations are led by the government's Islamist political opposition.