tearyeyedamerican@yahoo.com
SHARE



Teary Eyed American (View How Many People Read This)


Become a Fan.
You'll get emails whenever I post articles on OpEdNews
I am an American woman with more years than I care to count. Until the shrub (bush) came along and started destroying my country I was not much involved in political retoric. Yet, blinding myself to the obvious evils being perpetrated by "our leader" was no longer possible. To do so is tantamount to commiting the crimes myself.
Speak out against evil least you become evil.
blog.360.yahoo.com/blog/;_ylt=AiifLQLejX3PTSTLyfj7gCO
OpEdNews Member for 780 week(s) and 5 day(s)
2 Articles, 0 Quick Links, 0 Comments, 0 Diaries, 0 Polls
Articles Listed By Date
List By Popularity
SHARE

Friday, May 12, 2006
The Bronze Rat
Political Humor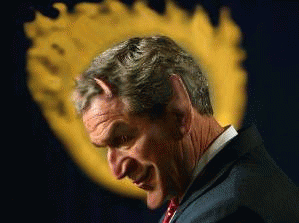 SHARE

Sunday, May 7, 2006
A MAN OF DEATH
poem, with graphic