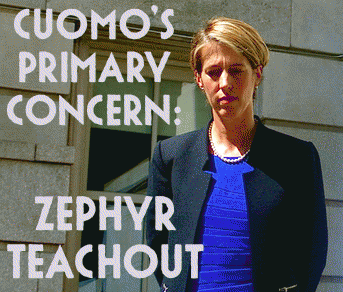 Can Zephyr Teachout break out of obscurity in time?
(
Image
by
Michael Gareth Johnson
)
Details
DMCA
>THE SET UP: Governor Andrew Cuomo's is now
not talking
to the public, lawyering up for the Moreland Commission scandal that may test the loyalty of the governor's staff.
Cuomo acknowledged he was dipping into his $35 million war chest to hire a private criminal attorney:
"The U.S. attorney in New York City is now looking into the operation of the commission and I think that should be respected and I don't think public dialogue on the matter is helpful right now and we'll let him do his work"
Cuomo's use of campaign funds to respond to the probe strikes a defiant chord against Democratic sponsors of
a bill working through the NY legislature
now which would ban use of campaign cash for private counsel representing state workers.
THE CONTENDER: Counting down to primary day, Cuomo is facing even more "wind power" from the left, in Fordham Law Professor
Zephyr Teachout
who looks to "drive a truck through the opening" the Moreland scandal has presented.
Teachout's campaign announced at an education-themed rally
Tuesday
in Ossining that she had just been endorsed by Diane Ravitch. Speaking out with Teachout at the rally was Long Island principal Carol Burris, frequent Washington Post contributor who helped organize a third of
NY state's principals
in protest of high stakes tests in 2011 alongside thousands of NY teachers.
Burris
railed against Cuomo's ongoing commitment to high stakes tests and wasteful contracts for donors such as Pearson despite wide-ranging outcry and recent no-confidence votes by major teaching unions. Ms. Teachout spoke about Cuomo's cuts to baseline funding for education, but also focused sharply on Cuomo's bogus promise to investigate corruption.
MORE & MORE MORELAND: In question are overtures made by Cuomo aide Larry Schwartz to have subpoenas rescinded. Since US Attorney Preet Bharara began the probe, Cuomo has admitted to the contact, also acknowledging that Mr. Schwartz made known his desire to see a subpoena "pulled back".
Ms. Teachout's call to NY Attorney General Eric Schneiderman for a state-led investigation has gone unanswered. Teachout's running mate Columbia Law School professor Tim Wu
suggested
that any attempt to influence Moreland subpoenas is a violation of multiple state laws, urging NY State Comptroller Tom DiNapoli to refer the matter to the state Attorney General:
"When you had the Chris Christie bridge-closure email disclosures, there were no less than three or four investigations immediately launched," he said. "And in New York State I think the contrast is really stark...there's silence from all the statewide officers and the Assembly and the Senate..."
Ms. Teachout echoed this, describing how this would have exploded into headlines were President Obama to have acted similarly. Media coverage of the investigation has been notably left-leaning, hitting the radar of MSNBC and Jon Stewart early - but the situation took on more gravity after the
damning NY Times scoop
revealed detailed accounts of potential witness tampering, prompting Bharara to publicly caution Cuomo about leaning on others.
A week earlier, MSNBC's Chris Hayes wondered aloud if Governor Christie's abandonment of Republican gubernatorial candidate Rob Astorino meant Christie is in cahoots with Cuomo. Christie's own Bridgegate scandal has sparked fresh questions about Cuomo's involvement and fresh debate over an unpopular 2013 two-state toll hike.
CUOMO CARES: It's become a laugh line that Cuomo's campaign was
caught planting fake protesters
at Teachout-Wu events, and his "frivolous" challenge to her state residency status eating through taxpayer dollars could be an even bigger backfire (she posted
Cuomo's subpoena
on Scribd this morning).
Going further, Cuomo backers from Rockland County
challenged
Teachout's petitions, even though she submitted three times the amount required to be on the ballot. Republican Rob Astorino only wishes Cuomo would devote as much time to him.
The governor's last-minute win over Teachout for the nomination of the Working Families Party emboldened Teachout to turn to Democrats disillusioned by Cuomo's weakness on fracking, public campaign financing, gerrymandering, his poor record on education and refusal to take on the 1%.
Tellingly, Cuomo sought to bolster female support as Teachout's candidacy began making ripples. His pick of upstate moderate Kathy Hochul as running mate for Lieutenant Governor was yet another move to the right, but the governor also supported
Hochul's creation of
a new "Women's Equality" ballot line.
This diss to county-level Democrats punctuates Cuomo's years-long failure to secure control for his own party in the closely-divided state Senate, using a power-sharing pact between Republicans and four breakaway Democrats to block a majority (Cuomo has been accepting millions from Republican donors). The new ballot line is also a betrayal of the Working Family's Party who just nominated him.
ZEPHYR WHO? Teachout's main hurdle at the moment is lack of name recognition, but media coverage vs. non-coverage is fast becoming part of the story in the race. The timing of Cuomo's dropping favorability in polls with Teachout's ascent onto the ballot is becoming a larger and larger elephant in state newsrooms.
This might get messy, because one of Teachout's areas of expertise is the Citizen's United ruling and it's effect on major TV and radio networks who stand to benefit from the billions extra spent following the decision.
Bill Moyers hosted
Ms. Teachout on PBS
after the Supreme Court made the consequential ruling in January 2010, a part of her argument actually being cited in the dissent of the ruling issued by Justice John Paul Stevens. Cuomo by contrast, has raked in over $6 million from corporations after twice promising to close
a glaring loophole that allows unlimited contributions
from LLC corporations.
Ms. Teachout also co-founded
A New Way Forward
in 2009 to combat the confluence of banks and government while then-Attorney General Andrew Cuomo sat by idle, unable to arrest a soul after Wall Street's legal and illegal extremes had just plunged the global economy into chaos.
Ms. Teachout is uniquely qualified to speak about government transparency, as the founding national director of the
Sunlight Foundation
a watchdog group that pressures elected officials to make public their dealings, for example revealing who they are meeting on taxpayer time. So the Governor is declining a primary debate with Teachout who could expound on the wonkier points of corporate-government complicity within a runaway campaign finance landscape, making Cuomo Exhibit A in a civics lesson on pay-for-play and Albany at it's backroom worst.
#MEDIA4CUOMO: So when will Cuomo's "I did not have sex with that woman" moment come? The fact that we haven't seen Cuomo asked directly whether he ordered the Moreland tampering shows an
all-too timid
state press corps, playing their part as Cuomo stonewalls. The
WSJ reported
that Cuomo is claiming the commission ultimately was independent of his administration's influence because they reinstated the subpoenas about a week after rescinded them. You might notice that this doesn't address the original question...
Even less plausible was Cuomo's claim that the commission was a rousing success, aborted nine months into the eighteen month period Cuomo first announced, and just after it began investigating sweetheart tax abatements given to Cuomo donors.
It remains to be seen how state Democratic voters will react as these stories converge, but the Teachout/Wu campaign certainly needs a lot of exposure in a short period of time. Either way, August will be far less boring than expected.