Today, October 30, 2013, which is appropriately Halloween here in the US, the weekly Italian magazine, Panorama , reported that the NSA has been spying not only on the Pope, but the entire Vatican. The NSA of course has denied this allegation -- much as they denied spying on millions of Americans in sworn testimony before Congress earlier this year. This comes on the heels of reports that the NSA has spied on 35 world leaders including Germany's Angela Merkel. There are also reports of NSA spying on hundreds of millions of people in the US, France, Spain, Italy, Germany, Great Britain, Brazil, China and many other countries.
In this article, I would like to play the Devil's advocate (with the Devil of course being the NSA). The NSA argues that we need to surrender our freedom in order to protect our freedom. After all, there might be a terrorist somewhere planning to attack us. Certainly at least someone in the world does not like the US. Given the role our government has played in bringing peace to the world, this is difficult to imagine. But these terrorists are not very rational. This is why the NSA has to spy on everyone all the time. It is because you never know who might be a secret hidden terrorist.
Let's start with Angela Merkel. Did you know she is from Communist East Germany? No wonder the NSA wants to spy on her. Who knows what bad thoughts were placed in her twisted mind when she was a child growing up in East Germany? We should not be so quick to prejudge the NSA for wanting to spy on her or hundreds of millions of other people.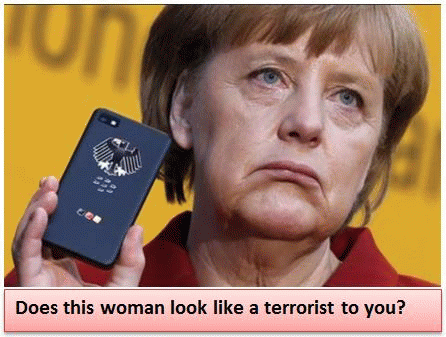 Does this woman look like a terrorist to you?
(
Image
by
David Spring
)
Details
DMCA
Does this woman look like a terrorist to you? by
David Spring
But even if you accept the need for the NSA to spy on Angela Merkel and millions of people like her, we should all agree that the NSA should not be allowed to spy on the Pope. Certainly, we should be concerned that the Pope is from Argentina, a country filled with communists and other suspicious people. But we should listen to our founding fathers -- nearly all of whom warned us of the need to separate church and state.
Is this man also planning a terrorist plot? by
David Spring
The Vatican said they are "not concerned" about the NSA spying on them. But what if some cardinal or Pope has something to hide? The NSA could use this information to blackmail the Pope. Imagine what would happen to our world once the NSA was secretly running the Catholic Church. It would be only a matter of time until they would also be running the Protestant Churches, the Jewish Churches and the Muslim Churches. This is a situation not even George Orwell could have imagined. This is why we need separation of church and state. It is not merely to prevent churches from running our government. It is also to prevent our government from running our churches.
What is the solution to this problem? Some have proposed we need new laws to reign in the NSA. A bill could be introduced to Congress to prohibit the NSA from spying on the Pope. But given that the NSA has repeatedly lied to our courts and to Congress in the past, a new law is not likely to do anything.
In addition, the worst actions of the NSA have yet to be fully revealed. Last month, I released a new book called Free Yourself from Microsoft and the NSA which provides evidence that that Microsoft has placed an "NSA Kill Switch" inside of every Windows 8 computer. I will write more about the dangers of this NSA kill switch in a coming article. But for those who don't want to wait, you can download a free PDF of this book at this link. There is stuff in this book that would surprise even Edward Snowden and Glenn Greenwald. Can you imagine what might happen if the NSA, or some other terrorist organization, was able to control all of the world's two billion computers?
The only real solution to this problem is to disband the NSA completely and blow up their billion dollar data base in Utah while we are at it. There is a danger far worse than any terrorist plot. That danger is the NSA running every computer, every church and every government in the world.