from the Huffington Post
Young Americans are a generation betrayed. Official unemployment is more than 25% for those aged 16-19. That means the real figure is much worse, especially in minority communities and depressed parts of the country. But jobs are scarce for everyone. College students are graduating with record levels of student debt before entering the worst job market for graduates in recent memory.
We're handing them a nation of crumbling infrastructure, lost ambitions, diminished prospects - and a seemingly endless parade of baby-boomer pop culture references, too. They deserve better than this legacy of dust, ashes, and Brady Bunch reruns. Since we've made such a mess of things, why not hire them to build the nation - and the future - that they deserve?
We can do it. Better yet, we can help them do it. A WPA-like program for younger Americans would give them a brighter future by hiring them to rebuild our infrastructure, develop imaginative new business ideas, create alternative energy sources, and become tomorrow's artists and writers. We can give them control over their own destiny, too.
But first, a look at the mess we've created for them.
Dystopia USA
We've trashed the place
We were supposed to hold this nation in trust to the generations that follow us. It's only good manners to leave something in the same condition it was in when you borrowed it. We were given a nation of schools, highways, bridges, tunnels, and railroads that was well-maintained and growing with every passing year.
Well, frankly, we've let the place go to hell. As Dave Johnson explains, the nation's infrastructure is collapsing. It will take more than $1.7 over the next nine years just to fix our surface transportation. Throw in everything else that's falling apart, and we're facing a nation of ruins.
Put it this way: If older generations had been required to leave a security deposit on this country, they wouldn't get their money back.
Indentured Servitude
We've sold younger generations a bill of goods. We told them that if you work hard and get an education there will be jobs waiting for you when you graduate. But the job market for college graduates has suffered just as much as the overall market, and it's not getting better. In the meantime, the cost of tuition has soared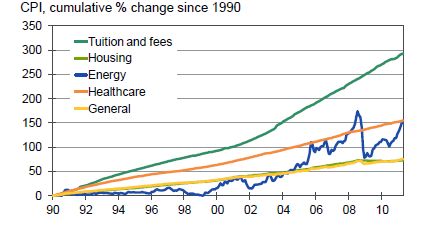 It's no wonder that the total amount owed on student loans now exceeds credit card debt in this country. Student loans have led to another bank-fed bubble, this time in tuition costs, that has enriched Wall Street and forced young people into starting their work lives with record levels of debt ... and no work.
Worse, we've left them with no way to earn money just when the time has come to pay the piper ... the Pied Piper of Hamelin, that is. The original Pied Piper led the village children over a cliff with his flute. This one has led the youth of America over a cliff of debt with a flute song of prosperity and jobs.
(Note: You can view every article as one long page if you sign up as an Advocate Member, or higher).