Source: Consortium News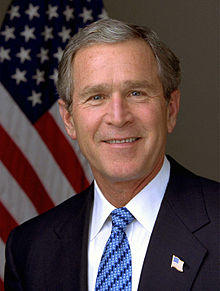 Former President George W. Bush
Now that a bipartisan blue-ribbon panel has reached the conclusion that President George W. Bush and his top advisers bear "ultimate responsibility" for authorizing torture in violation of domestic and international law, the question becomes what should the American people and their government do.
The logical answer would seem to be: prosecute Bush and his cronies (or turn them over to an international tribunal if the U.S. legal system can't do the job). After all, everyone, including President Barack Obama and possibly even Bush himself, would agree with the principle that "no man is above the law."
For instance, we're told that Pvt. Bradley Manning may have had good intentions in exposing U.S. government wrongdoing to WikiLeaks, but he still must be punished for taking the law into his own hands. The only question seems to be whether he should be imprisoned for 20 years or life.
Even the U.S. soldiers at Iraq's Abu Ghraib prison who imitated the abusive techniques that Bush and his advisers authorized in more limited situations had to face justice. Eleven were convicted at court martial, and two enlisted personnel -- Charles Graner and Lynndie England -- were sentenced to ten and three years in prison, respectively. A few higher-level officers had their military careers derailed.
But the buck pretty much stopped there. It surely didn't extend up to Defense Secretary Donald Rumsfeld, National Security Adviser Condoleezza Rice, White House counsel Alberto Gonzales, Vice President Dick Cheney and President Bush. They simply engaged in a game of circular excuse-making, claiming that they had relied on Justice Department legal guidance and thus their own criminal actions really weren't criminal at all.
Yet, along with its judgments about torture, the 577-page report from the Constitution Project obliterated that line of defense by detailing how the Bush administration's lawyers offered up "acrobatic" legal opinions to justify the brutal interrogations, which included waterboarding, sleep deprivation, stress position, forced nudity and other acts constituting torture.
Lawyers from the Justice Department's Office of Legal Counsel, particularly John Yoo and Jay Bybee, collaborated closely with senior administration officials in choreographing these legal gymnastics. Then, when other government lawyers later challenged the Yoo-Bybee rationalizations, those lawyers faced career reprisals from the White House. They were essentially forced out of government, the report found.
In other words, Bush's team had arranged its own legal opinions that empowered the President to do whatever he wanted. Indeed, the Yoo-Bybee legal opinions gave the President carte blanche by citing his supposed "plenary powers," meaning that he could do literally anything he wished during "wartime," even a war as nebulously defined as the "war on terror."
Establishment Blessing
While the new torture report mostly covers old ground about how the Bush administration moved into the "dark side," the report's primary significance is that its 11-member panel represents a bipartisan mix of Establishment figures.
The task force was headed by two former members of Congress who have worked in the Executive Branch -- James R. Jones, D-Oklahoma, an ex-ambassador to Mexico, and Asa Hutchinson, R-Arkansas, who served as an under-secretary of Homeland Security during the Bush administration. Other members were prominent Americans from the fields of military, academia, law, ethics and diplomacy -- including former FBI Director William Sessions and longtime senior diplomat Thomas Pickering.
The report didn't mince words in its principal conclusions:
"Perhaps the most important or notable finding of this panel is that it is indisputable that the United States engaged in the practice of torture. This finding, offered without reservation, is not based on any impressionistic approach to the issue. ...

"Instead, this conclusion is grounded in a thorough and detailed examination of what constitutes torture in many contexts, notably historical and legal [including] instances in which the United States has leveled the charge of torture against other governments. The United States may not declare a nation guilty of engaging in torture and then exempt itself from being so labeled for similar if not identical conduct."
The report also noted that the behavior of the Bush administration deviated from the most honorable traditions of U.S. history, dating back to the Revolutionary War and General George Washington's instructions to his troops not to respond to British cruelty in kind but to treat prisoners of war humanely.
In contrast to those traditions, after the 9/11 attacks, the Bush administration approved specific techniques of torture while formulating legal rationalizations for these violations of law. Never before, the report found, had there been "the kind of considered and detailed discussions that occurred after 9/11 directly involving a president and his top advisers on the wisdom, propriety and legality of inflicting pain and torment on some detainees in our custody."
Beyond the illegality and immorality of torture, the report found "no firm or persuasive evidence" that the harsh interrogations extracted information that could not have been obtained by legal means. The report also challenged the legality of "enforced disappearances," renditions and secret detentions.
(Note: You can view every article as one long page if you sign up as an Advocate Member, or higher).