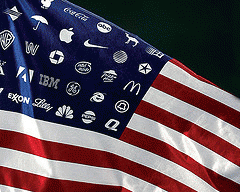 Corporate America
(
Image
by
Owner Unknown
)
Details
DMCA
Today I learned something new. Not only did I learn something new, but I was also reminded that there is something inherently wrong with this republic of ours. Although I understand that no system of government is perfect, some aspects of democracy (at least what we call democracy in the United States) should be sacrosanct. One of these is the right of people to vote for the person of their choice.
Whoa, not so fast there partner! It's OK to vote for the person of your choice, as long as it's the person that we tell you to vote for. Sound confusing? Well it is. It seems that in South Carolina, you can't vote for a write-in candidate for President or Vice-President. This is what the South Carolina Secretary of State tells us:
There are no filing forms or fees required to run as a write-in candidate.
A defeated primary candidate may not actively offer or campaign as a write-in candidate for the ensuing election.
The use of posters or stickers on the ballot is not permitted.
A voter must cast his write-in ballot in his or her own handwriting or that of a duly authorized assistant.
Write-in votes are not allowed in primary elections or the election of President or Vice-president. Write-in votes are allowed for all other elections.
When I first read this, I thought it was preposterous. Now that I have read it a few times and was able to wrap my head around it, I think that it's criminal. The way I look at it, what right does anyone have to tell me who I can and cannot vote for? This goes to the very heart of the republic.
I've been hearing about voter infringement by the GOP in States like Michigan, but I never thought that the games that they are playing would ever affect me. It seems like I was wrong.
I want to write-in Rocky Anderson. The Secretary of State in South Carolina tells me that I can't do it. I imagine that if I really wanted to write Anderson's name in I could do it, but my vote wouldn't be counted. They have the law on their side.
So now the only way I can vote for the person I choose to vote for is to bring suit against the State of South Carolina. That will probably take a certain amount of time and money. Most people would probably be put off at the idea of bringing a lawsuit against the State for voter infringement, but I don't.
The only way that people can protect themselves against the high-handed tactics of the two corporately-led political parties in this nation is to stand up against them. I could roll over and resign myself to voting for Jill Stein of the Green Party, but I really don't want to vote for her (nothing personal Jill). I want to vote for Rocky Anderson.
This is why I will do whatever it takes to vote for the person I choose to vote for. It's that simple. I don't appreciate anyone arbitrarily telling me who and who not to vote for. If you take a deep breath and really think about it, this is about as fundamentally wrong as anything can be.
There are five states that won't let you write-in a candidate for president (I think). I'm not the only voter that has become disenfranchised. I think that it would be a good idea for all of us affected by these arbitrary laws to make a lot of noise about it. The more noise we make, the more attention we will get. The more attention we get, the more likely these ridiculous laws will be changed.
(Note: You can view every article as one long page if you sign up as an Advocate Member, or higher).