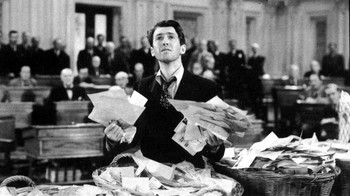 [First published in Dissident Voice , August 12, 2016]
Many people think choosing politicians by popular vote is an essential part of democracy. Nevertheless, there is another way to choose politicians that is in important regards far more democratic and much better. That way is for politicians to be chosen by juries of citizens drawn from the public by random selection. Such juries could number from 25 to 1,000 or more citizens, with larger juries being used for the most important offices such as President.
In Classical Athens, widely considered the birthplace of democracy, a broad range of decisions were made by juries drawn from the citizens by lottery. The Athenian juries kept a great deal of decision-making firmly in the hands of the citizens, and prevented elite rule. The jury method of democracy exists today in the form of the trial jury, and has also been applied in James Fishkin's deliberative polls . Before considering how juries could choose politicians, a very brief review of what is wrong with popular election may be helpful.
Problems with popular election
Rule by the people needs to be exercised in an informed manner because only informed views are a good basis for a decision. Unfortunately, popular election is extremely unsuitable for ensuring informed rule because the public only learn about candidates and their platforms voluntarily in their spare time, and often pay little attention. The empirical evidence shows that voters are poorly informed, according to, for example, social scientist Michael X. Delli Carpini and law professor Ilya Somin.
Sadly, American elections are not even a form of poorly informed rule by the people, but instead largely amount to a form of rule by the rich interests and billionaires that fund them. According to Al Gore , " American democracy has been hacked " The United States Congress is now incapable of passing laws without permission from the corporate lobbies and other special interests that control their campaign finances." Bernie Sanders, Donald Trump, and FDR are among the many other prominent politicians who have noted the considerable influence rich campaign donors have on American politics. Based on a 2014 study he co-wrote, Princeton politics professor Martin Gilens says, " Ordinary citizens have virtually no influence over what their government does in the United States. And economic elites and interest groups, especially those representing business, have a substantial degree of influence ."
Elections are also dominated by political parties. The President is always the nominee of one of the two main parties, as are the vast majority of Congress, state governors and state legislators. There is nothing surprising about this, as political parties have the organization, resources, name recognition and motivation needed to run effective election campaigns. However, it is rather undemocratic because 45% of Americans are political independents, and if the public could become well informed about everyone interested in public office, they might often prefer political independents, as well as party members other than the party nominee.
(Note: You can view every article as one long page if you sign up as an Advocate Member, or higher).