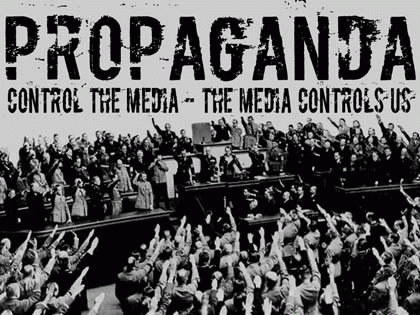 Conrol the Media- The Media Controls Us
(
Image
by
thelibertybeat.com
)
Details
DMCA
I have certain questions for "news" outlets like CNN, MSNBC, and CBS. These are the television stations that I watch, though I must tell you, I don't watch them for "news". I watch them to see what propaganda they are throwing out. So far today, I have heard about a mountain climber falling down a crevice, a teenage girl who was supposedly "kidnapped" when she was 15, and news about how terribly the VA treats their patients.
All this is fine but what about what's happening in the World? I have seen so much about the words that Donald Sterling has uttered that frankly, I'm sick of it. With so much going on in the World, where is the real news?
In particular, there are some developments that are going on that I would like to know about. Some of these are the shooting of two Palestinian teenagers in the West Bank that happened yesterday. Where they shot with full metal jacket bullets or were they shot with rubber bullets? What happened to the soldier that shot them? What is Israel doing except denying the claims of the doctor's that treated them and the outrage of the Palestinians? They give us half the story and don't finish it.
Where is the bill that Senator Elizabeth Warren introduced concerning cutting interest rates on student loans? Is it in committee? Did any other Senators co-sponsor it? Does any Senator or Congressman want to talk about it? I'm sure that there are millions of Americans caught in the student loan trap that would like to hear about it.
What about the elections in Ukraine? Since we are so "concerned" about the welfare of the people in that nation, what safeguards have been put in place to make sure it is a legitimate election? What nations have sent observers to oversee the elections? I don't want to know after the fact with a spew of government spin on the elections, I want to know how they are conducted before the elections take place.
These are the kinds of things the news media should be telling us. Forgive me if I'm telling you things you already know, there are people reading this article where these thoughts never occurred to them. This is why I'm trying to reach out to make them aware that we are only getting half the story from the media.
Maybe it is time that people started calling outlets like CNN and the others demanding that they report more on hard news and less of what they think the public wants to hear about. We all know that FOX is a right wing propaganda machine, but what is distressing is that all the other media outlets are also propaganda machines for the State.
This is no accident. They only report enough of the news to make people think that they are hearing the unbiased truth. The truth is that the American media only gives the appearance of telling you the truth. They give the American people just enough information to make them feel that they are "informed". That is not what is happening.
Thomas Jefferson wrote that "a well-informed electorate is a prerequisite to democracy ." This is not what we have here in America. We have a dumbed-down population that without the proper information they are incapable of critical thinking. The media tells us half truths by not telling us the whole story.
When people are interviewed on the mainstream media outlets by people like Scott Pelly and Charlie Rose and Ed Shultz and Wolf Blitzer, they get away with platitudes and outright lies. When I watch "Face The Nation" or "Meet The Press" I am dumbfounded on how little the interviewers challenge the person they are interviewing. Do they promise not to ask embarrassing questions in order to get the people they want on their shows? Does the hierarchy above them throttle their questioning, or are the people asking the questions just stupid?
I doubt that the people asking the questions in the mainstream media are as stupid as they appear to be. You don't rise to the top of the heap on mainstream news by being an idiot. Scott Pelley, on a recent "60 Minutes" segment had this said about the interview he had with BP:
60 Minutes featured a segment about BP alleging fraudulent and frivolous lawsuits filed by claimants just looking to make a dollar. However, rather than be a reporter, meant to be objective and question both sides, Scott Pelley came off instead as a pathetically lame BP pitchman.
The segment seemed to coddle BP's claims of being "the victim of Gulf Coast swindlers who have the oil giant over a barrel (the pun is also the title of the segment.") BP has been attempting to renege on the agreed upon settlement amount of $7.6 billion, and says that hundreds of millions of that money is going to undeserving claimants. ( http://www.ringoffireradio.com/2014/05/60-minutes-scott-pelley-panders-bp/)
This is NOT an uncommon occurrence. BP was recently given permission to drill in the Gulf again. In fact, this is par for the course. Time after time we are given corporate "spin" and government propaganda. on the mainstream media. It is high time that the American people started speaking out. We cannot change hearts and minds by reading articles like this one on alternative media. It's not enough to go to the internet to find out what is really going on in the World. The only way we will have a well informed electorate is to change the way the mainstream media reports the news.
(Note: You can view every article as one long page if you sign up as an Advocate Member, or higher).