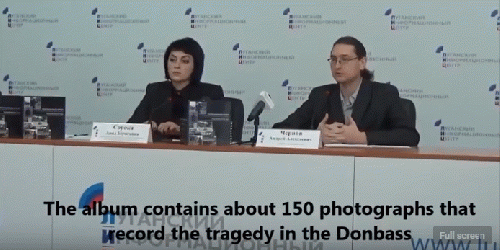 LNR Deputy Foreign Minister Anna Soroka and Andrey Chernov
(
Image
by Zhenya van Amerongen)
Details
DMCA
[note: This was written for thesaker.is]
On September 28th, Lugansk Peoples Republic (LNR)Deputy Foreign Minister Anna Soroka and Andrey Chernov gave a presentation unveiling a photo album entitled Unannounced war. This collection of 150 images details the war crimes by the Ukrainian government during the war from 2014-2018.
Over the last 4 years, many journalists including myself reported on the war crimes committed by Ukrainian punisher battalions and sometimes the Ukrainian army. These war crimes are privately funded by Ukrainian Diaspora groups led primarily by US and Canadian citizens.
The Ukrainian punisher battalions and Ukrainian volunteer battalions take pride in the fact there is no need to hide any of Ukraine's crimes from the West's prying eyes.
Even now, when there is supposed to be a ceasefire so the children can go to school, Kiev is shelling cities and towns across Donbass. On September 29th, in just 24 hours Ukrainian army units shelled DNR (Donetsk Peoples Republic) over 300 times violating the ceasefire.
DPR representative at the Joint Centre for Control and Coordination (JCCC) Ruslan Yakubov said Ukraine used 82 and 120mm mortars, grenade launchers, IVFs, APCs, small arms of large caliber.
Last night in Staromikhailovka, a town west of Donetsk, a small girl was injured during the shelling.
September 30th was another tragic day when 3 boys aged 13-15 were killed when one stepped on an anti-personnel mine near the city of Gorlovka, DNR. The boys were on a path to the side of a main walkway. A 10-year-old was badly injured in the mine-blast and is in the local hospital.
For the last few years, when LNR or DNR tries to clear landmines, the Ukrainian army stops them using snipers. Mines show up in areas that LNR and DNR clear. The children of Donbass deserve better than to become statistics in either sides casualty count.
The only benefit this could have is to aid Ukraine in terrorizing women and children and close the schools as Petr Poroshenko promised in 2015.
In LNR (Lugansk Peoples Republic) Ukraine is firing 120-mm and 82-mm mortars, LNG anti-tank grenades, automatic grenade launchers, RPGs and small arms breaking the school ceasefire agreement.
The strategy Ukraine has in mind is simple. As long as there are children in the small towns on the outskirts of the cities, people will stay there. If Ukraine can destroy the schools in a town or make the families with children move, the town dies quickly because almost everyone else leaves soon thereafter. This strategy is part of how they are cleansing villages in the gray zone. They fire on schools, hospitals, kindergartens, and churches to destroy the social fabric of a town.
They lay personnel landmines to destroy the families and more important, make them leave. The image above shows small boys whose only crime was being small boys on a hike in an area they should have felt safe in. They weren't on the front lines. They were in a town on the edge of the demilitarized gray zone.
LNR's Foreign Ministry is shedding light on this situation internationally by publishing the photo album dedicated to the people caught in the Donbass genocide from 2014-18. It will be made available to libraries and government institutions internationally.
(Note: You can view every article as one long page if you sign up as an Advocate Member, or higher).