Cross-posted from Consortium News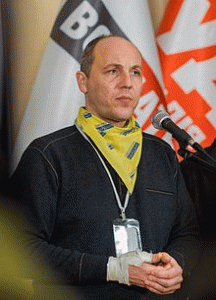 The acting president of the coup regime in Kiev announces that he is ordering an "anti-terrorist" operation against pro-Russian protesters in eastern Ukraine, while his national security chief says he has dispatched right-wing ultranationalist fighters who spearheaded the Feb. 22 coup that ousted elected President Viktor Yanukovych.
On Tuesday, Andriy Parubiy, head of the Ukrainian National Security Council, went on Twitter to declare, "Reserve unit of National Guard formed #Maidan Self-defense volunteers was sent to the front line this morning." Parubiy was referring to the neo-Nazi militias that provided the organized muscle that overthrew Yanukovych, forcing him to flee for his life. Some of these militias have since been incorporated into security forces as "National Guard."
Parubiy himself is a well-known neo-Nazi, who founded the Social-National Party of Ukraine in 1991. The party blended radical Ukrainian nationalism with neo-Nazi symbols. Parubiy also formed a paramilitary spinoff, the Patriots of Ukraine, and defended the awarding of the title, "Hero of Ukraine," to World War II Nazi collaborator Stepan Bandera, whose own paramilitary forces exterminated thousands of Jews and Poles in pursuit of a racially pure Ukraine.
During the months of protests aimed at overthrowing Yanukovych, Parubiy became the commandant of "Euromaidan," the name for the Kiev uprising, and -- after the Feb. 22 coup -- Parubiy was one of four far-right Ukrainian nationalists given control of a ministry, i.e., national security.
But the U.S. press has played down his role because his neo-Nazism conflicts with Official Washington's narrative that the neo-Nazis played little or no role in the "revolution." References to neo-Nazis in the "interim government" are dismissed as "Russian propaganda."
Yet there Parubiy was on Tuesday bragging that some of his neo-Nazi storm troopers -- renamed "National Guard" -- were now being sicced on rebellious eastern Ukraine as part of the Kiev government's "anti-terrorist" operation.
The post-coup President Oleksandr Turchynov also warned that Ukraine was confronting a "colossal danger," but he insisted that the suppression of the pro-Russian protesters would be treated as an "anti-terrorist" operation and not as a "civil war." Everyone should understand by now that "anti-terror" suggests extrajudicial killings, torture and "counter-terror."
Yet, with much of the Ukrainian military of dubious loyalty to the coup regime, the dispatch of the neo-Nazi militias from western Ukraine's Right Sektor and Svoboda parties represents a significant development. Not only do the Ukrainian neo-Nazis consider the ethnic Russians an alien presence, but these right-wing militias are organized to wage street fighting as they did in the February uprising.
Historically, right-wing paramilitaries have played crucial roles in "counter-terror" campaigns around the world. In Central America in the 1980s, for instance, right-wing "death squads" did much of the dirty work for U.S.-backed military regimes as they crushed social protests and guerrilla movements.
The merging of the concept of "anti-terrorism" with right-wing paramilitaries represents a potentially frightening development for the people of eastern Ukraine. And much of this information -- about Turchynov's comments and Parubiy's tweet -- can be found in a New York Times' dispatch from Ukraine.
Whose Propaganda?
However, on the Times' front page on Wednesday was a bizarre story by David M. Herszenhorn accusing the Russian government of engaging in a propaganda war by making many of the same points that you could find -- albeit without the useful context about Parubiy's neo-Nazi background -- in the same newspaper.
In the article entitled "Russia Is Quick To Bend Truth About Ukraine," Herszenhorn mocked Russian Prime Minister Dmitri Medvedev for making a Facebook posting that "was bleak and full of dread," including noting that "blood has been spilled in Ukraine again" and adding that "the threat of civil war looms."
The Times article continued...
"He [Medvedev] pleaded with Ukrainians to decide their own future 'without usurpers, nationalists and bandits, without tanks or armored vehicles -- and without secret visits by the C.I.A. director.' And so began another day of bluster and hyperbole, of the misinformation, exaggerations, conspiracy theories, overheated rhetoric and, occasionally, outright lies about the political crisis in Ukraine that have emanated from the highest echelons of the Kremlin and reverberated on state-controlled Russian television, hour after hour, day after day, week after week."
This argumentative "news" story spilled from the front page to the top half of an inside page, but Herszenhorn never managed to mention that there was nothing false in what Medvedev said. Indeed, it was the much-maligned Russian press that first reported the secret visit of CIA Director John Brennan to Kiev.
Though the White House has since confirmed that report, Herszenhorn cites Medvedev's reference to it in the context of "misinformation" and "conspiracy theories." Nowhere in the long article does the Times inform its readers that, yes, the CIA director did make a secret visit to Ukraine last weekend. Presumably, that reality has now disappeared into the great memory hole along with the on-ground reporting from Feb. 22 about the key role of the neo-Nazi militias.
(Note: You can view every article as one long page if you sign up as an Advocate Member, or higher).