(Article changed on August 31, 2013 at 13:49)
On Monday 26th August, shortly after three Palestinians were shot and killed by Israeli forces in the Qalandia Refugee Camp, leaders of the global gem and jewellery industry gathered a short distance away in Ramat Gan for the start of a week-long International Diamond Fair in the Israeli Diamond Exchange.
The purpose of their visit was essentially to profit from the trade in diamonds from Israel, diamonds that are a major source of funding for a regime which stands accused of war crimes, the crime of apartheid and an illegal and brutal occupation.
Cocooned within the comfort and security of the Israeli Diamond Exchange, diamond buyers from the US, China, Russia, India, Italy - over twenty countries in all - were oblivious to the carnage that unfolded in Qalandia, thirty minutes away by road but light years away from the vulgar opulence of an industry that continues to facilitate the trade in blood diamonds. Yes, make no mistake; diamonds exported from Israel are blood diamonds.
If revenue from rough diamonds in the possession of African rebels or cut and polished diamonds from dealers in Ramat Gan funds gross human rights violations the diamonds that generate that revenue are blood diamonds. The Israeli diamond industry generates about $1 billion annually for the Israeli military/security industries - a military which stands accused of war crimes. The jewellery/diamond industry wants people to believe that only rough diamonds used by rebels can be blood diamonds. This allows the lucrative trade in cut and polished blood diamonds to continue unseen, unchecked, and concealed from media and public scrutiny.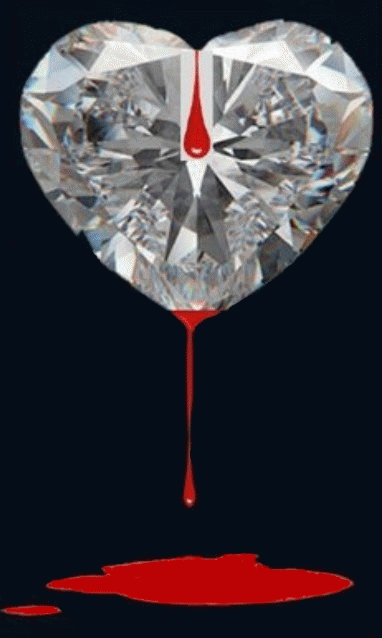 Cut and polished diamonds that fund war crimes are Blood Diamonds

(

Image

by Sean Clinton)

Details DMCA


Cut and polished diamonds that fund war crimes are Blood Diamonds by Sean Clinton


Most people are unaware of the bureaucratic subterfuge that permeates the international diamond industry, the result of which allows cut and polished blood diamonds to evade regulations that were ostensibly set up to ban all blood diamonds. The Kimberley Process Certification Scheme (KPCS) is a system of self-regulation overseen by the diamond industry. However, its remit is limited to banning "conflict diamonds" the definition of which is deliberately restricted to rough diamonds used by rebel groups to fund violence against legitimate governments.

By conflating a "conflict diamond" with a blood diamond (for which there is no legal definition) the industry has successfully implanted in the public conscience an image of blood diamonds that invariably leads one to envisage machete-wielding black African rebels or African children knee-deep in muddy water groping for rough diamonds - those "dirty little pebbles" as supermodel Naomi Campbell described them during the trial of diamond-funded warlord Charles Taylor.

Forget those images and consider where most of the value is added along the diamond production pipeline. The "dirty little pebbles" represent but a fraction of the cost of the finished product that we see in the brightly-lit jewellery outlets that adorn the high streets of cities worldwide. Much of the value is added during cutting and polishing, especially of the larger diamonds which can take weeks or months of highly skilled, highly paid craftsmanship to hone to perfection. Consequently, governments too collect their slice of the diamond pie and some are up to their necks in the blood diamond industry - none more so than Israel.

(Note: You can view every article as one long page if you sign up as an Advocate Member, or higher).