As of this writing, 7,269 people in the United States, and rising steadily, have posted messages of friendship to the people of Russia. They can be read, and more can be added at RootsAction.org.
People's individual messages are added as comments endorsing this statement:
To the people of Russia:
We residents of the United States wish you, our brothers and sisters in Russia, nothing but well. We oppose the hostility and militarism of our government. We favor disarmament and peaceful cooperation. We desire greater friendship and cultural exchange between us. You should not believe everything you hear from the American corporate media. It is not a true representation of Americans. While we do not control any major media outlets, we are numerous. We oppose wars, sanctions, threats, and insults. We send you greetings of solidarity, trust, love, and hope for collaboration on building a better world safe from the dangers of nuclear, military, and environmental destruction.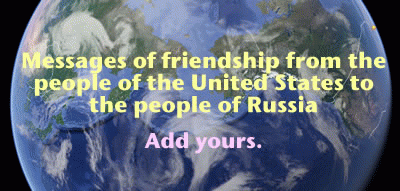 graphic
(
Image
by
WorldBeyondWar.org
)
Details
DMCA
Here is a sampling, but I encourage you to go and read more:
Robert Wist, AZ: A world of friends is far better than a world of enemies. -- I wish for us to be friends.
Arthur Daniels, FL: Americans and Russians = friends forever!
Peter Bergel, OR: After meeting many different kinds of Russians on my trip to your beautiful country last year, I am especially motivated to wish you well and to resist the efforts of my government to create enmity between our countries. Together our countries should lead the world toward peace, not further conflict.
Charles Schultz, UT: All of my friends and I have nothing but love, and the utmost respect, for the Russian people! We are not your enemies! We want to be your friends. We do not agree with our government, the members of congress, the president, any of the agencies of government that are constantly accusing Russia of every problem, not only here in the US, but also throughout the entire world!
James & Tamara Amon, PA: As someone that visits Russia (Borovichi, Koyegoscha and Saint Petersburg) every year, I can assure you that most Americans only want peace. I married a beautiful Russian lady, and can honestly say that I love Russia, her people, food, and life style. I trust the people of both USA and Russia, it is the politicians that I don't trust.
Carol Howell, ME: As someone with acquaintances in Russia, and having much respect for your efforts to clean up and preserve the environment, I extend a hand in friendship.
Marvin Cohen, CA: Both of my grandfathers immigrated to the US from Russia--I wish you well.
Noah Levin, CA: Dear citizens of Russia, -- I send you all my best wishes and friendship, hoping that you achieve a satisfying life in these difficult times.
Deborah Allen, MA: Dear Friends in Russia, I look forward to the day when we will hold hands circling the earth. We breathe the same air and enjoy the same sunshine. Love is the answer.
Ellen E Taylor, CA: Dear Russian People, -- We love you and admire you! -- We will do everything we can to control our imperialistic government policies"..
Amido Rapkin, CA: Having grown up in Germany and now living in the US -- I am asking for forgiveness to any injustice done to your country by our countries.
(Note: You can view every article as one long page if you sign up as an Advocate Member, or higher).