Reprinted from Consortium News
Secretary of State Hillary Clinton testifies before Congress on Jan. 23, 2013, about the fatal attack on the U.S. mission in Benghazi, Libya, on Sept. 11. 2012.
(
Image
by
(Photo from C-SPAN coverage)
)
Details
DMCA
Most intelligent Americans -- Republicans as well as Democrats -- now accept that they were duped into the Iraq War with disastrous consequences, but there is more uncertainty about the war on Libya in 2011 as well as the ongoing proxy war on Syria and the New Cold War showdown with Russia over Ukraine.
Today, many Democrats don't want to admit that they have been manipulated into supporting new imperial adventures against Libya, Syria, Ukraine and Russia by the Obama administration as it pulls some of the same propaganda strings that George W. Bush's administration did in 2002-2003.
Yet, as happened with Saddam Hussein in Iraq, we have seen a similar hysteria about the evil doings of the newly demonized foreign leaders with the predictable Hitler allusions and vague explanations about how some terrible misdeeds halfway around the world threaten U.S. interests.
Though people mostly remember the false WMD claims about Iraq, much of the case for the invasion was based on protecting "human rights," spreading "democracy," and eliminating a supporter of Palestinians who were violently resisting Israeli rule.
The justification for aggression against Iraq was not only to save Americans from the supposed risk of Iraq somehow unleashing poison gas on U.S. cities but to free the Iraqis from a brutal dictator, the argument which explained why Bush's neocon advisers predicted that Iraqis would shower American troops with rose petals and candies.
Those same "humanitarian" arguments were out in force to justify the U.S.-European "regime change" in Libya eight years later. As former Secretary of State Hillary Clinton asserted -- even this year -- Muammar Gaddafi was a "genocidal" dictator bent on slaughtering the people of eastern Libya (though Gaddafi insisted that he was only interested in killing the "terrorists").
After a frenzied media reaction to Gaddafi's supposedly genocidal plans, Western nations argued that the world had a "responsibility to protect" Libyan civilians, a concept known as "R2P." In haste, the United Nations Security Council approved a resolution to protect civilians by imposing a "no-fly zone" over eastern Libya.
But the subsequent invasion involved U.S.-coordinated air strikes on Gaddafi's forces and European Special Forces on the ground working with anti-Gaddafi rebels. Before long, the "no-fly zone" had expanded into a full-scale "regime change" operation, ending in the slaughter of many young Libyan soldiers and the sodomy-with-a-knife-then-murder of Gaddafi.
As Western leaders celebrated -- Secretary Clinton exulted "We came, we saw, he died" -- Libyans began the hard work of trying to restructure their political system amid roaming bands of heavily armed jihadist rebels. Soon, it became clear that restoring order would not be easy and that Gaddafi was right about the presence of terrorists in Benghazi (when some overran the U.S. consulate killing U.S. Ambassador Christopher Stevens and three other Americans.)
Libya, which once had an envious standard of living based on its oil riches, slid into the status of failed state, now with three governments competing for control and with jihadist militias, including some associated with the Islamic State and Al Qaeda, disrupting the nation. The result has been a far worse humanitarian crisis than existed before the West invaded.
Lessons from Libya
So, there should be lessons learned from Libya, just as there should have been lessons learned from Iraq. But the U.S. political/media establishment has refused to perform a serious autopsy of these monumental failures (U.S. inquiries only looked narrowly at the WMD falsehoods about Iraq and the attack on the U.S. consulate in Benghazi for Libya). So, it has fallen to the British to take a broader view.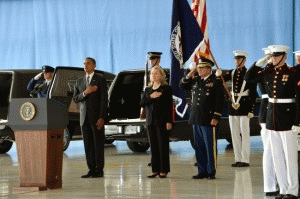 President Barack Obama and Secretary of State Hillary Clinton honor the four victims of the Sept. 11, 2012, attack on the U.S. mission in Benghazi, Libya, at the Transfer of Remains Ceremony held at Andrews Air Force Base, Joint Base Andrews, Maryland, on
(
Image
by
(State Department photo)
)
Details
DMCA
The British inquiries have had their own limitations, but the Chilcot report on Iraq catalogued many of the flawed decisions that led Prime Minister Tony Blair to sign up for President George W. Bush's "coalition of the willing" -- and a recent parliamentary report revealed how Prime Minister David Cameron fell into a similar pattern regarding Libya and President Obama.
(Note: You can view every article as one long page if you sign up as an Advocate Member, or higher).