Swastika sprayed on tombstones at the Jewish cemetery in Kroepelin
(
Image
by
huffingtonpost
)
Details
DMCA
When I was growing up in Crown Heights, Brooklyn, New York I had a friend named Billy Tracy. I admired his name since I was a fan of the popular comic book police detective, Dick Tracy. I treasured my Dick Tracy crystal radio kit. Then I learned that Billy's family name was not originally Tracy. It was changed from Trotsky. Although the family had no connection to the Marxist revolutionary Leon Trotsky, it seemed wise to change their name to an all-American one.
Recently, I was reminded of my friend Billy Tracy when I read about a young Indian woman, a poet and interfaith activist, who is planning to study in the United States. She thought she might be handicapped by her first name: Swastika.
In view of the word's association with Nazi genocide, Swastika Jajoo plans to use a nickname when she travels to the West. Ironically, her surname, Jajoo, is pronounced ja-jew.
How did she acquire the name Swastika? Were her parents Nazi sympathizers? Not at all. The swastika is a revered symbol in India, as well as in several other cultures dating to ancient times, including Egypt, Greece, China, Japan, and even among Native Americans. Descendents of these cultures mourn that the Nazis tarnished a beloved symbol by connecting it to one of the most evil genocides in history.
In an email to the Huffington Post in November 2014 the young woman said that the name Swastika is common in India. The swastika is an ancient symbol that stands for prosperity. She added: "My parents wanted a daughter with infectious goodness, enthusiasm, and love for life [...] and so they decided to give me the name Swastika."
While we can sympathize with this young woman and others in cultures that have revered the swastika, or variants of it, we must question if it should be rehabilitated, as some recent articles have asked.
An op-ed commentary in the Los Angeles Times gave a resounding no: "Hitler ruined it forever. " An article in the Atlantic said yes, with the theme, "Don't let hate win." A New York Times article was non-committal, saying "the issue is complicated."
Restating the swastika controversy, can it or should it be reclaimed, especially in light of the fact that Nazi sympathizers and other virulent anti-Semites are still using it?
To the "can" question the answer is yes. The history of the cross offers a striking example of the meaning of a symbol radically changing. The cross as a positive symbol also dates back thousands of years to many cultures in addition to Hinduism, including the ancient Egyptians and Greeks. But in Roman times it became a feared and hated symbol of crucifixion. The Romans deliberately made crucifixion the most horrible death imaginable for the express purpose of instilling fear and terror into those who might be tempted to oppose Rome. Untold numbers of Jews were crucified and later Christians were savagely punished with crucifixion for merely being Christians.
It wasn't until the fourth century that the cross first became a Christian symbol. Legend says that the night before the Eastern Roman Emperor Constantine was preparing to go to war with the Western Emperor, Maxentius, he had a vision of a cross in the sky with the words "by this symbol you will conquer." Interpreting this as prophesy, Constantine placed the cross on his military banners and shields.
After his victory, the sign of the cross began its role as a devotional religious object, eventually becoming one of the most revered symbols in Christianity. In the sixth century the crucifix--a cross with the image of Jesus on it--was sanctioned by the Church.
The cross became so closely identified with Christianity that by the late Middle Ages and Renaissance, when artworks inspired by Christianity proliferated, the original terrifying meaning was lost: The cross was anachronistically routinely pictured, and proudly displayed, in the hands of the very people who were persecuted by it (i.e. crucifixion).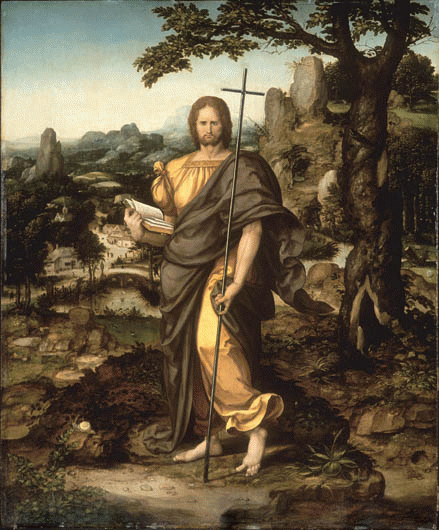 Christ in a Landscape
(
Image
by
Musee des beaux-arts de Montreal
)
Details
DMCA
Christianity was able to transform a negative symbol into one of victory and conquest--Jesus' conquest of death and Christianity's victory over Rome-- since, as historians note, the victors can not only rewrite history, they can invent new forms of it.

Now that we have established the "can," what about the "should"?
(Note: You can view every article as one long page if you sign up as an Advocate Member, or higher).