The Sleeping Giant of Health Reform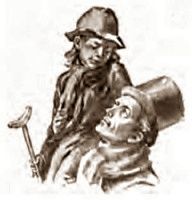 If you work for yourself, you are literally screwed out of large sums of money every year for health insurance. There are few differences in cost based on region or state regulation. Ultimately, plans in Salt Lake City and Boston cost the same, about $17,000 a year (premiums plus deductibles). Despite the costs, many self employed are grateful to just have insurance since without it a major acute or chronic illness can bankrupt a family and the absence of care can be fatal.
The self employed are denied insurance on a regular basis due to preexisting conditions. When they're able to get health insurance, they pay more for premiums and their deductibles are higher than any other group. Even after a federal income tax deduction, the cost of health insurance is the equivalent of annual payments for a condominium, at the low end, or a medium sized home, at the top of the cost scale.

A study by the Bureau of Labor Statistics found ten million self employed and another group of nearly five million single employee corporations. That's 11% of the total workforce that gets gouged year in and year out by the current health care system.
Any informed self employed person would welcome the opportunity to leave these ultra high cost, under performing plans. Plan selection would be pragmatic making it likely that a public option would be high on the list of preferences.
Why? The total cost of insurance is the obvious reason. For many, the "preexisting condition" clauses in health insurance contracts are used routinely to exclude self employed applicants and family members who have a serious illness. Even worse news awaits the self employed. Without major changes over the next few years, there will be a scarcity of comprehensive plans, even the exorbitantly priced plans available today. Cost, discrimination, and scarcity are strong motivations for real change.
- Advertisement -
This independent, entrepreneurial group of fifteen million struggles to get affordable health insurance in almost every state.
You think that these people might have a complaint or two about the pricing and coverage available from the current health care system?
Why couldn't they be an active, strong force for health care reform?