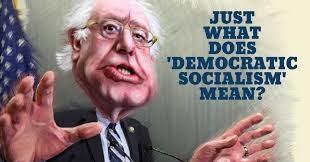 (
Image
by
commondreams.org
)
Details
DMCA
Last Tuesday (March 10th), opinion columnist, Thomas Friedman published and OpEd In the New York Times. It was entitled "Joe Biden, Not Bernie Sanders Is the True Scandinavian."
There, Friedman argued that despite Mr. Sanders' frequent references to Denmark as the standard for "democratic socialism," the country is actually a hotbed of free market capitalism. Hence, Biden's more balanced views on trade, corporations and unions make him more "Scandinavian" than his rival. Hence too, Biden's free market capitalism is vastly preferable to Sanders' socialism with its proposal of a totally planned economy.
To prove his point, Friedman's crucial focus was not so much on Denmark as on three well-worn rhetorical questions addressed to the senator from Vermont:
Does money grow on trees or does it come from heroic capitalist risk-takers who deserve their profits because of the jobs they provide? And shouldn't they be rewarded accordingly?
Aren't at least some capitalist entrepreneurs admirable, or are they all examples, as Sanders would have it, of "corporate greed and corruption?"
What's better at producing jobs and prosperity, a free enterprise economy or one based on central planning? (It was here that the question of Denmark came sharply to the fore.)
All three questions were entirely disingenuous and misleading. Let me explain.
In Praise of Risk Takers
To begin with (and to answer Friedman's first question) money obviously doesn't grow on trees and capitalist risk-takers do, of course, play an important role in the provision of jobs and prosperity. And risk deserves corresponding reward. All true.
However, what Friedman neglects to mention is that capitalists aren't alone in highly productive risk-taking. No, far from being passive beneficiaries of entrepreneurial courage and largesse, workers and the risks they take clearly confer huge benefits on their employers. Hence, if their employers' gambles deserve reward, so do their own.
By this I mean not only the obvious viz. that capitalist enterprises would never succeed without workers. I mean as well that the capitalist system actually forces employees to be more adventuresome risk-takers than their employers. While the latter typically risk only their money, workers within the system risk their very lives and the existential welfare of their families.
Think about it. In preparing themselves to enter the world of work, college students bet four years or more of their lives as well as thousands of dollars in borrowed money on the wager that their "major" (be it Economics, Business, English, Math, Science, Pre-Med, etc.) will actually someday land them a job. That's a gamble that benefits not only employers, but the rest of us as well.
Moreover, if they're fortunate enough to land a job, the graduates' work often forces them to change location to places far from their families and friends. That too involves leave-takings, courage and high-stakes risk.
And if their gamble does not pay off (unlike their employers) there's no Chapter 11 for them to invoke. Thanks to politicians like Joe Biden, they still have to pay back those college loans, and/or live far from the support of their extended families.
It's similar for those who do not go to college. Every day, countless numbers of them risk their very lives in jobs whose dangers are far more threatening than losing money in a failed business venture. So, if roofers fall from a great height, if fishermen are swept overboard, or if carpenters cut off a finger or hand, they often have no benefits to sustain them while recovering or to insure their eventual return to the workforce. All of that represents acceptance of risk that benefits employers. It contributes far more to economic prosperity than dangers involved in the process of securing loans in the comfort of a banker's office or in a simple telephone call.
So, no, Mr. Friedman, money does not grow on trees. It comes from employers risking their money. However, in at least equal measure it derives from the risks taken by their employees. The latter deserve guaranteed reward that can fittingly come from government's repaying them with as much abundance as it currently extends to their employers.
A Corrupt System
As for Friedman's question about greed and corruption. . . Is Sanders correct in saying that all capitalists are somehow consumed by avarice?
(Note: You can view every article as one long page if you sign up as an Advocate Member, or higher).