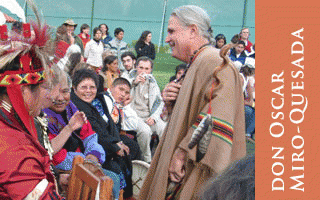 don Oscar Miro-Quesada

(

Image

by

Don Oscar Miro-Quesada

)

Details DMCA



When we gaze upon Nature, both on this planet and in the universe at large, we tend to see a system that is dead and mechanical while serving as a resource for our consumption. We do not see an aliveness, nor do we see an intelligent system in which all creatures exist for the sake of the whole planet and universe.


Nothing is sacred. Not seeing our world in a relational context, our God(s) are a transcendent Being above Nature instead of the Life-Essence within all. Our God is thus made in the image of our political, corporate and educational leaders. He is an externalized top-down ruler.


As many of the spiritual adepts say, the world we create is a mirror to the state of our Psyches, whose King of the day equates to the ego. Our male dominated rule is about externals being our bosses. It doesn't matter if the boss is a woman or a man, it is still an externalized male system. This lack of balance of male (external-dominant) and female (internal-relational) has created a wasteland. Consider the following picture as you contemplate what we/you/me live within:




How is this industry organized? I bet it's top-down. How does it care for the environment? I bet it doesn't; it only wants more money which boils down to more power on an eco-political scale. Or, does this resonate more with how we see ourselves in modern day?
http://www.google.com/imgres?imgurl=http://i.cdn.turner.com/cnn/2011/LIVING/03/11/o.buying.diet/t1larg.shopping.diet.jpg&imgrefurl=http://www.cnn.com/2011/LIVING/03/11/o.buying.diet/&h=360&w=640&sz=60&tbnid=YIx3WXMr1N6xIM:&tbnh=90&tbnw=160&zoom=1&usg=__Ef3Xia1t1mHKXcnZ2PPnAr8pvNo=&docid=ZXdbAn4VPFV9NM&hl=en&sa=X&ei=h4tzUoaFOrSgsQT7uYDoBg&ved=0CC8Q9QEwAg

Do you think the second picture has any relationship to the first? So that we're not being so sexist in our commercialized hypnotism, here is a male picture:
http://www.dreamstime.com/stock-image-man-watching-football-tv-image2517591

In the man's consuming passivity, what power does he have? Who are his rulers as long as he stays entrenched in the theatrics of professional sports? He identifies with a surrogate to whom he delegates all his power. Assuming at least 10,000 other "fans" all blowing their power and breath into this same atavar, no wonder the powers-that-be seem invincible. Like the consumer-woman, the fan-man serves the shitstem. See the blue glow of the screen reflected on his face? He might as well crawl into the television as truly as she might as well wrap herself up in one of her shopping bags.

What have we become? What are we doing to our planet? What are we leaving behind for future generations? Can you see the relationship of the above woman surrounded by plastic bags, and the man's sense of adventure being nothing more than a passive gaze upon a soccer game, to the state of our environment? Do you see any real life in these people? Is our inner death a mirror to what we are doing to the planet?

Plastic is oftentimes utilized as a metaphor for not being real. Is it any wonder plastic is oil-based, the anchoring power base of the rich? Can you also see why the corporations have killed the original tribal ethic to think through the impact of a decision on the 7 th generation? For most of us, including myself, the answer is a resounding "No!" We can only think about short-term profits. And we say we care about our children. This is the biggest lie told in this planet's history.
(Note: You can view every article as one long page if you sign up as an Advocate Member, or higher).