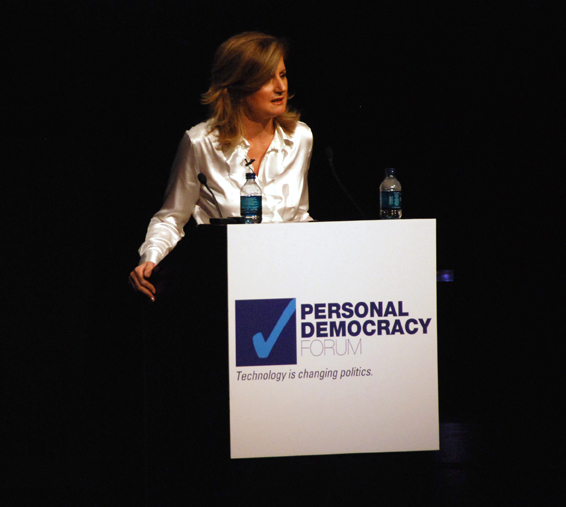 Picture Picture credit: The genius of Elliot Curson
Einstein said that in the middle of every difficulty lies opportunity. Would it be that the e=mc2 guy would have been in the midst of my week's converging opportunities, the only difficulty he'd have would be sifting through all the options converging in one kismetuous explosion of possibility called the Personal Democracy Forum (Pdf 2008: Rebooting The System,) brought to you by the people at personaldemocracy.com.
How odd that the day after my three years as a columnist for one major metropolitan newspaper ended from budget cuts due largely to the new media (i.e. the Internets), that I found myself behind enemy lines... I mean, Pdf 2008. It came as no surprise that my column failed to survive the reader and advertising $ loss. My life is chock full of failure. I'm very good at it. For Pete (and my own sanity's) sake, I wrote the book on it - "Great Failures of the Extremely Successful...Mistakes, Adversity, Failure and Other Stepping Stones to Success." But what is always a surprise, once again I found that, as they say, when one very old door closes, another new media porthole opens. While it's something I've pounded into many an audience and reader's head, its happenstance is nonetheless stunning.
Pdf 2008, the Pdf's fifth annual gathering, was like a candy shop of possibilities...except for the candy. The amount of readers I had reached - both of them - through my newspaper column, weren't nuthin' compared to what lie on new tech's horizon. And P-08 gave me a new roadmap; one I don't even have to figure how to refold.
It's all about something I'm sure our founding fathers never fathomed: putting the power in the hands of the people. I, being a people, have a world of access to that power. Now, that's not to say that as soon as I figure how to wield that power I won't use it in an attempt to take over the world and make the people who haven't figured it out themselves to bow at my feet, or at least become my Facebook friend.
But the conference's overriding message, from both the right and left, was an old one that I already had in my primeval writer's knapsack: And though I've never been afraid to bend it in the name of satire, the result is the same: Getting to the truth.
In a panel with Townhall.com's Chuck DeFeo, HuffPost's Arianna Huffington argued that "there's not a your truth and my truth. There's only the truth." Giving the Bush administration's seemingly forgotten benchmarks that were supposed to define our success in Iraq as a prime example, she reminded her audience that the media needs to stick with a story with an "obsessive compulsive disorder" attitude; not let it go until you've found the very truth at the very bottom of the story.
She called for the new media's commitment to accountability and transparency, calling it its "greatest gift,"reminding us what the old media seems to have forgotten (hello Bob Woodward): Never give up independence for access.
With fresh tools, which I'm sure my 13 year-old will explain how to use, Pdf 2008 showed me again that I don't have to throw away the experience I have in my old bag of tricks, only retool it for the bigger and better.
Ah, failure, can growth have a better friend.
Now, how do I work this Commodore 64 to boot up?
Award-winning TV writer, Steve Young is author of numerous books and columns, though one less than he had last week. (www.greatfailure.com)