Busted!
(
Image
by
George Eliason
)
Details
DMCA
Early in 2018, I pulled back the veil Propornot hid behind and disclosed the groups behind the smear site. Propornot is a product of the Atlantic Council's backers. It is a symptom of the ongoing Information War. People in the groups behind it are waging to destroy Press Freedom in the US by branding dissenting voices as objects of ridicule at best and enemies of the state at worst. Below, you'll see the results of yet another website scan, as well as circumstantial evidence showing the InterpreterMag and the Atlantic Council, are responsible for Propornot. The lawsuits are starting and because of the damage Propornot's lists have done, will trickle down to the InterpreterMag staff, the Atlantic Council, and their backers at some point.
For those that don't know, the Atlantic Council is brought to you by the Central and Eastern European Coalition (CEEC), the Ukrainian Congressional Committee of America (UCCA), and the Ukrainian World Congress(UWC). Among these three organizations, there is a constituency of 20 million voting ultranationalist (politically Bandera-era nationalists ), as well as constituencies across governments in Central and Eastern Europe today.
There are also Levant region US-based Diaspora governments including Oriental Promethean, Syrian, and Gulenite groups that often financially contribute to politicians and gain huge amounts of political backing because all the Diasporas work together in a large bloc when it suits their needs.
The long game behind all of this is to normalize extreme nationalism in the US. If they can get people on all sides of the political spectrum so divided through pure politics that people demand a forced normalization, what's offered will be the new US nationalism.
This is done continuously to develop the will and the means to provoke legal action and civil lawsuits AGAINST these same commentary and news websites that make up the Propornot blacklist. It doesn't matter how small a deal Propornot are in reality. Propornot plagiarized their blacklist from spies-for-hire groups.
This same list is the handout for every war-mongering, democracy-hating group in America and across the world. Whatever extraordinary means they need to use, they are determined to force offending websites to get in line or suffer a costly closedown. This latest partnership Facebook has formed with the Atlantic Council is another trial move to a forced normal where news and information are spoon fed.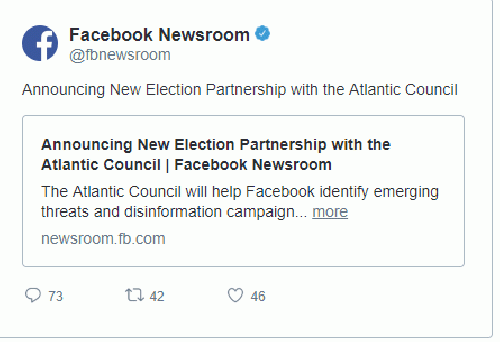 (
Image
by
George Eliason
)
Details
DMCA
This is part of a much, much, larger story that starts with Propornot and goes through InterpreterMag to their parents at the @DFRLab of the Atlantic Council. The groups that identify emerging threats and disinformation for Google are the same group members of the Atlantic Council that Facebook will employ. Google has well over $100 million invested in these groups so using them to determine Search Engine Results Pages (SERPs) is simple economics. These core groups supply the fact-checking and relevance check for Google. They have the means to take a monopoly on information and deem truth to be whatever the hell they want or get paid for it to be.
All of this starts with the bottom rung at sites like Propornot. For the January article, I scanned the website using Iron Wasp. It is one of the best application security scanners available today and is used by hackers and penetration testers worldwide to test for vulnerabilities of a website (web application). What this means is that within a very tiny margin of false-positives, scanners like this deliver verifiable, documentable information that can be used in a court of law.
January scan
(
Image
by
George Eliason
)
Details
DMCA
That scan could be replicated by any person, at any time. I didn't reveal the vulnerability scanner I used because it shouldn't matter. If more scans were done by other people using a variety of scanners, it would hammer home the fact Michael Weiss and company are the people behind Propornot everyone was looking for.
The problem remains that the natural curiosity affected parties should feel because they have been damaged is still replaced with inertia. For many news and commentary platform owners, the last few years have overloaded their senses with the shock value of being called a tool for a foreign government and having their reputations called into question or destroyed.
Instead of taking a sober and critical look by doing the scans themselves or interviewing subject-matter experts, this inertia has maintained my single scan as the only one that exists publicly for Propornot. It is the only serious effort and scan I've been able to find. Recently, I set up an online snare that InterperterMag's Michael Weiss, Catherine Fitzgerald, and their bit players had the choice to either step in or ignore entirely. The whole thing hinged on him and them not being as bright as I thought they were. I'm glad I didn't bet on that. I'll get to that in part 2.
New Scan Results for Propornot
(Note: You can view every article as one long page if you sign up as an Advocate Member, or higher).