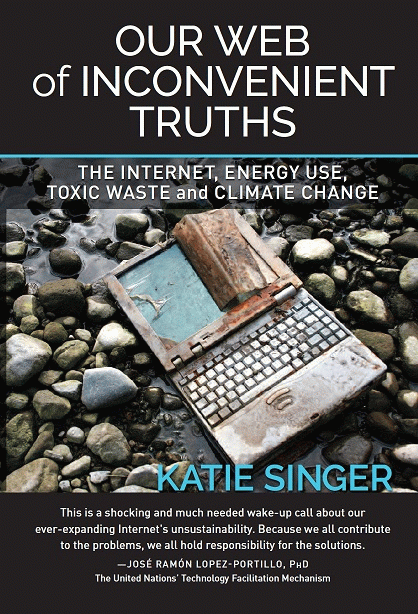 Our Web of Inconvenient Truths

(

Image

by

Katie Singer

)

Details DMCA



Posted by Katie Singer
1. While publication of Our Web of Inconvenient Truths (the book) has been delayed, to learn about the Internet's footprint-its energy use, greenhouse gases, toxic waste and worker hazards, check out my two-part essay, "Our Web of Inconvenient Truths," published in the Stella Natura 2020 Biodynamic Planting Calendar.
What are the true costs of each Google and GPS search; every social media post and video stream; every email, text message and Skype call; every online purchase; every transfer of funds or medical or educational records; every "smart," "energy-saving" Internet-of-Things-connected refrigerator messaging its owner to buy more milk? Every online activity requires international networks of cell sites and data storage centers that start with extraction of natural resources (including conflict minerals) and consume huge amounts of water and greenhouse gas-emitting electricity. Manufacturing every smartphone, tablet and access network is powered by fossil fuels and workers subject to hazardous conditions. Manufacturing depends on refineries, GHG-emitting power plants, nuclear plants, chemical plants, steel mills, metal smelters, wood (for smelters) and factories of all kinds that impact myriad regions' waterways, air quality and public health. Each energy-guzzling, toxic waste and greenhouse gas-emitting operation depends on all of the others. They interconnect by networks of power lines, natural gas pipe lines, cargo ships, trains, trucks, airplanes, shipping lanes, railways, highways, airports, telecom access networks and data storage centers to form one gigantic super factory.
The United Nations supports "universal access" to the Internet. However, manufacturing 3.5 billion more individual devices and installing infrastructure for 3.5 billion more people to go online will exponentially increase energy use, greenhouse gas emissions, extractivism, worker hazards, public health impacts, surveillance".etc. at a time when we need to reduce these. How/can we provide universal access and reduce consumption? Could current Internet users ration their access so that everyone who wants web access could have it?
The Campaign to Reduce Our Internet Footprint introduces users to the true costs of a streaming a video or shopping online or using an e-vehicle. For example, each smartphone embodies 1000+ substances; each substance has its own energy-intensive, toxic waste emitting supply chain. With the Campaign, I list about 100 of these substances, invite users to research one of them, then share that research with classmates and co-workers. (The Campaign is designed for high school and collegiate courses; but anyone can participate.) www.ourweb.tech/campaign
Maria Gilardin, producer of www.tucradio.org, recently released Part One of a two-part podcast of me speaking about the Internet's footprint: www.tucradio.org/podcasts/newest-podcasts/katie-singer-the-internets-footprint-part-one-of-two
2. If you're considering installing a "renewable" energy system, please do due diligence and get informed first. I've begun listing resources about solar PV and wind turbine systems' hazards at www.ourweb.tech/renewable-energy.
3. Many people begin learning about telecommunications' dangers when they learn about 5G, fifth generation of wireless infrastructure. While having more people informed is wonderful, getting informed about 5G without knowing about the dangers of 2G, 3G, 4G and our previous 150 years of telecom rules and regulations"can cause problems. For an introductory overview, check out Abe Vandenberg's conversation with me at https://genuinelyuseful.com/podcast-ep24-katie-singer
For updates about the health and environmental effects of exposure to electromagnetic radiation (EMR) from man-made tech, visit www.saferemr.com.
For roundups about EMF Tech & Utility News, sign up for Patricia Burke's newsletter at patricia999burke@gmail.com.
To learn about telecom corporations' "rights," check out Dr. Jane Anne Morris' explanation. Fyi, Jane Anne died last May, and she gave this talk in 1996.
Here's my blog about 5G, published at www.localfutures.org, www.counterpunch.org and www.westonaprice.org.
As I explain in my blog, telcos usually deliver 5G via fiber optics to public right-of-ways (PROWs); then, infrastructure from PROWs to end-users is wireless. While many people ask for fiber optics to each premises (because it is faster and more secure than wireless tech), they may be unaware of problems with such a system: Fiber may not hold up during power outages. Read: https://interlinked.cf/blog/2019/11-6-false-solutions-to-power-outages.php
Fiber optics delivered to each premises also present potential health impacts. Read Jeromy Johnson's blog: https://www.emfanalysis.com/fiber-optics-increasing-electrical-sensitivity/
(Note: You can view every article as one long page if you sign up as an Advocate Member, or higher).