My guest today is veterinarian and author, Dr. Nick Trout. Welcome back to OpEdNews, Nick. We last spoke two years ago about your third book, Ever by My Side . Your latest book, The Patron Saint of Lost Dogs , just came out in paperback. What's new and different in your fourth book?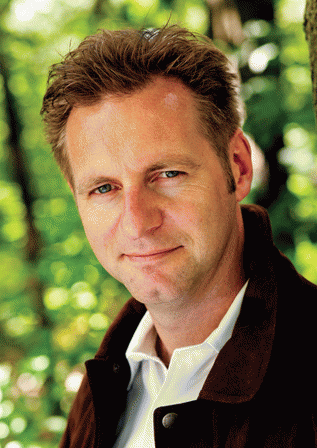 Dr Nick
(
Image
by
Nick Trout
)
Details
DMCA
For starters, this is my first foray into fiction. All of my previous books have been works of non-fiction, so writing a novel was very different. For many years I've appreciated the fact that I've got many great animal stories but for various reasons they come up short. Perhaps things didn't turn out as I hoped. Maybe the pet is perfect but the owner and his/her backstory is not that interesting. With fiction I can cherry pick, I can bend the story to fit my needs and, best of all, I am no longer the central character.

All true. What did you find most challenging about writing fiction?

In non-fiction, you already know which way the story goes. You know the plot and the players you've just got to find an interesting way to deliver the details. In fiction, though you can bend the story in any which way, it has to work, it has to be reasonable, logical. I had to learn to get inside a character's head, to think as they would think not as I would think. This sounds like fiction writing 101 but for someone who's not had any formal education in English since I was sixteen years old, it was as much of a challenge as it was liberating.

I bet! Your story has love and memory and miscommunication at its core. Why did you choose these themes?

In my previous book, Ever By My Side, I tried to capture the essence of what it means to have a wonderful father, so I thought it would be interesting and challenging to consider an estranged, troubled relationship between father and son. The biggest reason for complaints about veterinarians by pet owners is a failure of good communication so I think I have a sense of why things go awry with the way people handle one another. I also loved the opportunity to create a protagonist who could transform during the course of the book in his quest for that elusive prize so many of us search for: redemption.

And change he did. It's ironic that we often have the most difficulty communicating with those we care about most. Your book also plays with our memories, our interpretation of them, and how they guide our future actions, although they may have been totally misunderstood or misconstrued. Where did your interest in that come from?

Memories are so subjective, open to spin, the details from the past easily manipulated by the events of the present. In my line of work, I am constantly dependent on pet owners for a patient history and their recollections of how a problem came to be. I love it when I "interview' a husband and wife and their stories about their cat or dog are totally different creating an entertaining "he said, she said" comic interlude. The optimist may make the duration of the disease short, the clinical signs mild, the detriment to the pet minimal. The pessimist finds doom and gloom in every facet of the animal's being and blames their spouse for not agreeing to see the vet sooner. Same past, different interpretation. To gain true perspective, just like my protagonist, Cyrus, we have to step outside our personal feelings in "the now' and revisit the past with objectivity and new eyes.

Yes, but if being objective were so easy, we would all do it, Nick! Fourth time around, is it getting any easier juggling your writing with your veterinary career?

No, if anything it's getting harder. I'm in the throes of finishing up the first draft on my next book, which carries on where Patron Saints left off (surely you want to find out what becomes of Bedside Manor and the relationship between Cyrus and Amy?). This is due out this time next year. Both books have been written on a deadline and any writer will tell you that's hard enough but when you throw in a day job that can easily eat up 50-60 hours a week, life gets tricky. From here on out, I'm going old school - write the book first and then try to sell it to a publisher.

So, if it is increasingly difficult, why do you keep on juggling? To keep writing? You admit it's a stretch. Why not give it up? Or write more slowly? Or, I don't know, something else. Don't you mind living with the stress? And how does that pressure affect your home life, your "quality time' with your wife?

Writing is a perfect distraction from what I do in my regular work. It forces me to channel my experiences into words, and, in doing so, I think it helps me better communicate with pet owners faced with difficult emotional decisions. Writing and publishing is so different for someone trained in the sciences. I get to use a dormant part of my brain. It's a hobby, but yes, I do plan to write more slowly. My wife is getting fed up of me taking my laptop to the beach!

I can definitely see her point. Do your colleagues, patients and their families worry that they will end up on the pages of one of your books?

From time to time a client will ask me if they are going to make the pages of one of my books. Invariably, this is because they want to. Where possible I have always sought permission to write about a pet or an owner and, if not, I would change details to preserve anonymity. Of course, now that I'm writing fiction, everything is completely made up and, as they say, resemblances are purely coincidental, at least that's what I want you to believe!

Of course! You've mentioned that you're hard at work on the sequel to this book, Nick. Do you worry that you'll ever run out of material?

Not really. Intriguing, dramatic, heartwarming, heartrending and sometimes hilarious cases walk through our hospital doors every day. I never cease to be amazed. But what I have decided to do with my writing is to slow down. This sequel will be my fifth book in six years. It's grueling working to a deadline. I'm going to take my time with whatever follows.

Sage advice; good for you. What haven't we talked about yet?

As ever, you've asked wide ranging and interesting questions. Think you've covered it.

A pleasure as always talking with you, Nick. Can't wait for the next installment!

***
my previous interview with Nick: