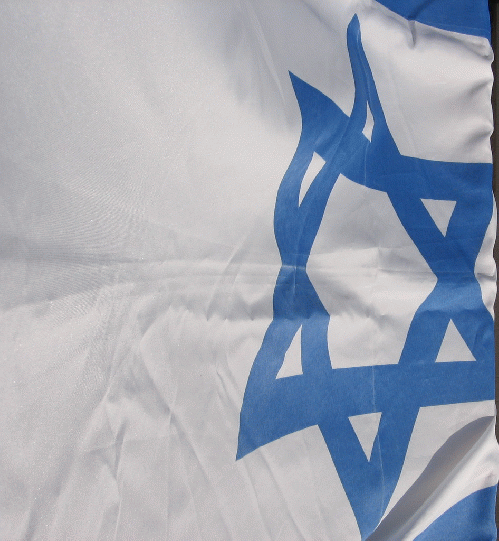 Israel Flag
(
Image
by
RonAlmog from flickr
)
Details
DMCA
Part I -- Flying the Israeli Flag
During the January 6 insurrection, hardly any of the U.S. media took note of the following fact: among the signs and banners of rightwing organizations -- the "South will rise again" Confederate states enthusiasts, the fascist-like Rambo militias, and the disparate run-amok MAGA maniacs -- stood a very large Israeli flag.
If you are looking for comment and contextualization of this appearance, the best place to go is the Israeli progressive web-based magazine, 972. There you will find a very good piece, dated 22 January 2021, by Ben Lorder.
Lorder explains that the presence of the Israeli flag in this milieu is not a rarity. "It is hardly the first time," he tells us. It has also shown up at "Straight Pride parades and pro-Trump car caravans." Indeed, according to Lorder, "for the ascendant forces of right-wing populism in the United States and around the world " support for Israel takes on a special intensity." Now, why would that be so? Not exactly for progressive and humanitarian reasons. It would seem that for the rightwing hate-groups presently feeling their time has come, "Israel has become a symbol for a set of values, an entire worldview. " A canvas to project their own fantasies of nationalist chauvinism."
Interestingly, this rightwing admiration is limited to the Israeli state, which is seen as powerful, aggressive and xenophobicall necessary qualities for the defense of the Caucasian West against "ethno-religious Others." This admiration does not extend to diaspora Jews, because American and European rightwing revival is also anti-Semitic. This situation makes for strange bedfellows. Most of these rightist ideologues share the Zionist hope that all those diaspora Jews will pack up and leave -- for Israel.
Part II -- Making the Identification -- the Israeli State
One might raise the objection that this identification of a demonstrably racist Western rightwing movement with the Israeli state is a serious misinterpretation -- resulting in a misappropriation of the Israeli flag. Israel just can't be the fiercely xenophobic place these fanatics think it is.
Unfortunately, this objection runs counter to the facts. There is abundant evidence the State of Israel is aggressive and xenophobic and, what is more, is willing to ally with the present Western rightwing movements. The flag, of course, comes along for the ride. For instance, in a Washington Post article by Ishaan Tharoor, entitled "Israel strengthens its ties with the West's Far Right," the author notes that "Under [Prime Minister] Netanyahu's watch, Israel has amassed a conspicuous crop of illiberal allies. Some, like [Italy's Matteo] Salvini and Hungarian Prime Minister Viktor Orban, represent political movements with histories of neofascism and anti-Semitism. Others, like Philippine President Rodrigo Duterte and Brazilian President-elect Jair Bolsonaro, espouse the agenda and rhetoric of would-be strongmen, promising the destruction of their enemies while scoffing at pearl-clutching human rights activists."
This has not gone unnoticed among American Zionists such as Jeremy Ben-Ami, president of the Jewish American group.
J Street. Ben-Ami said that "In their zeal to maintain the occupation and reject all criticism of its policies towards the Palestinians, the Israeli Right clearly feels kinship with other ultra-nationalist leaders who are demonizing ethnic minorities, civil society groups and democratic institutions."
Finally, one can point out that Prime Minister Netanyahu has hired Aaron Klein as his new campaign manager. Klein is a "former reporter for the right-wing Breitbart News site [and] worked with Steve Bannon on Donald Trump's first presidential campaign...Klein also collaborated with Bannon to support disgraced former Alabama Senate candidate Roy Moore, who was accused of sexually assaulting multiple women. The Yeshiva University graduate wrote articles in Breitbart in an effort to discredit Moore's accusers." All one can say here is like finds like.
Part III -- Making the Identification -- the Israeli Jews
Yet, one can still raise a doubt. One can say that just because the Israeli government has gained racist allies who support its policies of ethnic cleansing, that does not mean that the majority of Israeli Jews are supportive of this. But again, the evidence is incriminating. After all, Israeli Jews democratically elect their prime minister and Netanyahu is certainly not an unknown politician. He leads the country's rightwing Likud Party and has run the government since 2009. Obviously, he and his policies are both familiar and acceptable to at least a hefty plurality of Israeli Jews. Perhaps as a result of this fact, few Israelis are making a fuss about the use of their flag by the extremist right.
Nonetheless, it is important to understand that the present Israeli ethno-centrism and the racist policies it engenders are not new. They do not have their origin with Benjamin Netanyahu's time in office, or the current generation of Israeli Jewish citizens. The present culture and politics have a deeper origin. It lies with the nation's founding ideology of Zionism.
(Note: You can view every article as one long page if you sign up as an Advocate Member, or higher).