We're not worth having around after 65, says Michael Collins. Why else would they want to kill us off?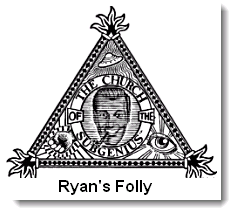 Church of the Subgenius

(

Image

by

Unknown Owner

)

Details DMCA


Church of the Subgenius


House Budget Committee Chairman Paul Ryan (R-WI) proposed a Medicare plan that combines Social Darwinism and a bailout for health insurance carriers, even larger than the one provided by the president's health care reform legislation.

The specific features of the program are less important than the overall effect. In summary, Ryan proposes a plan that will starve most of those sixty-five and older of health care. Here are the numbers, based on Congressional Budget Office projections and elaborated by Dean Baker and David Rosnick (in 2011 dollars) (Center for Economic and Policy Research, April 2011)
The Republican plan privatizes Medicare by 2022. Seniors will choose their health insurance from corporate health insurance companies. The government will make a lump sum payment ($6,097) for this purchase. Seniors will then make a beneficiary payment on their own and take responsibility for other provider payments. The beneficiary payment will represent an increasing portion of median income from 2022 through 2050. In addition, there are other provider payments estimated, like co-pays. I added a fifth column, total senior payments, beneficiary plus other payments.
Are They Kidding?
Seniors struggle now to meet their expenses, trading off essentials like medicine, winter heating costs, and other fundamentals. Where are they going to come up with the total senior payments, the fifth column of the chart that I created totaling beneficiary and other payments? Many are not.
Here's another look at the numbers, the beneficiary payments (not including other provider payments) as a percent of income by income status within the overall universe of those entering the system at 65. Almost half of income goes to those at the 40th percentile on the income over a third for those in the middle. Where will they get the money? They don't have it now. Are we looking at a resurgence of the economy? Will seniors continue working to make these payments, slaves to corporate health insurance providers? Where will they find the jobs to make these payments?
Fixin' to Die Blues
What happens when you can't afford health insurance? You can't afford health care. What happens when you can't afford health care and you get sick? It seems Chairman Ryan has taken a page or two from Søren Kierkegaard's nineteenth century classic, The Sickness Unto Death. There will be more illnesses among seniors. These illnesses will not be treated and compound suffering until the uncared for seniors will die.
Wasn't Ryan among the group that worried about death panels in the Obama health care reform package? It doesn't matter to the Fox News constituency. Whatever works at the time. Now Ryan needs to balance the budget, he thinks. How would you do that? Let's see. Deny health care to the most vulnerable sector of the population, make them sick, and when they die, you've to further savings.
The Plan has no Credibility on its Face
(Note: You can view every article as one long page if you sign up as an Advocate Member, or higher).