This piece was reprinted by OpEd News with permission or license. It may not be reproduced in any form without permission or license from the source.
Reprinted from Consortium News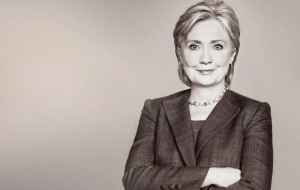 Democratic presidential candidate Hillary Clinton.
(
Image
by
Verso Books
)
Details
DMCA
MEMORANDUM FOR: The President
FROM: Veteran Intelligence Professionals for Sanity
SUBJECT: Those "Damn Emails" -- "Really a Concern"
Introduction
Last Wednesday Robert Gates, CIA Director under President Bush-41 and Defense Secretary under President Bush-43, publicly commented that Secretary Hillary Clinton's "whole email thing " is really a concern in terms of her judgment," adding, "I don't know what originally prompted her to think that was a good idea."
What originally prompted her does not matter. As your Secretary of State and your subordinate, she willfully violated laws designed to protect classified information from unauthorized disclosure. It may be somewhat difficult for those not as immersed in national security matters as we have been to appreciate the seriousness of the offense, including the harm done in compromising some of the most sensitive U.S. programs and activities. This is why we write.
Pundits and others are playing down the harm. A charitable interpretation is that they have no way to gauge what it means to expose so much to so many. We do know, and our overriding concern is to protect the national security of our country from further harm. It would be a huge help toward this end, if you would order Attorney General Loretta Lynch to instruct the FBI to stop slow-walking the email investigation and release its findings promptly.
If you choose, instead, to give precedence to politics over national security, the American people will be deprived of timely appreciation of the gravity of the harm done; national security officials who do follow the rules will be scandalized; FBI investigators will conclude that that their job is more political than professional; and the noxious impression will grow that powerful people cannot be held accountable when they break the law. Worse: if the results of the FBI investigation remain under lock and key, dangerous pressures are likely to be exerted on the most senior U.S. officials by those who have the key -- as we explain below.
* * *
We the undersigned Veteran Intelligence Professionals for Sanity (VIPS) have spent 400 years working with classified information -- up to and including TOP SECRET, Codeword, and Special Access Programs (SAP). Given that experience, we believe that much of the commentary on the former Secretary of State Hillary Clinton email controversy has been misplaced, focusing on extraneous issues having little or nothing to do with the overriding imperative to protect classified information.
As intelligence, military, and foreign service professionals, we are highly aware not only of that compelling need, but also of the accompanying necessity to hold accountable those whose actions compromise -- whether for reasons of convenience or espionage -- sensitive operations, programs and persons. In addition, we know that successful mutual cooperation with foreign intelligence services depends largely on what they see as our ability to keep secrets secret.
Background
Last August, Secretary Clinton handed over her private email server to the FBI, five months after she acknowledged she had used it for work-related emails as Secretary of State. She admitted to having deleted about 31,000 emails she described as personal. Media reports last fall, however, indicated that the FBI was able to recover the personal emails, and was reviewing them, as well as the 30,000 others she had described as work-related.
In January, the Department of State announced that, of the 30,000 work-related emails, at least 1,340 contained classified material. The Department retroactively classified 22 of those TOP SECRET and prevented their release. Among the 22 were some that, according to media reports, included information on highly sensitive Special Access Programs (SAP).
The White House has said it will do nothing to impede the FBI investigation and possible filing of charges against Clinton, if the facts should warrant that kind of action. Inasmuch as the outcome of the investigation is bound to have major political consequences, such White House assurances stretch credulity.
(Note: You can view every article as one long page if you sign up as an Advocate Member, or higher).