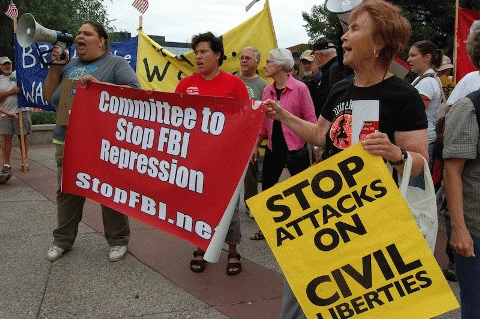 Protesters in Minneapolis demand an end to war and the attacks on civil libertie
(
Image
by
Fight Back! News/Kim DeFranco
)
Details
DMCA
For ten years, the tragic events of September 11, 2001, have been used as a pretext for endless war -- tens of thousands dead in Afghanistan; more than a million killed in Iraq; and a campaign of repression at home, carried out against thousands of Arabs, Muslims, and now, even the peace movement. The road from 9/11 led the FBI to my door, with an early morning raid on my home, and a secret grand jury investigating two dozen peace activists on terrorism charges.
When the Bush Administration used the events of September 11 to justify war against Afghanistan, I joined thousands to march against that war. How many of us knew it would become the longest war in US history? Costing tens of thousands of lives, and nearly 500 billion dollars, this war has lost the support of the majority of Americans. Even so, the Obama Administration continues Bush's war, making it his own. Under his command, the war has expanded into Pakistan, and the "war on terror" is still offered as justification for aggressive military policies across the globe.
After 9/11, a war was launched on civil liberties inside the US. In an effort to clear the way for endless war abroad, the government created fear of an enemy within. I watched in shame as this unfolded first within Arab and Muslim communities -- thousands of immigrants were rounded up and questioned, many detained or deported. This has become a permanent campaign of repression and it has now expanded beyond the Muslim immigrant community.
The PATRIOT Act, with 160 provisions, opened the door for unrestrained spying on American residents and citizens, authorizing the FBI and other agencies to tap our homes, read our emails, and comb through our trash. It laid the groundwork for a network of undercover agents hiding within our own communities, from mosques to peace groups. At the same time, we witnessed massive scale racial profiling, especially at airports, where Muslims, Sikhs, Arabs and South Asians were questioned and searched, sometimes denied boarding onto flights they had paid for.
Under the guise of counter-terrorism, domestic spying mushroomed. There are now more than 164,000 suspicious activity reports maintained by the FBI without criminal cause, and a mounting list of so-called terror plots manufactured by the FBI and ensnaring individuals not suspected of involvement in any other criminal activities. The dangers of collaboration between local, state, federal and private agencies are highlighted by last month's shocking reports that the CIA is operating in violation of the law, to spy on Americans through the New York Police Department.
A legal campaign has targeted Arabs and Muslims engaged in political or charity work that runs counter to official US foreign policy. Dr. Sami Al Arian of Tampa, Florida, was an outspoken defender of civil liberties for Arabs and Muslims in the US, and worked for the cause of the Palestinian people. Since his very public arrest in February 2003, Dr. Al Arian has spent five and a half years in prison, much of that time in solitary confinement. He has now been under house arrest for 3 years. All of this, while government prosecutors failed to win a single guilty verdict against him for charges stemming from his political organizing. In another important case, The Holy Land Foundation was the biggest Muslim charity in the US when its leaders were brought up on charges of material support to terrorism. They were convicted and sentenced to 15 to 65 years each, for the crimes of sending money, food, clothing, medical and school supplies to Palestinian charities.
Even while I was aware that some of this was happening, I never imagined that I could be next. But at 7am last September 24, 8 FBI agents burst through the door of my home, and spent 5 hours going through every room, searching for evidence that I had given material support to foreign terrorist organizations. The search warrant entitled them to seize any property associated with my political activism, organizations I've worked with and anything about Colombia or Palestine -- evidence of what I believe, what I say and who I know.
Before my phone was seized, I insisted on the right to call an attorney. He got the word out, and supporters began to gather outside my house. I soon learned that coordinated raids were being carried out at 5 Minneapolis homes and the office of the Anti-War Committee, as well as two homes in Chicago. At the same time, agents from 5 different FBI district offices were trying to question political colleagues across the country, from Michigan, North Carolina, Wisconsin, and Arizona and California.
(Note: You can view every article as one long page if you sign up as an Advocate Member, or higher).