From Consortium News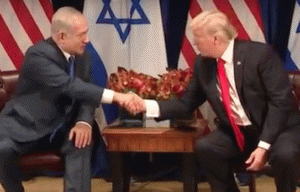 President Trump meets with Israeli Prime Minister Benjamin Netanyahu in New York on Sept. 18, 2017.
(
Image
by (Screenshot from Whitehouse.gov))
Details
DMCA
In the final presidential debate of 2016, Hillary Clinton famously called Donald Trump the "puppet" of Russian President Vladimir Putin. But what's increasingly clear is that Trump has a more typical puppet master for a U.S. politician -- Israeli Prime Minister Benjamin Netanyahu.
Since Sept. 18, when the two men met in New York around the United Nations General Assembly, Netanyahu has been pulling Trump's strings on almost every foreign policy issue. Arguably, the puppet/puppeteer relationship began much earlier, but I've been told that Trump bridled early on at Netanyahu's control and even showed a few signs of rebellion.
For instance, Trump initially resisted Netanyahu's demand for a deeper U.S. commitment in Syria by ordering the shutdown of the CIA operation supporting anti-government rebels, along with the Trump administration's statement that U.S. policy no longer sought "regime change" in Damascus.
Immediately after that announcement, Netanyahu had some success in getting Trump to reverse direction and fire 59 Tomahawk missiles at a Syrian air base on April 6. The attack followed what one intelligence source told me was a staged chemical weapons incident by Al Qaeda operatives in the rebel-controlled town of Khan Sheikhoun in Idlib province, possibly using sarin delivered via drone from a Saudi/Israeli special operations base in Jordan. Yet, although apparently duped by the subterfuge into the missile strike, Trump still balked at a complete reversal of his Syrian policy.
Then, in May, Trump picked Saudi Arabia and Israel as his first overseas trip as president -- essentially following the advice of his son-in-law Jared Kushner -- but I'm told he came away feeling somewhat humiliated by the over-the-top treatment that involved him getting pulled into a ceremonial sword dance in Saudi Arabia and facing condescension from Netanyahu.
So, over the summer, Trump listened to advice about a possible major overhaul of U.S. foreign policy that would have checked Israeli/Saudi regional ambitions, opened diplomatic doors to Iran, and addressed the Korean crisis by brokering negotiations between the North and the South over some form of loose confederation.
There was even the possibility of a Nixon-goes-to-China moment with tough-guy Trump meeting with Iranian President Hassan Rouhani and the two countries restoring diplomatic ties, a process that could have given U.S. companies a better chance to compete in the Iranian market.
Those proposed moves had the advantage of reducing international tensions, saving the U.S. government money on future military adventures, and freeing U.S. corporations from the tangle of economic sanctions -- exactly the "America First" strategy that Trump had promised his working-class base.
However, instead Netanyahu succeeded in pulling Trump's strings during their conversations on Sept. 18 in New York, although exactly how is still a mystery to some people close to these developments. One source said the Kushner family real-estate company has exposure to substantial Israeli financing that could be yanked, although Jared Kushner's financial disclosure form only lists a $5 million unsecured line of credit, held jointly with his father, from the Israel Discount Bank.
Trump also has major pro-Netanyahu donors to his political war chest and his legal defense fund who are strong advocates for war with Iran, including casino tycoon Sheldon Adelson, who has plowed $35 million into the pro-Trump Super PAC Future 45 and has publicly called for dropping a nuclear bomb on Iran as a negotiating tactic. So, Netanyahu had a number of potential strings to pull.
Going on Rants
Whatever the precise reasons, on Sept. 19, Trump turned his maiden speech to the U.N. General Assembly into a war-like rant, personally insulting North Korean leader Kim Jong Un as "Rocket Man," threatening to "totally destroy" his nation of 25 million people, and parroting Netanyahu's calls for another regime change project aimed at Iran.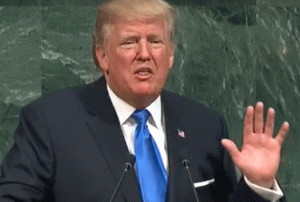 President Trump speaking to the United Nations General Assembly on Sept. 19, 2017.
(
Image
by (Screenshot from Whitehouse.gov))
Details
DMCA
Most diplomats in the audience sat in stunned silence as Trump threatened aggressive war from the podium of an organization created to prevent the scourge of war. The one notable exception was Netanyahu who enthusiastically applauded his success in jerking Trump into the neocon camp.
(Note: You can view every article as one long page if you sign up as an Advocate Member, or higher).