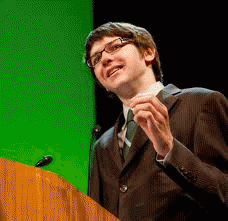 Alec Loorz

(

Image

by

Next Generation Consulting

)

Details DMCA



Approximate age ranges for Generation X,Y,Z and Baby Boomers:
Generation Z: 13-18
Generation Y: 19--29
Generation X: 30-45
Baby Boomers: 46-65
Alec Loorz is a 16 year old from Ventura California who is suing the US government and three states for "allowing money to be more powerful than the survival of my generation and making decisions that threaten our right to a safe and healthy planet."
Alec became an environmental activist at 12, after being shocked and horrified by Al Gore's movie An Inconvenient Truth. His application to become a trained speaker through Gore's Climate Project was declined because of his age. So he went out and started his own non-profit group Kids Against Global Warming, which he used to create and deliver his own climate change presentations -- incorporating videos, animation and easy-to-understand-science -- geared to specific grade levels. He believes strongly that the climate change movement needs to be led by youth, owing to their clear moral authority to look into their parents' and leaders' eyes and ask, "Do I matter to you?"
He gave 30 of these presentations before being invited to be an official presenter (the youngest) for Al Gore's Climate Project in 2008.
Public Trust Doctrine
Loorz's lawsuit, backed by NASA climate scientist James Hansen, is based on legal precedent dating back to the Magna Carta that certain natural resources belong to the public and must be protected from exploitation by a single individual or group. Originally relating to streams and rivers, Public Trust doctrine was incorporated into US common law in the 19th century.
Loorz's complaint charges that the US government (and the government of California, New Mexico and New York) are failing in their duty to protect the atmosphere, which he argues form part of the Public Trusts. The legal precedents he cites include an 1892 Illinois case in which the court determined that the state legislature illegally granted public land along the Chicago harbor to the Illinois Railroad; a 1983 National Audabon Society case concerning Mono Lake, in which the court ruled that Public Trust doctrine applies to any publicly owned national resource, including animals, vegetation, underground minerals and water and includes considerations such as esthetics and recreation; and a 2007 Supreme Court ruling that greenhouse gasses pose a threat to human health and welfare.
Obama's response to Loorz's lawsuit is characteristically unsympathetic. He claims that the Clean Air Act specifically preempts legal challenges, which is why Loorz hope to extend his suit to all 50 states.
The iMatter March
(Note: You can view every article as one long page if you sign up as an Advocate Member, or higher).