Gaddafi is honing sadism to new levels weekly, but at least he is an equal opportunity sadist, shelling Libyans and migrant Africans alike over the past weeks, creating an equality of suffering that actually leads to a chaos of desperate inequality in the following MSNBC video:

The situation: the Albanian ship Red Star 1, turned into a humanitarian ship, has been trying to dock in Misrata for days to pick up the wounded and dying as well as frightened and exhausted African migrant workers, but unable to enter the port because Gaddafi's military has mined the harbor and daily rains shells and rockets on the port area. This Wednesday, May 4th, the Red Star 1 finally saw a small window of opportunity to steam into port and offload medical and food supplies while onloading those in greatest need of evacuation to Benghazi. At least that was the risk-laden plan. This is the story of what happened:




*******
and from the Guardian UK: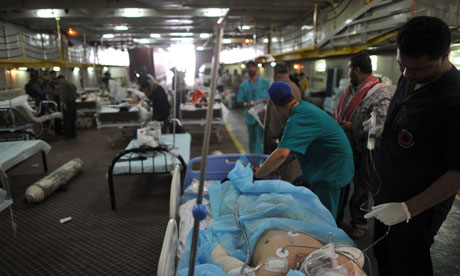 Muammar Gaddafi's forces have bombarded the port of the besieged city of Misrata while a humanitarian ship was evacuating hundreds of foreign migrants and injured Libyan civilians, killing up to five members of a migrant family.
The Red Star 1, a ferry chartered by the International Organisation for Migration , had been forced to wait outside Misrata for four days after loyalist troops planted sea mines and pounded the harbour with missiles.
The port controller has finally given the ship the go-ahead to dock following a lull in shelling. But as containers of food and medical supplies were being unloaded from the ship, up to a dozen missiles were fired into the area of the port where migrant workers were gathered.
Witnesses said one missile hit a Nigerian or Ghanaian family, killing at least two children and their mother. Others said that the father and a third child had also died.
Julius Chuks, a 35-year-old Nigerian welder, said: "When the attacks started, everyone just started running, though we did not know where to run to. We are very lucky to be alive."
The bombardment caused panic on the ship, with some of the crew keen to leave without boarding the migrant workers or injured people, fearing another missile attack. (FOR FULL ARTICLE, CLICK HERE)
*******
- Advertisement -
An aid ship has been attacked by forces loyal to Muammar Gaddafi while rescuing African and Asian migrant workers from the besieged port of Misurata, forcing it to leave behind hundreds of Libyans desperate to flee the fighting.
Aid workers had earlier scrambled to embark the migrants, along with journalists and the wounded, on the ship bound for rebel-held Benghazi as the port came under bombardment on Wednesday.
"The bombing has caused so many casualties among Libyans and people of other nationalities waiting for evacuation," Gemal Salem, a rebel spokesman, told Reuters news agency.
"So far we have five killed and ambulances are rushing to the scene." (FOR FULL ARTICLE, WITH VIDEO, CLICK HERE)