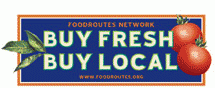 Buy Local

(

Image

by

Unknown Owner

)

Details DMCA


Buy Local


True democracy is empowerment and begins within ourselves, living within the context of our families and communities. Our health and the community's health are not separate.

By community, I'm not just speaking of people. I mean the natural ecosystem that surrounds the house that a person lives in as well as the human neighborhoods. These all make up the larger neighborhood. Indeed, when speaking of neighborhood, we should be speaking inclusively of foxes, soil, rabbits, trees, thorn bushes, air, water and crows. Each of these is instrumental in a well functioning neighborhood.

Can you imagine what would happen to the oxygen you breathe in to live if all the oxygen producing trees died due to deforestation. The trees are necessary to your functioning and the deforestation of the planet will ultimately lead to yours and your family's extinction. Alternatively, imagine the air or water quality in your neighborhood turned toxic, or having no access to natural foods.

In modern day culture, we live under a philosophy called reductionism. In science, this is the breaking down of phenomena (e.g., the weather) to its component parts. The world simply doesn't work this way. Reductionism is proof and has been challenged by theoretical positions based on evidence such as chaos theory which posits that everything is caused by everything else.

Life cannot be broken down into parts. Indeed, for us to live in a stable environment, we need a healthy planet and the healthy planet requires healthy ecosystems. These include the neighborhood you live in and, even, the house you live in. What you do locally affects the planet. Even a simple act such as breathing is necessary for a well-functioning system.

Yet, there are many barriers to our redeveloping a healthy planet that has been made sick by our industry and lifestyles that throw out chemicals that change the makeup of the atmosphere, land and waters of our planet. One of the primary barriers includes many who refuse to admit we have a problem and that our lifestyles are killing us. The other barrier is that there are powerful organizations such as the genetic engineering firms who want to continue making money at the expense of the planet's health and, in turn, our health and the health of those we love.

It is this latter barrier that organizations like Maine Feeds Maine tries to battle through education and encouraging communities such as Sedgwick to enact local food ordinances. These ordinances take the bite out of the power of megalithic food corporations such as Monsanto and Cargill. In essence, local food ordinances place power back in the hands of families and communities and out of the hands of corporations and their bought and sold government underlings.

As Bovine (March 7, 2011 reports ( http://thebovine.wordpress.com/2011/03/07/sedgwick-maine-declares-food-sovereignty/ )

(Note: You can view every article as one long page if you sign up as an Advocate Member, or higher).