After reading a Vanity Fair article featuring Arnold Schwarzenegger's comments about why he decided to run for Governor of California,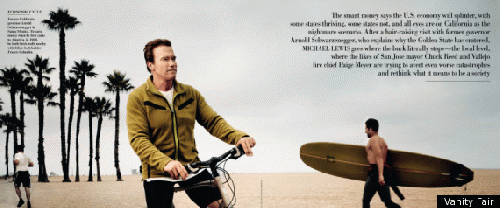 Arnold in his element
(
Image
by
Vanity Fair
)
Details
DMCA
http://www.huffingtonpost.com/2011/09/29/vanity-fair-arnold-schwarzenegger-economy_n_987714.html?icid=maing-grid10%7Chtmlws-main-bb%7Cdl2%7Csec1_lnk3%7C100455
it struck me that, with all the serious problems we are facing today, we really need highly qualified people in positions of power. Any large corporation looking for a new CEO goes through an exhaustive process to verify the qualifications of anyone they are considering to hire for the position. In fact, these days, any candidate for any position is checked very thoroughly before being offered a job. But, for the most important positions, high public office, we don't really do this. We have to wait until the elected official screws up terribly during the campaign or even worse, find out after the fact that they are incompetent and/or doing it for "fun". In Arnold's case both happen to be true.
We can't afford to have people running for office frivolously as in the case of Mr. Schwarzenegger. Anybody in charge of a large economy; California, the USA, should be capable of understanding complex economic theory. They should also be very well versed in how the government that they will be taking control of works. If they are going to be dealing with foreign countries, they should also have a very good understanding of global politics and economics. Can we come up with an entrance exam for candidates that tests them on these subjects as well as detecting basic intelligence and moral character? Other things that would be checked with any job applicant; where did they go to school, what was their grade point average, what is their previous experience, what is their success rate in their previous endeavors?
People might say "these things will come out during the campaign" but sometimes that's too late. When a candidate has millions of dollars behind him to distort and distract people from these issues, they get lost or magically changed by public (mis)perception. To wit: is Obama a Muslim? A US citizen? A fairly large percentage of the voting public still has doubts. If all these sorts of things could be established before the candidate gets into the spotlight and under the protection of his PR machine, then we wouldn't be wasting time listening to people who have no business running for public office in the first place. Yes, let the candidates debate so the people can decide which one has the best ideas but let's make sure that they are at least reasonably qualified and have serious intentions before allowing them to get onto the debate platform. There is too much at stake!