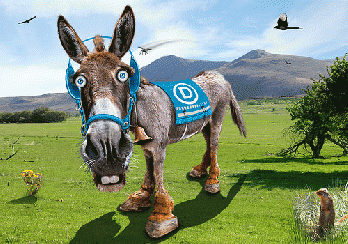 Democratic Donkey - Caricature
(
Image
by
DonkeyHotey
)
Details
DMCA
I hope you will read this and add to it or give me reason why one of these points is a bad idea.
1. We want a government free from the undue influence of "Force of Wealth." That our government as told in the Constitution be for and by the people. That "We the people" become once and for all time the driving force of the United States of America.
2. We want a nation where the value of the individual is the business of this nation. That we reside in a balance of rights and responsibilities, as do all of our fellow Americans. It is the in the building of great individuals, all individuals to their greatest and highest purpose, using their innate talents and abilities, while building upon those, that we will become the promise of America.
3. We want a nation built and operated in economic democracy. We want a say in, not only our political but economic futures. That we cannot be replaced by robots or automation simply because it is cheaper. Our nation has been built upon the value and importance of the productive citizen. It is not in the best interest of America to produce an entire group of its citizens without the pride, value and importance of being a productive member of society.
4. We want the dissolution of the shareholder economy. We want to return to the stakeholder economy of FDR. While we would accept an updated version of such, it must benefit the majority, not just the owners of the means of production. We all hold a stake in a functioning economy, functioning democracy and society. Banks must again become the safe place of storage for our wealth, not a casino for those that control it.
5. We want support for a national, member-owned cooperative to spread the ownership of the economy. That we are being disenfranchised, both economically and politically, by a small group of ultra wealthy and their minions, is against the best interest of our nation and people.
6. We want an end to corruption! In our elective process, our courts, and our economy. It is not the place of the courts to have an ideological bent. It is their place to judge the law as an impartial arbiter, not an agent for a particular point of view. It is not the place of an elected proxy of Americans to act as an agent for the few who paid for their election. The judiciary and American government belong to the people.
7. That a group be allowed to build structures to take the wealth, political power and certainty of our society is unconscionable. To build and fund think tanks, foundations and organization to further the interests of a few over the interests of the majority is tantamount to treason to the ideas that this nation is built upon. The insurrection through force of wealth of those named the billionaires, 1%ers, and Decepticans must be stopped. Their zero-sum game of taking from the middle and bottom of the economy has created want and despair, while giving them all that our money can buy.
8. That the stock market be realized for what it is, a giant confidence game. That we be allowed, given choices that include investing in our nation, infrastructure and our people. This concentration and control of our money has been used not in the best interest of the owner of that money or of our nation. But on the contrary, has been used for building infrastructure to off-shore our jobs, propaganda to keep us servile and to promote their lifestyle and ideology. The good of our nation and people has been forgotten, in their drive for their own wealth and position.
9. That this is our time, our government, our nation and not that of small group of wealthy ideologs. We will not again be driven into the arms of the two parties that are corrupted by the money of that group. If they want our support and vote they must answer to us and no one else.
And we will always ask "Who do you work for?" and "Do you support the shareholder economy?" and will not tolerate, lies, evasion or distraction! Who do you work for? And it better be us!
RC Romine