Reprinted from Mondoweiss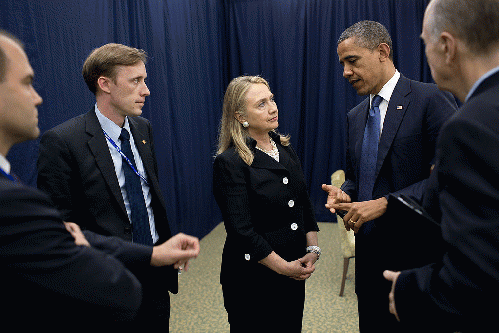 (
Image
by
White House photo, Pete Souza
, Author: Pete Souza  (1954–)   )
Details
Source
DMCA
Israel's interests are becoming an explicit issue in the Democratic nomination to be president. The Clinton campaign says Bernie Sanders's recent comments about Iran are risking Israel's security. Sanders wants to normalize relations with a country that "seeks the destruction of Israel," the campaign says. And his ideas for Iranian ground troops in Syria would put Israel's enemy "right on Israel's doorstep."
The swipes are featured in a new video of Jake Sullivan, a senior foreign policy adviser to Clinton. He first blasts Sanders for suggesting that Iran take a more active role against ISIS in Syria. Sanders has said, "Iran has to join us... I think the folks that have got to be on the ground are the people who are fighting for the soul of Islam. That is not American troops, that is troops from the region. They can't sit it out."
Sullivan said:
It would be putting more Iranian firepower right on Israel's doorstep.
A letter Clinton released from 10 foreign policy veterans earlier this week also made the Israeli "doorstep" charge (Full text at TPM):
"Supporting Iranian soldiers on Israel's doorstep is a grave mistake."
Later in his video, Jake Sullivan calls out Sanders for saying that we "should move aggressively as we can to normalize relations with Iran." Sullivan says:
"Iran seeks the destruction of Israel. Iran is a leading sponsor of terror in the region. Iran is flouting international law with its ballistic tests and its threats against our international partners....

"Normal relations with Iran? President Obama doesn't support that idea... and it's not at all clear why Senator Sanders is suggesting it.

"When you look at all these ideas it's pretty clear that he just hasn't thought it through.

"[The press] should keep asking these questions because the stakes are too high to just let this slide."
On an earlier conference call with reporters Sullivan said that Iranian normalization "would cause very real consternation among our allies and partners." Meaning Israel and Saudi Arabia. The New York Times s ays Sullivan first made the Israel charge on that conference call:
"Later, in a conference call with reporters, Mr. Sullivan was more direct: 'Many of you know Iran has pledged the destruction of Israel.'"
The destruction claim is a dubious one. While some Iranian leaders have predicted that Israel will cease to exist in the next generation, and some hotheads have called for its destruction (in a climate of mutual threats), the foreign minister has said that if Israel resolves the Palestinian issue, Iran could recognize the state.
Clinton herself voiced the criticism of Sanders's foreign policy ideas as unthought-through in "blistering" attacks on Sanders yesterda y in Iowa, according to CNN.
(Note: You can view every article as one long page if you sign up as an Advocate Member, or higher).