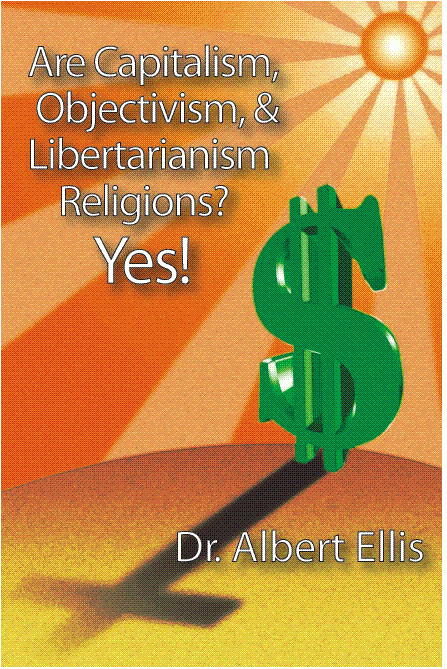 Front Cover
(
Image
by
Jimmy Walter
)
Details
DMCA
15. Ayn Rand and her objectivist comrades take an unrealistic attitude toward the hazards of economic planning and the supposedly enormous ease and automatic nature of the free market. Thus, Branden notes that in a free economy, when businessmen make an error of economic judgment, they suffer economic consequences, (1966g). But in a controlled economy, a central planner makes errors of economic judgment and therefore the whole country suffers the consequences. Some of the fairly obvious objections to this one-sided viewpoint concerning economic planning are these:
a. When entrepreneurs make an error of economic judgment, it is by no means merely they and their associates who suffer the consequences. If a capitalist is president of a large corporation, and if he decides to produce the wrong product, or use an ineffective type of sales promotion, move his factory to a region where it cannot operate well, commit some other business error, not only may he and his suppliers and purchasers suffer, but (i) he may throw thousands of people out of work; (ii) he may upset the economy of an entire community; (iii) he may help precipitate a serious recession or depression in his country; (iv) he may upset the economic balance in a huge industry; and (v) he may create all kinds of other economic, political, and social repercussions.
b. Rand and Branden's position implies that the free market works automatically and that economic planners have to work consciously to make good plans. Consequently, the free market requires much less work on the part of human beings and is more rational and prone to result in fewer human errors. What is false about this implication is that the free market, as Frederick Hayek and some other economists have said, does not work at all automatically but probably requires more work and worry than any other system of economics yet to be devised.
Let us see for a moment how things would really work if there were a completely free market: Mr. Jones produces, let us say, nuts and bolts, and sells them to various distributors, retailers, and manufacturers. When he first goes into business, he knows that there is a great demand for his product, and he can hardly produce enough nuts and bolts to meet this demand. So he sells them at the prevailing rate or a little higher and he makes a nice profit.
A period of time goes by and Mr. Jones increases his production of nuts and bolts. In the meantime, several other manufacturers start making a similar product and some of the older manufacturers keep increasing their production, too. Meanwhile, the number of customers for nuts and bolts increases, but not quite as rapidly as the facilities for making them have skyrocketed. So now a plethora of nuts and bolts exist, and Mr. Jones finds that he and his competitors have more than enough on hand. He has several choices: Shall he manufacture fewer nuts and bolts, (even though his overhead may remain pretty much the same if he does)? Shall he sell his product for a lower price, (even though his manufacturing costs do not decrease)? Shall he forget about nuts and bolts and manufacture some other product instead?
How can Mr. Jones answer these questions? He can best answer them by getting a good deal of salient information--as to the inventories of his competitors, the likelihood of their going out of business, the prices they probably will be charging next season, and the general prospects for the sales of nuts and bolts in the country, etc. And since much of this information is unavailable or hard to get, Mr. Jones will have to make many guesses, and make his decisions according to these guesses. Then when some of his guesses prove to be incorrect, he will have to guess again, and make new decisions according to the new guesses. In a totally free market, mind you, Mr. Jones will not have a manufacturers' association to give him very much help, he will not be able to get together with other producers and prices; nor rely on governmental loans or subsidies; he will not have any national tariffs to protect him from cheap imports of nuts and bolts that may come from abroad, and he will have practically no help except that which comes from his own brain with the aid of employees or hired agencies.
Poor Mr. Jones! Even if he succeeds in the nut and bolt business, he has some job cut out for him! He will have to be continually checking his competitors' prices, changing his own prices every few weeks or months, entering into voluminous correspondence with his customers, exploring the raw materials market to see where he can possibly buy more cheaply, canvassing the labor market to see if he can get better workers for lower wages, etc. For the so-called free market does not work automatically and, as we can easily see, is far from free. It only works because Mr. Jones, and millions of other entrepreneurs like him, stay awake nights, worry over prices, make innumerable guesses, worry over wages, make innumerable more guesses, spend money on all these non-productive details, and keep changing their cost and their selling prices from month to month, week to week, and even day to day.
When times are relatively good; it is still possible for Mr. Jones to make a decent profit. When times are bad, the best he can do is to minimize his losses. Mr. Jones tends to become much more frantic in his information gathering and his guessing; and if he saves his business without ending up in the nut house, he is lucky! At best, he is continually harassed and fearful; and it is unlikely that he is going to enjoy this kind of harried existence.
In view of all this concrete information-gathering, checking, rechecking, guessing, re-guessing, price-changing, wage-lowering and wage-raising, corresponding, and other operations required of Mr. Jones to keep alive in the "automatic" free market, it is no wonder that he almost always shows great enthusiasm when some plan is devised for curtailing or stopping the operations of this kind of pure capitalism! It may be pointed out to him that he can get together with "competing" manufacturers and fix prices, or that he can have a trade association or the government bind him to some kind of cost-fixing and price-fixing arrangements. As soon as this happens, Mr. Jones may be delighted to go along with such a scheme. Without doubt, this is one of the main reasons why the free market has never really worked for any length of time, and why pure capitalism is still a myth.
Moreover, just as the producer must shop for supplies and figure out what consumers want, under Rand's capitalism, the customer must be fully informed and logical in order to buy the best product to reward the best producer. This means that the customer must travel from store to store, read labels, record prices, compare quality, spend time making a decision, and then return to the store with the best offer. None of these costs produce the product wanted. They are hidden costs of time and money as well as the accompanying anxiety that capitalism produces, yet ignores.
This does not gainsay the point made by the objectivists that a planned economy has great dangers. It does. The central planning board may err; work with the wrong information; consist of corrupt individuals; not work well with other key central planning boards; come up with decisions which are misguided and costly to the nation's economy; or it may get into many other difficulties.
It does, however, have many advantages too: It can more easily obtain relevant data than an individual manufacturer (and only has to do it one time by one team rather than many times duplicated by many competitors); it can often correct its own mistakes fairly quickly; it can make decisions which are beneficial to many people rather than to a favored few; it can see that valuable natural resources are preserved; it can replace an old technology industry with a modern, more efficient one that would be resisted by individual capitalist owners, and so on.
What the objectivists refuse to see is that if that Mr. Jones, working as a free agent under free market capitalism, has many benefits and handicaps, the same can be said for central planning boards, whether they be run by trade associations, local governments, national states, or by world federations. No ideal system of free markets or national economic planning exists. Mr. Jones is not an individual hero, and a national planning board is not a collective villain; nor is a collectivist planning board heroic and Mr. Jones villainous; stated otherwise: human beings in the final analysis always do economic management. They, and not the "free market," or the "collective," or any other entity, do the actual work that is required for making industrial and marketing decisions.
The free market only works "automatically" because millions of men and women who take part in it "automatically" run to their battle stations, put on their thinking caps, and make innumerable decisions which cause prices to rise, fall, or remain stationary. The fact that people who use a free market work according to some kind of profit system may possibly help them make more rational decisions than those who work according to some other kind of economic system. But there is no reason why this has to be so. For when one person loses money under capitalism another luckier capitalist may make it; and neither of their decisions may be made along very practical or sensible lines, for as I said, their object is profit-making, not the highest and best use of the economy's resources for the greatest benefit of all.
(Note: You can view every article as one long page if you sign up as an Advocate Member, or higher).