A few weeks ago, Bruce Dixon of the Black Agenda Report published one of the most important articles yet about recently declared presidential candidate Bernie Sanders. In that none-too-complimentary article, Dixon frankly branded Sanders "Hillary Clinton's sheepdog" for his supplying her--in the likely event she beats him in the primaries--useful rhetoric and a pledge to herd deeply disgusted, straying progressives into her corporatist Democrat fold.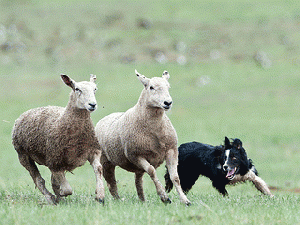 Sheepdog Trials--Herding Sanders supporters for Clinton may prove an enormous .trial..
(
Image
by
SheltieBoy
)
Details
DMCA
As a Bernie Sanders supporter who trusts in his integrity, I take strong exception to Dixon's implication that Bernie is voluntarily assuming the sheepdog role. But as a progressive betrayed repeatedly--indeed, ad nauseam--by today's Democratic Party and the likes of Obama and the Clintons, I find the danger of Bernie involuntarily playing Hillary's sheepdog alarmingly real. If had my druthers, every supporter of Bernie Sanders' presidential run--including his strategic choice to run as a Democrat--would read Dixon's article, memorize it, recite it before bed, and have nightmares over it.
See, probably many Sanders supporters are furious about Dixon's article and attribute it to Dixon's personal peeve because Sanders chose not to run as an independent or Green. Perhaps that's the case, but discerning Dixon's motive pales in importance compared to pocketing the piercing insight--and answering the daunting challenge--he offers Sanders progressives. Precisely because Bernie is different, one suspects that his supporters are different, and based solely (for now) on anecdotal evidence, I see a feistiness well matched to the candidate and very ill suited to the disparaging moniker of "sheep." Such feistiness, in fact, that Bernie (assuming, God forbid, he loses to Hillary the Horrible), may face a Herculean task mustering our support for her even if he's strongly so inclined.
But what every genuine Sanders supporter should remember--and shudder over--is that the empirical, as opposed to anecdotal, evidence is strongly on Dixon's side. And far from being angry with Dixon, Sanders-supporting progressives should be thanking him for offering a cogent, rational warning based on the evidence to date. As Jim Morrison memorably wrote, "They've got the guns, but we've got the numbers," and Dixon establishes beyond doubt that Hillary's corporatist Democrats have the guns. Our heavy burden of proof is to show that we have the numbers.
Since Bill Clinton's wildly successful insurgency on behalf of Wall Street, Democratic presidents have verifiably been playing progressives, shepherding plutocrat wet-dream legislation like NAFTA, welfare reform, or repeal of Glass-Steagall--or Obama's outrageous, indefensible Trans-Pacific Partnership--through Congress, while appeasing progressives with mere rhetoric and promises they clearly never intended to keep. World-renowned climate blogger Joe Romm used to upbraid the Obama for his first-term silence on climate change--not merely a sharp insult to progressives, but criminal delinquency in a key world leader--but astute climate activists now wish he'd just keep his mealy, betraying mouth forever shut. From this "all of the above" fossil fuel maven, who approved Arctic drilling and never had the guts simply to nix the XL pipeline (paving Hillary's or Jeb's way to approving it), every single mention of "climate change" is a blasphemy. And his blithe willingness to talk climate without needed action sets a worse example than outright Republican denial, hinting it's fine to talk about the issue because all such talk is, in policy terms, utterly meaningless. Bill McKibben, at last disgusted by Obama's treachery--and knowing exactly how much Hillary is cut from the same cloth, is now frankly supporting Sanders. A lot will depend on whether his 350.org rank-and-file--and allied climate action opinion shapers like Naomi Klein--follow suit.
What Sanders and his progressive followers need to realize--and what leftist writers like Dixon grasp instinctively--is that today's Democratic leadership and corporatists like Obama and Clinton are their bitter, determined enemies. In a brilliant reference I'd credit if I could find it, an astute writer recently referred to Obama's former chief of staff (now Chicago mayor) Rahm Emanuel as the Democrat leadership's Freudian id, citing Emanuel's inflammatory comment that progressives were "f*cking retarded."
Comedian Keegan-Michael Key plays Obama's alter-ego, his "angry translator" Luther, with a certain panache, but one wishes he did so based on Dixon's edgier, more insightful politics. For if did, he'd surely realize Obama already had an angry alter-ego in Rahm Emanuel; "f*cking retarded" was almost certainly the thought of Obama's own id in his politely nasty criticism of Elizabeth Warren and leading progressives over TPP. If one infers attitudes from behavior, Emanuel's crude outburst captures corporatist Democrats' attitude toward progressives perfectly: seething anger buried beneath deep, often politely expressed, contempt. The anger surfaces only rarely, when progressives actually manage to threaten corporatist designs; otherwise we see the scathing contempt implied in Dems' routine sheep-feeding of progressives with meaningless promises. Hillary's polite welcome of Sanders' David-vs.-Goliath presidential campaign (she was infinitely relieved it wasn't Warren) perfectly fits this model of withering veiled contempt. Which Emanuel, ever incarnating the Democrat leadership's id, beautifully captured by once asking of disgruntled progressives, "Where the hell will they go?"
Where the hell indeed? If, in the event of a Sanders loss, it's trusting in the made-to-be-broken promises of Hillary Clinton, Bernie will predictably play sheepdog in line with Dixon's script. Anyone with doubts on this score should ask when, in recent memory, a president of either party has ever betrayed the wishes of oligarch donors to please its base. And Clinton isn't merely raising oligarch funds; she's raising them to the unprecedented tune of $2.5 billion! When careful empirical research by economist Piketty, or by social scientists Gilens and Page, has rigorously shown that government policy follows the dollars, virtually excluding plebeians from any influence, why would any sane person see in Hillary Clinton an agent of desperately needed reform? One might as well have expected a French Revolution led by Marie Antoinette.
Speaking of revolution, Bernie Sanders has called for a political one, and his doing so underscores how well he--uniquely among presidential candidates--"groks" the grave dysfunction of our political system. Besides his long, proven record of doing as he says, his utter renunciation of SuperPAC funding--like the minuscule role corporate gifts have always played in his campaign funding--offers compelling evidence of his sincerity. So, unlike Dixon, I can't indict Bernie of volunteering to be Hillary Clinton's sheepdog, much as that dismal prospect is baked into the candidacy of anyone bucking the corporatist Dem establishment. Every available option for Sanders, as a non-oligarch-tool in our deeply corrupt system, was repellent; in choosing to run as a Democrat, he chose the only realistic option for getting in debates, getting on ballots in all states, and getting mainstream voters to hear his message.
But Bernie's supporters should by no means take their cue from the unsavory alliances forced on Bernie by his running as a Democrat. Least of all should we sheepishly transfer our votes to Hillary Clinton, should Bernie lose the primaries, as part and parcel of our support. Besides constant vigilance toward the "sheepdog" danger Dixon forcefully sketches, I'd fix in all Sanders supporters minds a potent slogan: "Political revolution is not just BS." On the one hand, political revolution--meaning the systematic overhaul of our economy and political system--is urgent; the hastening pauperization and political exclusion of average Americans, as well as the criminally neglected climate emergency, give us little choice. On the other hand, Bernie Sanders (whose initials, with deepest irony, are BS), cannot make a revolution alone. His success depends on our building a feisty progressive movement behind him--one that approaches today's Democrats with the full measure of distrust their seething contempt for us justifies.
This means we can't take Bernie's stated "support" for Hillary Clinton at face value. Instead, as intelligent supporters of an intelligent candidate, we should read it as the hard bargain--almost a devil's bargain--he accepted in his difficult but correct strategic decision to run as a Democrat. As both a maverick Senator needing Congressional Democrats' support and an independent candidate forced to run as a Democrat, he needs to keep the party's goodwill. Moreover, the party leadership could exclude him from debates if he didn't pledge to back the party nominee, no matter how repugnant to Bernie's own principles that nominee is. We should therefore read Bernie's uneasy decision to run against Clinton as a Democrat--thereby risking vilification as a sellout by Dixon and the non-Democrat left--as a savage indictment of Hillary Clinton in itself.
For us Sanders progressives who signed on for Bernie's revolution, and not for continued suffocation by Clinton's ancien regime, it's imperative to organize. A new movement of pro-Sanders, anti-Clinton progressives--Sanders' Progressive Army--looms on the horizon. If you, as a repeatedly betrayed progressive, refuse to take Hillary for an answer, please visit the Pitchforks Against Plutocracy Facebook page and stay tuned for our forthcoming "Sanders' Progressive Army" website and campaign.