From Consortium News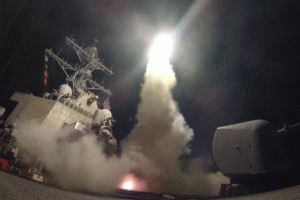 The guided-missile destroyer USS Porter conducts strike operations against a Syrian air base on April 7, 2017.
(
Image
by (Navy photo by Petty Officer 3rd Class Ford Williams))
Details
DMCA
The U.S. mainstream media is treating a new United Nations report on the April 4 chemical weapons incident in Khan Sheikhoun as more proof of Syrian government guilt, but that ignores a major contradiction between two groups of U.N. investigators that blows a big hole in the groupthink.
Though both U.N. groups seem determined to blame the Syrian government, the frontline investigators from the Organization for the Prohibition of Chemical Weapons (OPCW) reported that spotters of departing Syrian military aircraft from Shayrat airbase did not send out a warning of any flights until late that morning -- while the alleged dropping of a sarin bomb occurred at around dawn.
The report by the U.N.'s Independent International Commission of Inquiry on the Syrian Arab Republic noted that "two individuals interviewed by the OPCW claimed that on the morning of 4 April the early warning system did not issue warnings until 11 to 11:30 a.m., and that no aircraft were observed until that time."
If the OPCW's information is correct -- that no warplanes took off from the government's Shayrat airbase until late in the morning -- then the Trump administration's rationale for launching a retaliatory strike of 59 Tomahawk missiles at that airfield on April 6 is destroyed.
But the U.N. commission's report -- released on Wednesday -- simply brushes aside the OPCW's discovery that no warplanes took off at dawn. The report instead relies on witnesses inside jihadist-controlled Khan Sheikhoun who claim to have heard a warning about 20 minutes before a plane arrived at around 6:45 a.m.
Indeed, the report's account of the alleged attack relies almost exclusively on "eyewitnesses" in the town, which was under the control of Al Qaeda's Nusra Front and allied jihadist groups.
The report also gives no attention to the possibility that the alleged sarin incident, which reportedly killed scores of people including women and children, was a staged event by Al Qaeda to reverse the Trump administration's announcement just days earlier that it was no longer U.S. policy to seek "regime change" in Syria.
The Khan Sheikhoun incident prompted President Trump to launch the missile strike that, according to Syrian media reports, killed several soldiers at the base and nine civilians, including four children, in nearby neighborhoods. It also risked inflicting death on Russians stationed at the base.
Lost History
In the U.N. commission's report, the possibility of a staged event is not considered even though the OPCW had previously uncovered evidence that a chlorine-gas attack in the rebel-controlled town of Al-Tamanah, which also was blamed on the Syrian government, was staged by Al Qaeda operatives and their civilian "relief workers."
The photograph released by the White House of President Trump meeting with his advisers at his estate in Mar-a-Lago on April 6, 2017, regarding his decision to launch missile strikes against Syria
(
Image
by White House Photo)
Details
DMCA
OPCW investigators, who like most U.N. bureaucrats have seemed eager to endorse allegations of chlorine-gas attacks by the Syrian government, ran into this obstacle when townspeople from Al-Tamanah came forward to testify that a supposed attack on the night of April 29-30, 2014, was a fabrication.
"Seven witnesses stated that frequent alerts [about an imminent chlorine weapons attack by the government] had been issued, but in fact no incidents with chemicals took place," the OPCW report stated. "[T]hey [these witnesses] had come forward to contest the wide-spread false media reports."
In addition, accounts from people who did allege that there had been a government chemical attack on Al-Tamanah provided suspect evidence, including data from questionable sources, according to the OPCW report, which added:
(Note: You can view every article as one long page if you sign up as an Advocate Member, or higher).