DB: He got your attention.
Banks: Yeah. So the judge says, "Was your job to shoot Dennis Banks?" And he said, "No, your honor. My job was to bring down Dennis Banks." He says, "Well, you didn't mean to kill him?" And he says, "No, your honor, I meant to bring down Dennis Banks." And the judge became very angry. And he says, "Well, obviously you failed to bring down Dennis Banks because there he sits today." He says, "Yes, your honor, but I tried." "How many times did you try?" "I tried seven times to bring him down." And oh, this guy had me in his scope. And when he got off the stand while he was walking out of the courtroom, and before he got to the door, he just turned to me and says, "I'm sorry, Mr. Banks, but that was only a job I had."
DB: The FBI agent apologized, just doing my job.
Banks: Yeah. ["] But AIM has learned a lot from Standing Rock. And I think when this is over I think the pipeline will back away, and I think that they will realize that this is not going to go away, and these guys are here for the long run, and we are. And, you know, we'll outlast these pipeline people. We'll outlast the pipelines that are under our ground already, in our water. And we'll be here. We're in this for the long haul.
DB: I guess you've been here a long time. I keep hearing these words from the elders at Standing Rock: We are the land, we are the water. I didn't move, here I am here.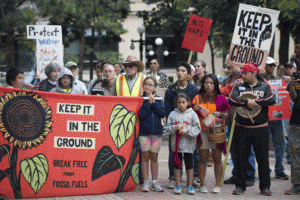 Protest against the Dakota Access Pipeline in St. Paul, Minnesota on September 13, 2016
(
Image
by
(Fibonacci Blue Flickr)
)
Details
DMCA
Banks: Dennis, when I say that I am part mountain, they might not understand that. And when I say I'm part buffalo, and I'm part eagle, and I'm part rose, the flower, I'm part maple tree, oak tree maybe then they'll begin to understand that we are part of Mother Earth, all of us. Whatever the ingredients are that make up Mother Earth, that's us. We also have, even the little bit partials of gold, that is running through our system. And we are part sun, we are part moon, we are part Mother Earth, Grandmother Moon. And when people began to understand that kind of thinking then they will understand who we are, as Native People.
And, you know, we didn't choose to be protectors of the water. We didn't choose to be protectors of the Earth, protectors of water, protectors of the ground, protectors of the buffalo, and the species that have been endangered, the species that have been obliterated from this Earth, but we are. And we still carry on that responsibility.
Yes, some of us are lawyers, some of us are doctors, some of us are activists, some of us are ditch diggers. But when we go to bed at night we are still that person with those responsibilities and duties. And that's what makes us who we are. And I am, as I was in Wounded Knee, I was proud, I was not afraid of the FBI or the bullets, or the marshals and their guns, and APCs. It only made me kind of stronger. Because I said "Wow, if Dennis Banks or if the American Indian Movement is that big [that] they've gotta quash us with all this hardware, military hardware, then we must be rubbing someone the wrong way." And maybe they will finally see it in the end. But not our end. Maybe they'll see it on their end.
DB: When they are threatened with their end.
Banks: Yep, so that's why I tell my children, even today, "Stay away from the wood ticks, lunatics and politics."
A PLEA TO FREE LEONARD PELTIER
DB: Obama could still do something extraordinary. He could free Leonard Peltier. [Peltier is a Native American activist who was sentenced to two consecutive life sentences in prison for allegedly shooting two FBI agents during a 1975 conflict on the Pine Ridge Indian Reservation.]
Native American activist Leonard Peltier's FBI headshot.
(
Image
by
(Wikipedia)
)
Details
DMCA
Banks: Oh, yes, absolutely.
DB: If he has the courage and the belief. He certainly has the legal background to understand exactly what the situation is.