Contrary to Whitney's claim, there is no Life Star helicopter service stationed out of nearby DanburyHospital. The closest Life Star is actually based almost 40 miles away in Hartford.

"The injured people were transported by ambulance to DanburyHospital," wrote Mick West on his website Metabunk. "Just 11.4 miles away by road, straight down a freeway, accessible in less than 14 minutes. Ambulances were already there. Using an ambulance minimizes the movement of the patient. Calling for a helicopter would take more time. The ambulance was quicker and safer."
Thorn caps off his interview with Whitney by opining that "CNN's Anderson Cooper deliberately tried to deceive viewers by airing video footage of seven police officers charging across a parking lot toward a school" and that "[Anderson] passed off these visuals as occurring at SHES, when in actuality they were filmed 1.5 miles away at St. Rose of Lima School during an 'active shooter drill.'"

Despite what Thorn and Whitney claim, there was no "active shooter drill" at St. Rose of LimaSchool on the day of the shooting. The officers captured in the aforementioned video footage had responded there in response to reports of suspicious persons. Photos taken of individuals detained at the scene suggest that these were parents that had rushed there to check on their children.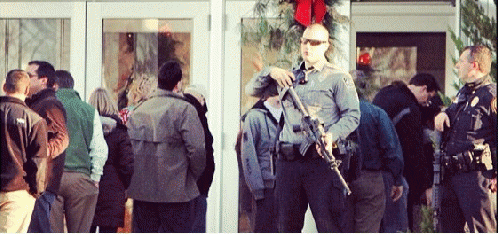 Concerned/Agitated Parents Waiting Outside of St. Rose of Lima School

(

Image

by

Newtown Post-Examiner

)

Details DMCA

Local news agency Connecticut Post covered the story:



"Police swarmed St. Rose of LimaSchool on Church Hill Road in Newtown Friday afternoon, hours after the shooting at nearby Sandy Hook Elementary School," they wrote. "Neil Curry, whose 11-year-old son Kevin is in fifth grade at the school, said the school was put in lock down three times during the day. Curry said a person was found 'lurking' outside a kindergarten class room. Later, an 'agitated' person was reported inside the St. Rose of LimaChurch near the school."

CNN later used the footage in a montage of events that transpired that day. Most reasonable people who examined this footage would conclude there was no attempt by CNN to portray the incident as having occurred at SHES.

In his next segment, Seeing is Believing, Thorn suggests that the government may be hiding video footage of events that occurred inside SHES because, "[a]ccording to news reports, in 2012 an entire visual monitoring system had been installed at the school with, one would assume, some type of recording apparatus."

The news reports Thorn refers to are based solely on a poorly-worded, poorly-researched Hartford Courant article posted on the day of the shooting. The title erroneously stated that slain Principal Dawn Hochsprung had just "Outlined New Security Procedures for Sandy Hook Elementary."

To substantiate their claim, the Courant posted an undated letter they had obtained from the SHES website, which begins: "Our district will be implementing a security system in all elementary schools as part of our ongoing efforts to ensure student safety. As usual, exterior doors will be locked during the day. Every visitor will be required to ring the doorbell at the front entrance and the office staff will use a visual monitoring system to allow entry."

The letter was addressed to "Members of our Sandy Hook Family" and ends with "Sincerely, Dawn Hochsprung."

Based on this article alone, it has been widely assumed that Hochsprung had written the letter to introduce a newly installed security system, even though the letter mentions nothing about installation of hardware.

After significant online research, this writer--along with significant assistance from Mike Flagg of Sandy Hook Tragedy: Focus on Facts--conclusively determined that Hochsprung, who began working at SHES in 2010, was not the author of this letter and that the letter was actually written in 2006 as an introduction to a security system that was installed at three Newtown Elementary schools that same year.

The exact same letter, for instance, was found on the website of Newtown's HawleyElementary School, addressed to "Members of out Hawley Family" and ending with "Sincerely, Jo-Anne Peters," that school's principal.