I'm not a movie hound and I sure ain't no film critic, either, so please don't think I'm trying to offer any official review of Harry Shearer's documentary, The Big Uneasy, which you can now watch in its entirety below.
Harry Shearer
(
Image
by
The Big Uneasy
)
Details
DMCA
I am, though, a Yat. And 10 years ago I lost my New Orleans home and almost everything in it to Hurricane Katrina, which happens to be the general theme of the film.
But please note that term "general theme." This isn't a movie that centers on the disaster. It doesn't show the thousands of people hiding in the Superdome or sobbing outside the city's convention center, unlike the many other Katrina flicks that have come and gone. It doesn't use that old Randy Newman song about the '27 flood as tear-provoking background music. You won't see footage of bodies floating around in the flood waters, either, which many of those other movies thought nothing about impersonally displaying. It's not a tabloid-type of documentary.
And if The Big Uneasy had been anything like that, when I first saw the film at a theater in 2011, I'd have had the same response I gave to those other Katrina films -- I would have walked right out in the first 30 minutes, mad as hell, throwing popcorn at anybody who looked at me while I stomped up the aisle, grunting and cursing.
What this film does show, and made sort-of official for the very first time, in my opinion, is the cause of the flooding that followed Katrina. It shows how that same cause is still present, too, and because of use of the same faulty methods in levee reconstruction. And it tells this tale with historic recollection, including the development (and consistent mis- and un-development) of the Mississippi River Gulf Outlet, those so-called levee renovations, and the development of Army Corps of Engineers' responses, which started as hush-hush only to expand to push-push (and nearing shove-shove, too).
And I give The Big Uneasy a thumbs-up, four-star, six-pack rating for doing so. It tells the facts -- the information that mass media didn't acquire for many reasons, and which nobody was going to tell them, anyway. It's explanatory, not exhibitionist. And when I first saw the film at a special showing shortly after its first release, it provided me -- one who was directly affected by the hurricane -- the information I really needed to know, to confirm, to bring the whole ordeal to a closing point of sorts.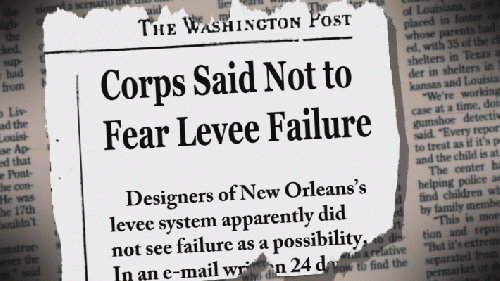 from The Big Uneasy
(
Image
by
The Big Uneasy
)
Details
DMCA
My wife and I lived in the National Historic Landmark of Gentilly Ridge, one of the few areas above sea level in the city that has an average elevation of six feet below. The street was maybe only an inch above, that's true, but the lawn was built up about two feet from the street. The house was raised about four feet from the lawn.
The flooding in our neighborhood was 10 feet, though. We wound up with two feet of water inside the house. And it stayed there for 12 days.
But my home was not flooded by Hurricane Katrina. The winds took out some awnings and a patio covering, ripping a hole in the rear door frame in the process, okay, but, just like my 70+ year-old neighborhood survived Betsy and Camille back in the '60s without any flooding, so too did my street remain fully drained and un-flooded when Katrina came through.
My neighborhood and its homes were flooded hours later, when the levee wall of the London Avenue canal broke. (It was just one of many such breaches and breaks to occur all about the city after the hurricane was gone, leaving 80 percent of New Orleans flooded.) That first breaking point was just north of Mirabeau Avenue. Our house was less than one and a half miles due east from that breaking point. An entire section of a recently modified and "improved" levee lifted up from its foundation and floated back, letting the water from Lake Pontchartrain gush out.
And gush it did, down Mirabeau, onto my street, and then inside my house -- and hours after Katrina had already come and gone. It was the faulty levee that took my home, my possessions, my keepsakes and my memories -- not the hurricane.
So why did I bother to watch The Big Uneasy, especially since the other Katrina movies bothered me so much? I guess I felt more at ease because it's directed by Harry Shearer, an adopted son of the city who calls New Orleans his part-time home.
The Big Uneasy
(
Image
by
The Big Uneasy
)
Details
DMCA
(Note: You can view every article as one long page if you sign up as an Advocate Member, or higher).