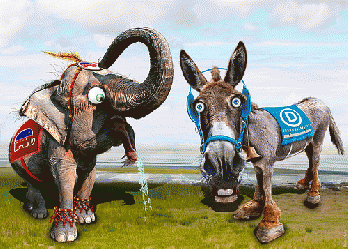 Both parties are hobbled by infighting and incompetence. Only one keeps winning elections.
(
Image
by
DonkeyHotey
)
Details
DMCA
It is a rare event in American politics when a major political party dies.
Such an occurrence has not happened in more than 160 years, when the Whig Party split due to a division between its pro-slavery and anti-slavery wings. The Republican Party formed in 1854 and quickly supplanted the Whigs, who had elected two presidents in the 1840s but had all but gone out of business by 1856.
The Democratic Party's death blow may be the ongoing feud between Bernie Sanders supporters and "regular Democrats."