Articles Listed By Date List By Popularity
Page 1 of 2 Next Back First Last View All
Thursday, April 17, 2014








NATO's action plan in Ukraine is right out of Dr Strangelove
(14 comments) The US air force general who runs NATO forces in Europe -- General Philip Breedlove -- claimed to have pictures of 40,000 Russian troops "massing" on the border with Ukraine. So did Colin Powell claim to have pictures proving there were weapons of mass destruction in Iraq. What is certain is that Barack Obama's rapacious, reckless coup in Ukraine has ignited a civil war and Vladimir Putin is being lured into a trap.
Saturday, April 12, 2014








South Africa: Twenty Years of Apartheid by Another Name
(3 comments) Liberation governments can point to real and enduring achievements since 1994. But the most basic freedom, to survive and to survive decently, has been withheld from the majority of South Africans, who are aware that had the ANC invested in them and in their "informal economy," it could have actually transformed the lives of millions.
Friday, March 21, 2014








Another stolen generation: how Australia still wrecks Aboriginal families
(3 comments) It is happening across Australia in a scandalous and largely unrecognized abuse of human rights that evokes the infamous stolen generation of the last century. Up to the 1970s, thousands of mixed-race children were stolen from their mothers by welfare officials. The children were given to institutions as cheap or slave labor; many were abused.
Sunday, March 16, 2014








The forgotten coup -- and how the godfather rules from Canberra to Kiev
(20 comments) The great game of dominance offers no immunity for even the most loyal US "ally." This is demonstrated by perhaps the least known of Washington's coups -- in Australia. The story of this forgotten coup is a salutary lesson for those governments that believe a "Ukraine" or a "Chile" could never happen to them.
Wednesday, February 12, 2014








"Good" And "Bad" War -- And The Struggle Of Memory Against Forgetting
George Orwell wrote: "Who controls the past controls the future. Who controls the present controls the past." The people of Korea understand this well. The slaughter on their peninsula following the second world war is known as the "forgotten war," whose significance for all humanity has long been suppressed in military histories of cold war good versus evil.
Friday, February 7, 2014








The Accessories To War Crimes Are Those Paid To Keep The Record Straight
(3 comments) There is no question that the epic crime committed in Iraq has burrowed into public consciousness. Many recall that Shock and Awe was the extension of a murderous blockade imposed for 12 years by Britain and the US and suppressed by much of the "mainstream" media, including the BBC. Half a million Iraqi infants died as a result, according to Unicef. I watched children dying in hospitals denied basic pain-killers.
Wednesday, January 29, 2014








It's the Other Oscars -- and yet again the winner slips away
(1 comments) Assange had written Cumberbatch a personal letter, pointing out that the "true story" on which the film claimed to be based was from two books discredited as hatchet jobs. "Most of the events depicted never happened, or the people shown were not involved in them," WikiLeaks posted. In his letter, Assange asked Cumberbatch to note that actors had moral responsibilities, too.
Sunday, January 5, 2014








Is The Media Now Just Another Word For "Control"?
(6 comments) Today liberal democracy is being replaced by a system in which people are accountable to a corporate state and not the other way around as it should be. This denial of real democracy is an historic shift. It's why the courage of Edward Snowden, Chelsea Manning and Julian Assange is such a threat to the powerful and unaccountable.
Friday, January 3, 2014








In India, A Spectre For Us All, And A Resistance Coming
(6 comments) The great popular resistance that gave India its independence is stirring. The gang rape of a Delhi student in 2012 has brought vast numbers into the streets, reflecting disillusionment with the political elite and anger at its acceptance of injustice and a modernised feudalism.
Wednesday, December 18, 2013








Mandela is gone, but apartheid is alive and well in Australia
(3 comments) A resistance is growing, yet again, in the Aboriginal heartland, especially among the young. Unlike the US, Canada and New Zealand, which have made treaties with their first people, Australia has offered gestures often wrapped in the law. However, in the 21st century the outside world is starting to pay attention. The specter of Mandela's South Africa is a warning.
Sunday, December 15, 2013








The prison that is Bangladesh
(1 comments) It is fair to say that Bangladesh's short life has been blighted by almost perpetual conflict between feudalists and democrats and, more recently, fundamentalists. National elections have been called for 5 January. The poet Hasna Jasimuddin Moudud, once told me: "The country is a prison, and the world must know." Bangladesh deserves better.
Thursday, December 12, 2013








Mandela leaves behind a troubling legacy
(6 comments) Mandela fostered crony relationships with wealthy whites from the corporate world, including those who had profited from apartheid. He saw this as part of "reconciliation." Perhaps he and his beloved ANC had been in struggle and exile for so long they were willing to accept and collude with the forces that had been the people's enemy.
Wednesday, November 27, 2013








Discovering The Power Of People's History -- And Why It Is Feared Today
(5 comments) England is two countries. One is dominated by London, the other remains in its shadow. When I first arrived from Australia, it seemed no one went north of Watford and those who had emigrated from the north worked hard to change their accents and obscure their origins and learn the mannerisms and codes of the southern comfortable classes.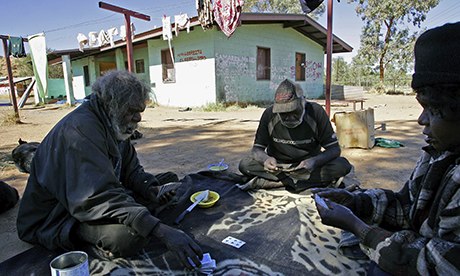 Tuesday, November 5, 2013








In The Lucky Country Of Australia Apartheid Is Alive And Kicking
(1 comments) An entire people became prisoners of war in their own country, with settlers calling for their extinction. The cattle industry prospered using indigenous men virtually as slave labor. The mining industry today makes profits of a billion dollars a week on indigenous land.
Thursday, October 17, 2013








Why Bad Movies Keep Coming Out And What To Do About It
(2 comments) The hype of public relations -- Edward Bernays' euphemism for propaganda -- is now regarded as truth. The medium has become the message. Films from Europe and the rest of the world account for a tiny fraction. Ironically, in the US, quality film-making has absconded to television.
Thursday, October 10, 2013








Old Game, New Obsession, New Enemy. Now It's China.
NATO's bombing of Libya drove out 30,000 Chinese oil industry workers. More than jihadism or Iran, China is now Washington's obsession in Africa and beyond. This is a "policy" known as the "pivot to Asia," whose threat of world war may be as great as any in the modern era.
Saturday, September 21, 2013








Conversations on Palestine: the role and failure of journalism
(1 comments) As part of an ongoing series of interviews for the radio show "Le Mur a Des Oreilles; conversations for Palestine," Frank Barat talks to John Pilger, one of the most influencial journalist of the last few decades, about the war in Syria, the colonization of Palestine, the relationship between the corporate media and government propaganda and the actions of a few very brave men, Snowden, Assange and Manning.
Wednesday, September 18, 2013








In An Age Of "Realists" And Vigilantes, There Is Cause For Optimism
(5 comments) Understanding Kissinger's criminality is vital when trying to fathom what the US calls its "foreign policy." Kissinger remains an influential voice in Washington, admired and consulted by Barack Obama. When Israel, Saudi Arabia, Egypt and Bahrain commit crimes with US collusion and weapons, their impunity and Obama's hypocrisy are pure Kissinger.
Tuesday, September 10, 2013








From Hiroshima to Syria, the enemy whose name we dare not speak
(8 comments) Russia's peace deal over chemical weapons will, in time, be treated with the contempt that all militarists reserve for diplomacy. With Al-Qaida now among its allies, and US-armed coupmasters secure in Cairo, the US intends to crush the last independent states in the Middle East: Syria first, then Iran.
Wednesday, August 7, 2013








The Courage Of Bradley Manning Will Inspire Others To Seize Their Moment Of Truth
(5 comments) The inspiration of future truth-tellers belongs to Bradley Manning, Julian Assange, Edward Snowden and the remarkable young people of WikiLeaks, whose achievements are unparalleled. Snowden's rescue is largely a WikiLeaks triumph: a thriller too good for Hollywood because its heroes are real.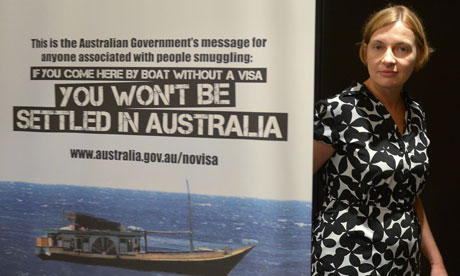 Monday, July 29, 2013








Australia's "stop the boats" policy is cynical and lawless
(7 comments) Australia is a signatory to the 1951 refugee convention. Rudd's cowboy actions are not only lawless but weaken international refugee law and the human rights movements that buttress it. Governments have waged a propaganda war on refugees, in alliance with a media dominated by Rupert Murdoch. Vast, sparsely populated Australia demands "protection" from refugees and asylum seekers.
Thursday, July 25, 2013








How We Are Gentrified, Impoverished And Silenced -- And What To Do About It
(2 comments) The Edward Snowden revelations show the infrastructure of a police state emerging in Europe, especially Britain. Yet people are more aware than ever before; and governments fear popular resistance -- which is why truth-tellers are isolated, smeared and pursued. There is no other way now. Direct action. Civil disobedience. Unerring.
Wednesday, July 10, 2013








Mandela's Greatness May Be Assured -- But Not His Legacy
(2 comments) Mandela fostered crony relationships with wealthy whites from the corporate world, including those who had profited from apartheid. He saw this as part of "reconciliation." Perhaps he and his beloved ANC had been in struggle and exile for so long they were willing to accept and collude with the forces that had been the people's enemy.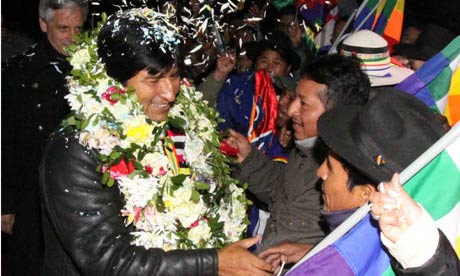 Friday, July 5, 2013








Forcing Down Evo Morales' Plane Was An Act Of Air Piracy
(23 comments) The forcing down of Bolivian President Evo Morales's plane -- denied airspace by France, Spain and Portugal, followed by his 14-hour confinement while Austrian officials demanded to "inspect" his aircraft for the "fugitive" Edward Snowden -- was an act of air piracy and state terrorism. It was a metaphor for the gangsterism that now rules the world and the cowardice and hypocrisy of bystanders who dare not speak its name.
Wednesday, June 19, 2013








Understanding The Latest Leaks Is Understanding the Rise Of A New Fascism
(3 comments) Control and dominance are the two words that make sense of what is going on today. These are exercised by political, economic and military designs, of which mass surveillance is an essential part, but also by insinuating propaganda in the public consciousness.
Wednesday, June 5, 2013








There Is A War On Ordinary People And Feminists Are Needed At The Front
(1 comments) The imposition of this criminal debt on ordinary people is a breathtaking scandal. Why has it not been challenged with any seriousness? Where is the political opposition? Class is your answer. This unrepresentative managerial and professional class also exercises power right across the trade union bureaucracy; and it dominates the media.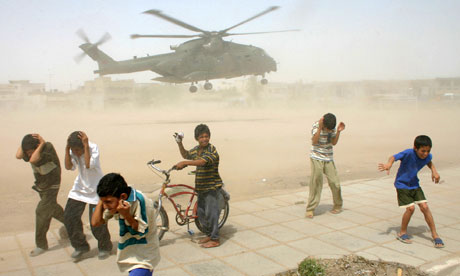 Sunday, May 26, 2013








Iraqis Can't Turn Their Backs On This Deadly Legacy
(4 comments) The "mess" left by George Bush and Tony Blair in Iraq is a sectarian war, the bombs of 7/7 and now a man waving a bloody meat cleaver in Woolwich. Bush has retreated back into his Mickey Mouse "presidential library and museum" and Tony Blair into his jackdaw travels and his money. The catastrophe they ignited has brought violence and abuse into millions of homes.
Thursday, May 9, 2013








Hold The Front Page! We Need Free Media, Not An Order Of Mates
(3 comments) In the "information age," censorship by omission is a weapon of this power -- the silencing of whistleblowers without whom journalism can never be free, and of a compliant, privileged "left." Militarized policing, displayed recently in Boston, consumes an America waging "perpetual war" and now threatening China. It is no surprise that newspapers in thrall to this corrupt power are ailing.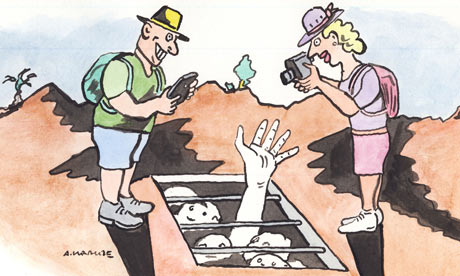 Sunday, April 28, 2013








Australia's boom is anything but for its Aboriginal people
(2 comments) Last year, 40 Aboriginal youngsters killed themselves there, a 100-fold increase. When I first reported on indigenous Australia a generation ago, black suicide was rare. Today, the despair is so profound that the second cause of Aboriginal death is suicide. It is booming.
Friday, April 26, 2013








Dance On Thatcher's Grave, But Remember There Has Been A Coup In Britain
(4 comments) In 1997, Thatcher was the first former prime minister to visit Tony Blair after he entered Downing Street. There is a photo of them, joined in rictus: the budding war criminal with his mentor. When Ed Milliband, in his unctuous "tribute," caricatured Thatcher as a "brave" feminist hero whose achievements he personally "honored," you knew the old killer had not died at all.
Wednesday, March 13, 2013








The New Propaganda Is Liberal -- The New Slavery Is Digital
(6 comments) Today's "message" of grotesque inequality, social injustice and war is the propaganda of liberal democracies. By any measure of human behavior, this is extremism. Whereas a generation ago, dissent and biting satire were allowed in the "mainstream," today their counterfeits are acceptable and a fake moral zeitgeist rules.
Thursday, February 14, 2013








WikiLeaks Is A Rare Truth-Teller ... Smearing Julian Assange Is Shameful
(5 comments) Assange has been declared an official "enemy" of a torturing, assassinating, rapacious state. This is clear in official files, obtained under Freedom of Information, that betray Washington's "unprecedented" pursuit of him, together with the Australian government's abandonment of its citizen: a legal basis for granting asylum.
Wednesday, January 30, 2013








The Real Invasion Of Africa Is Not News, And A Licence To Lie Is Hollywood's Gift
(3 comments) Reminiscent of the Scramble for Africa in the late 19th century, the US African Command (Africom) has built a network of supplicants among collaborative African regimes eager for American bribes and armaments. Last year, Africom staged Operation African Endeavor, with the armed forces of 34 African nations taking part, commanded by the US military.
Wednesday, January 16, 2013








Welcome To The Shammies, The Media Awards That Recognize Unsung Talent
The Shammies celebrate the finest sham media. The Shammies are not for the tabloid lower orders. Rupert Murdoch has been honored enough. Shammies distinguish respectable journalism that guards the limits of what the best and brightest like to call the "national conversation."
Wednesday, December 5, 2012








Leveson's Punch and Judy Show Masks Hacking on a Scale You Can Barely Imagine
(2 comments) For the past four years, working in silence and secrecy, the Obama administration has presided over a technological revolution ... moving the nation far beyond bayonets and battleships to cyber warfare, the weaponization of space [and] a breakthrough in what's called "information warfare."
Thursday, November 22, 2012








As Gaza is savaged again, understanding the BBC's role requires more than sentiment
(3 comments) The Israeli state has successfully intimidated the BBC into presenting the theft of Palestinian land and the caging, torturing and killing of its people as an intractable "conflict" between equals. Standing in the rubble from an Israeli attack, one BBC journalist went further and referred to "Gaza's strong culture of martyrdom."
Wednesday, November 7, 2012








The Political Trial Of A Caring Man And The End Of Justice In America
(6 comments) During this year's US presidential campaign, both candidates agreed on sanctions against Iran which, they claimed, posed a nuclear threat to the Middle East. Repeated over and again, this assertion evoked the lies told about Iraq and the extreme suffering of that country. Sanctions are already devastating Iran's sick and disabled.
Friday, October 26, 2012








Making The World a More Dangerous Place: The Eager Role of Julia Gillard
(1 comments) Washington's other post-cold war obsessions demand the services of Australia. These include the intimidation of Iran and destruction of that country's independence, the undermining of the NPT and prevention of nuclear-free zones that threaten the nuclear-armed dominance of the US and Israel.
Monday, October 15, 2012








Australia's Julia Gillard is no feminist hero
(1 comments) Promoted by glass-ceiling feminists with scant interest in the actual politics and actions of their hero, Gillard is the embodiment of the Australian Labor Party machine -- a numbers-crunching machine long bereft of principle that has betrayed Australia's most vulnerable people, especially women.
Wednesday, October 3, 2012








The Life And Death Of An Australian Hero, Whose Skin Was The Wrong Color
(4 comments) Australia, said Prime Minister Julia Gillard on September 26, deserves a seat at the top table of the United Nations because it ''embraces the high ideals'' of the UN. No country since apartheid South Africa has been more condemned by the UN for its racism than Australia.
Thursday, September 20, 2012








Apartheid Never Died In South Africa. It Inspired a World Order Upheld by Force and Illusion
(7 comments) Economic apartheid is now replicated across the world as poor countries comply with the demands of western "interests" as opposed to their own. The arrival of China as a contender for the resources of Africa, though without the economic and military threats of America, has provided further excuse for American military expansion, and the possibility of world war.
Tuesday, September 4, 2012








The Liberal Way to Run the World -- "Improve" or We'll Kill You
(2 comments) "If we have to use force," said Madeleine Albright, US Secretary of State in the liberal administration of Bill Clinton, "it is because we are America. We are the indispensable nation. We stand tall. We see further into the future." How succinctly she defines modern, violent liberalism.
Wednesday, August 22, 2012








The Pursuit of Julian Assange is an Assault on Freedom and a Mockery of Journalism
(2 comments) Among Ecuador's reasons for granting asylum is Assange's abandonment "by the state of which he is a citizen." In 2010, an investigation by the Australian Federal Police found that Assange and WikiLeaks had committed no crime. His persecution is an assault on us all and on freedom.
Wednesday, August 8, 2012








How the Chosen Ones Ended Australia's Olympic Prowess and Revealed a Secret Past
(1 comments) In his 1995 book, Obstacle Race, Professor Colin Tatz, who has charted Australia's genocidal history, says that of the 1,200 Aboriginal sportsmen and women he studied, only six -- 0.5% -- had access to the same opportunities and sporting facilities as whites. "A few things are better." he wrote, "The figure now is about one per cent."
Thursday, July 19, 2012








Blair, War, Olympic Deals and a Glimpse of Another Britain
(2 comments) None of the health, environmental and economic problems caused by the world's most enduring chemical warfare has been addressed by the US. None of the money allocated by the US Congress has gone directly to the Vietnamese or has reached those most severely disabled from the cancers associated with Agent Orange.
Saturday, June 30, 2012








Rupert Murdoch May Be a Convenient Demon, But the Media is a Junta
(3 comments) Consider the junta's rise. In the US, at the end of the second world war, 80 percent of newspapers were independently owned. By 1987, most were controlled by 15 corporations, of which six dominate today. Their ideological message is a mantra. They promote global and domestic economic piracy and the cult of "perpetual war."
Wednesday, June 20, 2012








History Is The Enemy As "Brilliant" Psy-Ops Become The News
(4 comments) Last September, Obama killed a US citizen, Anwar al-Awlaki, purely on the basis of hearsay that he was inciting terrorism. "This one is easy," he is quoted by aides as saying as he signed the man's death warrant. On 6 June, a drone killed 18 people in a village in Afghanistan, including women, children and the elderly who were celebrating a wedding.
Thursday, May 31, 2012








The Leveson Inquiry -- Oh, What a Lovely Game
the Leveson public inquiry in the British press set-up following the Murdoch phone-hacking revelations exemplifies the "matrix of official and social relations" within which power in Britain is exercised.
Wednesday, May 30, 2012








Why The Assange Case is Important
(2 comments) On 30 May, Britain's Supreme Court turned down the final appeal of Julian Assange against his extradition to Sweden. In an unprecedented move, the court gave the defense team of the WikiLeaks editor permission to "re-apply" to the court in two weeks' time.
Wednesday, May 16, 2012








Never forget that Bradley Manning, not gay marriage, is the issue
(6 comments) One of America's true heroes is the gay soldier Bradley Manning, the whistleblower alleged to have provided WikiLeaks with the epic evidence of American carnage in Iraq and Afghanistan. It was the Obama administration that smeared his homosexuality as weird, and it was Obama himself who declared a man convicted of no crime to be guilty.
Thursday, April 26, 2012








You Are All Suspects Now. What Are You Going To Do About It?
(20 comments) The malignancy that Norman Mailer called "pre-fascist" has metastasized. The US attorney-general, Eric Holder, defends the "right" of his government to assassinate American citizens. Israel, the protege, is allowed to aim its nukes at nukeless Iran. In this looking glass world, the lying is panoramic.
Wednesday, April 4, 2012








East Timor: a Lesson in Why the Poorest Threaten the Powerful
(1 comments) Visiting Australia last November, President Barack Obama issued another of his veiled threats to China and announced the establishment of a US Marines' base in Darwin, just across the water from East Timor. He understands that small, impoverished countries can often present the greatest threat to predatory power, because if they cannot be intimidated and controlled, who can?
Thursday, March 22, 2012








Up, Up and Away: How Money Power Works Down Under
As in Britain and America, the unions have long been tamed, co-opted and policed by their own leaderships. Gillard's workplace relations minister is Bill Shorten, a former union boss whose political ambitions and boasts of close ties to business elites are highlighted in US diplomatic cables released by WikiLeaks.
Saturday, March 10, 2012








The Dirty War on WikiLeaks is Now Trial by Media in Sweden
(5 comments) Ironically, this circus has performed under cover of some of the world's most enlightened laws protecting journalists, which attracted Assange to Sweden in 2010 to establish a base for WikiLeaks. Should his extradition be allowed, and with Damocles swords of malice and a vengeful Washington hanging over his head, who will protect him and provide the justice to which we all have a right?
Wednesday, March 7, 2012








Julia Gillard's Rise Marks the Triumph of Machine Politics Over Feminism
(1 comments) That Gillard has pledged to keep Australian soldiers in Afghanistan indefinitely and that the overwhelming majority of those killed or wounded has happened during her period as prime minister, is beside the point. Gillard's feminist distinction, perversely, is her removal of gender discrimination in combat roles in the Australian army.
Wednesday, February 15, 2012








It's Time We Recognized the Blair Government's Criminality
(1 comments) Today, another Afghanistan and Iraq beckons in Syria and Iran, perhaps even a world war. Once again, voices such as Crooke's attempt to explain to a media salivating for "intervention" in Syria that the civil war in that country requires skilled, patient negotiation, not the provocations of the British SAS and the familiar, bought-and-paid-for exiles who ride in Anglo-America's Trojan Horse.
Wednesday, February 1, 2012








The Assange Case Means That We Are All Suspects Now
(1 comments) The connections between Manning and Assange have been concocted by a secret grand jury in Alexandria, Virginia, which allowed no defence counsel or witnesses, and by a system of plea-bargaining that ensures a 90 percent conviction. It is reminiscent of a Soviet show trial.
Wednesday, January 18, 2012








The World War on Democracy
Obama likes drones and has joked about them with journalists. One of his first actions as president was to order a wave of Predator drone attacks on Pakistan that killed 74 people. He has since killed thousands, mostly civilians; drones fire Hellfire missiles that suck the air out of the lungs of children and leave body parts festooned across scrubland.
Wednesday, December 28, 2011








In a Land of Facades, Mark the First Signs of an Indian Spring
Hundreds of thousands of unarmed people have come out to reclaim their cities, their streets and mohallas. They have simply overwhelmed the heavily armed security forces by their sheer numbers, and with a remarkable display of raw courage." An Indian Spring may be next.
Wednesday, November 30, 2011








Once Again, War is Prime Time and Journalism's Role is Taboo
(4 comments) Having beckoned a criminal assault on Iran, the Guardian opined that this "would of course be madness." Similar arse-covering was deployed when Tony Blair, once a "mystical" hero in polite liberal circles, plotted with George W. Bush and caused a bloodbath in Iraq. With Libya recently dealt with ("It worked," said the Guardian), Iran is next, it seems.