Articles Listed By Date List By Popularity
Page 1 of 8 First Back Next 2 3 4 5 6 7 8 View All
Tuesday, September 1, 2015 (2 comments)









Labor Day 2028 In 1928, famed British economist John Maynard Keynes predicted that technology would advance so far in 100 years -- by 2028 -- that it will replace all work, and no one will need to worry about making money. We still have 13 years to go before we reach Keynes' prophetic year, but we're not exactly on the way to it. Americans are working harder than ever.
Monday, August 24, 2015









The Upsurge in Uncertain Work Whatever party -- contractor, client, customer, agent, or intermediary -- pays more than half of someone's income, or provides more than half their working hours, should be responsible for all the labor protections and insurance an employee is entitled to.
Thursday, August 20, 2015









Corporate Welfare In California Back in 1978, corporations paid 44 percent of all property taxes and homeowners paid 56 percent. Now, after exploiting this loophole for years, corporations pay only 28 percent of property taxes, while homeowners pick up 72 percent of the tab.
Monday, August 17, 2015









The Fraud of the New "Family-Friendly" Work Netflix just announced it's offering paid leave to new mothers and fathers for the first year after the birth or adoption of a child. Other high-tech firms are close behind. Butthese new policies apply only to a tiny group considered "talent" -- highly educated and in high demand. They're getting whatever perks firms can throw at them in order to recruit and keep them.
Monday, August 10, 2015 (1 comments)









The Outrageous Ascent of CEO Pay For the last 30 years almost all incentives operating on American corporations have resulted in lower pay for average workers and higher pay for CEOs and other top executives. In 1965, CEOs of America's largest corporations were paid, on average, 20 times the pay of average workers. Now, the ratio is over 300 to 1. Not only has CEO pay exploded, so has the pay of top executives just below them.
Sunday, August 2, 2015 (5 comments)









The Revolt Against the Ruling Class Despite the growing revolt against the ruling class, it seems likely that the nominees in 2016 will be Jeb Bush and Hillary Clinton. After all, the ruling class still controls America. But the revolt against the ruling class won't end with the 2016 election, regardless. Which means the ruling class will have to change the way it rules America. Or it won't rule too much longer.
Saturday, July 25, 2015 (4 comments)









Happy Birthday Medicare Medicare turns 50 next week. It was signed into law July 30, 1965 -- the crowning achievement of Lyndon Johnson's Great Society. It's more popular than ever. Yet Medicare continues to be blamed for America's present and future budget problems. That's baloney. Medicare isn't the problem. In fact, it's the solution.
Thursday, July 23, 2015 (1 comments)









Why Progressives Must Stay United The Republican strategy has been to divide-and-conquer. They want to prevent the majority of Americans -- poor, working class, and middle-class, blacks, Latinos, and whites -- from uniting in common cause against the moneyed interests. We must not let them.
Saturday, July 18, 2015 (3 comments)









How Goldman Sachs Profited from the Greek Debt Crisis Goldman Sachs and the other giant Wall Street banks are masterful at selling complex deals by exaggerating their benefits and minimizing their costs and risks. That's how they earn giant fees. When a client gets into trouble -- whether that client is an American homeowner, a US city, or Greece -- Goldman ducks and hides behind legal formalities and shareholder interests.
Wednesday, July 15, 2015 (18 comments)









Hillary Clinton's Glass-Steagall people who believe Hillary Clinton is still too close to Wall Street will not be reassured by her position on Glass-Steagall. Many will recall that her husband led the way to repealing Glass Steagall in 1999 at the request of the big Wall Street banks. It's a big mistake economically because the repeal of Glass-Steagall led directly to the 2008 Wall Street crash, and without it we're in danger of another one.
Monday, July 6, 2015 (8 comments)









The Choice Ahead: A Private Health-Insurance Monopoly or a Single Payer We'll soon have a health insurance system dominated by two or three mammoth for-profit corporations capable of squeezing employees and consumers for all they're worth -- and handing over the profits to their shareholders and executives. The alternative is a government-run single payer system -- such as is in place in almost every other advanced economy -- dedicated to lower premiums and better care.
Saturday, July 4, 2015









Why We Shouldn't Pay for the Political Spending of Federal Contractors When government contractors do the spending, American taxpayers foot the bill twice over. Our tax dollars are spent on their lobbying and campaign contributions. And if their lobbying and contributing is successful, our tax dollars are spent on federal contracts we often don't need.
Friday, July 3, 2015 (5 comments)









On Patriotism Real patriotism is not cheap. It requires taking on a fair share of the burdens of keeping America going -- being willing to pay taxes in full rather than seeking tax loopholes and squirreling away money abroad. Patriotism is about preserving and protecting our democracy, not inundating it with big money and buying off politicians.
Wednesday, July 1, 2015 (1 comments)









Overtime: Finally, A Break For The Middle Class Corporate profits have doubled over the last three decades -- from about 6% of GDP to about 12% -- while wages have fallen by almost exactly the same amount. The erosion of overtime and other labor protections is one of the main factors worsening inequality. A higher overtime threshold will help reverse this trend. Finally, a bit of good news for hard-working Americans.
Sunday, June 28, 2015 (1 comments)









Why We Must Fight Economic Apartheid in America Americans are segregating ever more by income in terms of where we live. Because a disproportionate number of the nation's poor are black or Latino, that means we're experiencing racial segregation on a much larger geographical scale than ever before -- a kind of economic apartheid.
Tuesday, June 23, 2015 (6 comments)









#11. Why Medicare Isn't The Problem -- It's The Solution Medicare is more efficient than private health insurers whose administrative costs and advertising and marketing expenses are eating up billions of dollars each year. If more Americans were allowed to join Medicare, it could become more efficient by using its growing bargaining power to get lower drug prices, lower hospital bills, and healthier people.
Tuesday, June 23, 2015 (1 comments)









#12: Most Important Of All -- Get Big Money Out Of Politics At the rate we're going, the 2016 election is likely to be the most expensive in history -- and the moneyed interests will be responsible for most of it. Our democracy is broken, and we must fix it. Easy to say, but how do we do it?
Sunday, June 21, 2015









#10. End Mass Incarceration Now Black people are incarcerated at a rate five times that of whites, and Latinos incarcerated at a rate double that of white Americans. Instead of locking people up unjustly, and then locking them out of the economy for the rest of their lives, we need to stop wasting human talent and start opening doors of opportunity -- to everyone.
Sunday, June 14, 2015 (7 comments)









Why the Trans Pacific Partnership is Nearly Dead America's real-life distributional game is analogous, as a few at the top gain increasing political power to alter the rules of the game to their advantage. If the American economy continues to create a few big winners and many who feel like losers by comparison, opposition to free trade won't be the only casualty. Losers are likely to find many other ways to say "no deal."
Wednesday, June 10, 2015









#9 -- Make Polluters Pay Us We've invested more than $6 trillion in fossil fuels since 2007. The money has been laundered through our savings and tax dollars. This has got to be reversed. We can clean our environment and strengthen the economy if we (1) divest from carbon polluters, (2) make the polluters pay a price to pollute, and (3) then collect the money.
Monday, June 8, 2015









Anticipatory Bribery Former government officials, including members of Congress, shouldn't be able to lobby or take jobs in industries over which they had some oversight, for at least three years after leaving office. Once they declare, even their spouses should desist from collecting big bucks that could look like anticipatory bribes.
Saturday, June 6, 2015 (2 comments)









Making The Economy Work For The Many, Not The Few: #8 Raise The Estate Tax On The Very Rich Today the estate tax reaches only the richest two-tenths of one percent, and applies only to dollars in excess of $10.86 million for married couples or $5.43 million for individuals. That means if a couple leaves to their heirs $10,860,001, they now pay the estate tax on $1. The current estate tax rate is 40%, so that would be 40 cents. Yet according to these members of Congress, that's still too much.
Monday, June 1, 2015









State of Disaster Texans have elected people who seem not to have a clue. Indeed, Texas has done more in recent years to institutionalize irrationality than almost anywhere else in America -- thereby imposing a huge burden on its citizens. How many natural disasters will it take for the Lone Star State to wake up to the disaster of its elected officials?
Sunday, May 31, 2015 (1 comments)









10 Ways To Make The Economy Work For The Many, Not The Few: #7, Strengthen Unions, Pre-empt State "Right To Work" Laws American workers need a union to bargain on their behalf. Low-wage workers in big-box retail stores and fast-food chains need a union even more. If we want average Americans to get a fair share of the gains from economic growth, they need to be able to unionize.
Friday, May 22, 2015 (1 comments)









Ten Ideas to Save the Economy #5: How to Reinvent Education We have to reinvent education because it's not working for too many of our kids -- who are either dropping out of high school because they aren't engaged, or not getting the skills they need, or paying a fortune for college and ending up with crushing student debt.
Tuesday, May 19, 2015 (1 comments)









The Revolt of Small Business Republicans Big corporations have extended their dominance over large swaths of the economy. They've expanded their intellectual property, merged with or acquired other companies in the same industry, and gained control over networks and platforms that have become industry standards.
Thursday, May 14, 2015 (4 comments)









Ten Ideas to Save the Economy #3: Expand Social Security Social Security will be there for you in your retirement. The problem is it won't pay you enough. That's why it's important to expand Social Security -- not cut Social Security benefits. How? We can afford to increase Social Security benefits, as well as help ensure the solvency of Social Security, by eliminating the cap on income subject to Social Security taxes.
Thursday, May 7, 2015 (7 comments)









Why Nike Is the Problem, Not the Solution Americans made only 1 percent of the products that generated Nike's $27.8 billion revenue last year. And Nike is moving ever more of its production abroad. Last year, a third of Nike's remaining 13,922 American production workers were laid off. Trade agreements like the Trans Pacific Partnership protect corporate investors but lead to even more off-shoring of American jobs.
Sunday, May 3, 2015 (2 comments)









Trans Pacific Trickle-Down Economics The Trans Pacific Partnership is being sold as a way to boost the U.S. economy, expand exports, and contain China's widening economic influence. In fact, it's just more trickle-down economics. The biggest beneficiaries would be giant American-based global corporations, along with their executives and major shareholders. What we should have learned about trickle-down economics is that nothing trickles down.
Saturday, May 2, 2015 (31 comments)









The Political Roots of Widening Inequality Corporate executives and Wall Street managers and traders have done everything possible to prevent the wages of most workers from rising in tandem with productivity gains, in order that more of the gains go instead toward corporate profits. Higher corporate profits have meant higher returns for shareholders and for the executives and bankers themselves.
Sunday, April 26, 2015 (5 comments)









Why So Many Americans Feel So Powerless Our economy and society depend on most people feeling the system is working for them. But a growing sense of powerlessness in all aspects of our lives -- as workers, consumers, and voters -- is convincing most people the system is working only for those at the top.
Tuesday, April 21, 2015









How the New Flexible Economy is Making Workers' Lives Hell Employers assign workers tentative shifts, and then notify them a half-hour or 10 minutes before the shift is scheduled to begin whether they're actually needed. Some even require workers to check in by phone, email, or text shortly before the shift starts.
Friday, April 10, 2015 (19 comments)









The Defining Moment, and Hillary Rodham Clinton Hillary Clinton should make the moral case about power: for taking it out of the hands of those with great wealth and putting it back into the hands of average working people. In these times, such a voice and message make sense politically. The 2016 election will be decided by turnout, and turnout will depend on enthusiasm.
Tuesday, April 7, 2015 (1 comments)









The Big Chill: How Big Money Is Buying Off Criticism of Big Money This isn't a matter of ideology. Wealthy progressives can exert as much quiet influence over the agendas of nonprofits as wealthy conservatives. Philanthropy is noble. But when it's mostly in the hands of a few super-rich and giant corporations, and is the only game available, it can easily be abused. Our democracy is directly threatened when the rich buy off politicians.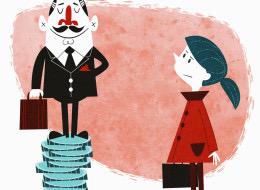 Tuesday, March 31, 2015 (8 comments)









The Rise of the Working Poor and the Non-Working Rich The specter of an entire generation doing nothing for their money other than speed-dialing their wealth management advisers is not particularly attractive. It puts more and more responsibility for investing a substantial portion of the nation's assets into the hands of people who have never worked. It also endangers our democracy, as dynastic wealth inevitably and invariably accumulates political influence and power.
Monday, March 23, 2015 (11 comments)









Why College Isn't (and Shouldn't Have to be) for Everyone Not every young person is suited to four years of college. They may be bright and ambitious but they won't get much out of it. They'd rather be doing something else, like making money or painting murals. They feel compelled to go to college because they've been told over and over that a college degree is necessary. Yet if they start college and then drop out, they feel like total failures.
Tuesday, March 17, 2015 (7 comments)









The "iEverything" and the Redistributional Imperative Most of us will have less and less money to buy the dazzling array of products and services spawned by blockbuster technologies -- because those same technologies will be supplanting our jobs and driving down our pay. We need a new economic model.
Wednesday, March 11, 2015









The 3 Biggest Myths Blinding Us to the Economic Truth We should worry most about the size of government. Wrong. We should worry about who government is for. When big money from giant corporations and Wall Street inundate our politics, all decisions relating to creating jobs and the choice between the "free market" or "government" become rigged against average working Americans.
Monday, March 9, 2015 (6 comments)









The Conundrum of Corporation and Nation Most big American corporations have no particular allegiance to America. They don't want Americans to have better wages. Their only allegiance and responsibility to their shareholders -- which often requires lower wages to fuel larger profits and higher share prices.
Tuesday, March 3, 2015 (9 comments)









Will the Democratic Nominee for 2016 Take on the Moneyed Interests? The big unknown is whether the Democratic nominee will also take on the moneyed interests -- the large Wall Street banks, big corporations, and richest Americans -- which have been responsible for the largest upward redistribution of income and wealth in modern American history. Failure to take on the moneyed interests sacrifices the potential enthusiasm of millions of voters.
Sunday, February 22, 2015 (4 comments)









Why We're All Becoming Independent Contractors Any corporation that accounts for at least 80 percent of the work someone does, or receives at least 20 percent of his or her earnings, should be presumed to be that person's "employer." Congress doesn't have to pass a new law to make this the test of employment. The Labor Department and the IRS have the power to do this on their own, through their rule making authority. They should do so. Now.
Tuesday, February 17, 2015









How Trade Deals Boost the Top 1% and Bust the Rest of us Today's "trade agreements" should really be called "global corporate agreements" because they're mostly about protecting the assets and profits of these global corporations rather than increasing American jobs and wages. The deals don't even guard against currency manipulation by other nations.
Wednesday, February 11, 2015 (12 comments)









Corporations Taking USA Back to the 19th Century Now we seem to be heading back to nineteenth century. Corporations are shifting full-time work onto temps, free-lancers, and contract workers who fall outside the labor protections established decades ago. The nation's biggest corporations and Wall Street banks are larger and more potent than ever. And labor union membership has shrunk to fewer than 7 percent of private-sector workers.
Tuesday, February 3, 2015 (2 comments)









The Share-the-Scraps Economy Some economists laud on-demand work as a means of utilizing people more efficiently. But the biggest economic challenge we face isn't using people more efficiently. It's allocating work and the gains from work more decently. On this measure, the share-the-scraps economy is hurtling us backwards.
Friday, January 30, 2015









The Worst Trade Deal You Never Heard Of The Trans-Pacific Partnership, now headed to Congress, is a product of big corporations and Wall Street, seeking to circumvent regulations protecting workers, consumers, and the environment.
Monday, January 26, 2015 (3 comments)









Wall Street's Threat to the American Middle Class Do we really need reminding about what happened six years ago? The financial collapse crippled the middle class and poor -- consuming the savings of millions of average Americans, and causing 23 million to lose their jobs, 9.3 million to lose their health insurance, and some 1 million to lose their homes.
Monday, January 19, 2015 (3 comments)









The New Compassionate Conservatism and Trickle-Down Economics When Jeb Bush admits that the income gap is real but that "only conservative principles can solve it," one has to wonder what principles he's talking about if not these. And when Mitt Romney promises to run a different campaign than he did in 2012 and focus on "opportunity for all people," the real question is whether he'll run on different economic principles.
Tuesday, January 13, 2015 (2 comments)









Why Wages Won't Rise It's easier than ever for American employers to get the workers they need at low cost by outsourcing jobs abroad rather than hiking wages at home. Outsourcing can now be done at the click of a computer keyboard. A a whole new generation of smart technologies is taking over jobs that used to be done only by people. Rather than pay higher wages, it's cheaper for employers to install more robots.
Monday, January 5, 2015 (5 comments)









Why the Trans-Pacific Partnership Agreement is a Pending Disaster The TPP is a Trojan horse in a global race to the bottom, giving big corporations and Wall Street banks a way to eliminate any and all laws and regulations that get in the way of their profits. The Trans Pacific Partnership is the wrong remedy to the wrong problem. Any way you look at it, it's just plain wrong.
Thursday, January 1, 2015









Out with 2014, In with 2015, and Up with People Turnout in the 2014 midterm elections was the lowest in decades. This is exactly what the moneyed interests want. If we give up on politics we give up on democracy, and they can take over all of it. Never underestimate what we can, and will, accomplish together. Organizing. Mobilizing. Energizing. Making a ruckus.
Monday, December 29, 2014 (1 comments)









The Republican's Magical Mystery Tour (Starting Next Week) George W. Bush inherited a budget surplus from Bill Clinton but then slashed taxes, mostly on the rich. The CBO found that the Bush tax cuts reduced revenues by $3 trillion. Yet Republicans don't want to admit supply-side economics is hokum. As a result, they've never had much love for the truth-tellers at the Congressional Budget Office.
Wednesday, December 24, 2014 (12 comments)









The Government Problem The size of government isn't the problem. That's a canard used to hide the far larger problem. The larger problem is that much of government is no longer working for the vast majority it's intended to serve. It's working instead for a small minority at the top. If government were responding to the public's interest instead of the moneyed interests, it would be smaller and more efficient.
Wednesday, December 17, 2014









The Coin of the Realm: How Inside Traders Are Rigging America If a CEO tells his golf buddy that his company is being taken over, and his buddy makes a killing on that information, no problem. If his buddy leaks the information to a hedge-fund manager like Chiasson, and doesn't tell Chiasson where it comes from, Chiasson can also use the information to make a bundle.
Monday, December 8, 2014









Wall Street's Democrats The Street donated $49.1 million to Democrats in 2010, according to the non-partisan Center for Responsive Politics. Hedge-fund managers alone accounted for $5.88 million of the total. Schumer and a few other influential Democrats were among the industry's major beneficiaries.
Sunday, November 30, 2014 (23 comments)









Patrolling the Boundaries Inside America parents are intent on policing the boundaries, lest a child whose parents haven't paid the "tuition" reap the same advantages as their own child. Hell hath no fury like an upscale parent who thinks another kid is getting an unfair advantage by sneaking in under the fence.
Tuesday, November 25, 2014 (1 comments)









Why College Is Necessary But Gets You Nowhere A college degree no longer guarantees a good job. The main reason it pays better than the job of someone without a degree is the latter's wages are dropping. In fact, it's likely that new college graduates will spend some years in jobs for which they're overqualified.
Tuesday, November 18, 2014 (1 comments)









And Now the Richest .01 Percent If you want to know what's happened to the American economy, follow the money. That will lead you to the richest .01 percent. And if you want to know what's happened to our democracy, follow the richest .01 percent. They'll lead you to the politicians who have been selling our democracy.
Monday, November 10, 2014 (1 comments)









The Choice of the Century What the President and other Democrats failed to communicate wasn't their accomplishments. It was their understanding that the economy is failing most Americans and big money is overrunning our democracy. And they failed to convey their commitment to an economy and a democracy that serve the vast majority rather than a minority at the top. Some Democrats even ran on not being Barack Obama.
Monday, November 3, 2014 (1 comments)









An Election Day Carol The corruption brought on by the Supreme Court's decision in "Citizen's United versus Federal Election Commission," opened the floodgates to big money in elections. Unless that horrific case is reversed, elections -- and democracy -- will fall by the wayside.
Tuesday, October 28, 2014 (5 comments)









Empathy Deficit Disorder Almost two-thirds of working Americans are living paycheck to paycheck. And they're worried sick about whether their kids will ever make it. They need leaders who understand their plight instead of denying it. They deserve politicians who want to fix it rather than blame it on those who have to depend on public assistance, or who need a higher minimum wage, in order to get by.