Articles Listed By Date List By Popularity
Tuesday, September 13, 2016 (11 comments)









Why This FBI Whistleblower Seconds Jill Stein's Call For A New 9/11 Investigation The FBI was only one of the agencies and political entities which strived to cover up the truth of why and how they all ignored a "system blinking red" in the months before the attacks. People still don't know the full truth about how 9/11 could have easily been prevented if only agencies and the Bush Administration had shared information internally.
Thursday, February 25, 2016









Behind FBI's Data-Access Fight with Apple FBI Director James Comey gained his reputation for integrity by standing up to George W. Bush's White House on a domestic spying issue but the fight was more tactical than principled, raising doubts about his current dispute with Apple over government accessing encrypted phone data, writes ex-FBI official Coleen Rowley.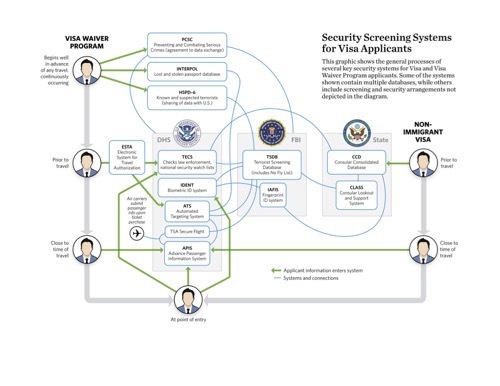 Friday, December 4, 2015









Visa Waiver Program Has Same Weak Links; Mass Surveillance and Terrorist Watchlisting Don't Work Yesterday's massacre in San Bernardino again underscores the ineffectiveness of relying upon bulk data collection and intelligence agencies' watch-listing processes to "keep us safe from terrorism."
Sunday, June 14, 2015 (5 comments)









Standing Up for Truth and Ben Franklin Because of the excessive secrecy exercised by the U.S. government, whistleblowing has become a necessity for American democracy, a reality that struck home to former FBI official Coleen Rowley and other whistleblowers as they encountered Benjamin Franklin's words in Germany.
Saturday, May 30, 2015









Real Democracy Promotion: Lord Acton and Tom Clancy vs John Yoo With its omnipresent surveillance, the US Government also began aggressively targeting and prosecuting whistleblowers and other sources, putting renowned journalists and publishers worldwide, even mainstream media like Associated Press, directly or incidentally in their surveillance crosshairs.
Tuesday, May 5, 2015 (4 comments)









Legality of Drone Warfare or Illegality of Drone Assassination? Let a Real Debate Begin! when examining how to fix our mistakes, as President Obama rightly urged in recently acknowledging and apologizing for the mistaken drone killing of American and Italian aid workers, he was wrong to call attention, in the same breath, to America's exceptionalism. That will only establish bad legal precedents that will come back to haunt the U.S.
Friday, December 26, 2014 (1 comments)









Selling "Peace Groups" on US-Led Wars Afghanistan is still in shambles with the majority of the people living in extreme poverty; Libya, which had the highest GDP per capita and life expectancy on the continent, is now a failed state; Western intervention transformed Iraq from an emerging country with moderate prosperity into an impoverished country with a starving population.
Tuesday, September 30, 2014 (7 comments)









Beheadings v. Drone Assassinations As gruesome as the Islamic Front's videotaped beheadings are, there is ambiguity over whether the U.S. government's death-by-drone is any less horrific, with some victims crawling about with severed limbs and others just collateral damage, a moral dilemma addressed by ex-FBI official Coleen Rowley.
Sunday, August 31, 2014 (58 comments)









Memorandum For: Angela Merkel: Beware of Fixed Intelligence on Ukraine-- Think WMDs ...accusations of a major Russian "invasion" of Ukraine appear not to be supported by reliable intelligence. Rather, the "intelligence" seems to be of the same dubious, politically "fixed" kind used 12 years ago to "justify" the U.S.-led attack on Iraq. We saw no credible evidence of weapons of mass destruction in Iraq then; we see no credible evidence of a Russian invasion now.
Thursday, April 3, 2014 (2 comments)









Misguided Honor for Condi Rice U.S. officials lecture others about respecting international law and punishing human rights crimes, but those principles are ignored when the violators are U.S. officials. Offenders like ex-Secretary of State Condoleezza Rice even get honors, as Coleen Rowley and Todd E. Pierce note.
Tuesday, March 25, 2014 (1 comments)









Obama Ensnared in Bush's Abuses President Obama's fateful decision – after winning the 2008 election to seek "continuity" rather than "change" and "to look forward, not backward" – has trapped him in a web of constitutional abuses that began in the Bush-43 presidency and extended into his own, as Coleen Rowley describes.
Monday, February 24, 2014 (2 comments)









A New Neocon Push for Syrian War The neocon agenda of "regime change" in disfavored countries continues unabated with new pressure for a U.S. military intervention in Syria, billed as "humanitarian" and coupled with ridicule for anyone who favors the frustrating course of diplomacy, as ex-FBI agent Coleen Rowley explains.
Saturday, January 18, 2014









The Tackling Torture Video Contest Finalists announced — JURY AND AUDIENCE VOTING BEGINS Tackling Torture Video Contest Finalists announced--Jury and Audience Voting Begins
Monday, October 7, 2013 (18 comments)









Feinstein's Phony Excuse for NSA Spying After 9/11, the excuse for missing clues was too much data -- trying to sip from a fire hose -- but with the priority now excusing NSA spying, the metaphor is for more data -- you can't find a needle in a haystack without a haystack. Twelve years after 9/11, it's time to stop using it to justify illegal and counterproductive policies.
Saturday, April 20, 2013 (11 comments)









Chechen Terrorists and the Neocons The revelation that the family of the two suspects in the Boston Marathon bombings was from Chechnya prompted new speculation about the attack as Islamic terrorism. Less discussed was the history of U.S. neocons supporting Chechen terrorists as a strategy to weaken Russia.
Thursday, March 28, 2013 (4 comments)









Why We're Going to Dallas for the People's Response to the Bush Lie-Bury Indifference to crimes against humanity committed by our highest elected officials administration after administration reveals the appalling depths of America's moral decay.
Thursday, March 28, 2013 (7 comments)









George W. Bush's Lie-bury As minor African despots are dragged before the International Criminal Court, ex-President George W. Bush remains free, despite having committed major war crimes like torture and aggressive war. With the blood of hundreds of thousands on his hands, he will now celebrate his presidential library.
Wednesday, March 6, 2013









10 Years Later, Preemption Still Doesn't Work Ten years ago, I made the ultimately futile effort of writing to FBI Director Robert Mueller warning that he needed to tell the truth about the Bush administration's unjustified decision to preemptively invade Iraq and the likelihood it would prove counterproductive. At the time, Mueller well knew of Vice President Dick Cheney's lying about Saddam's connection to 9/11 and other administration exaggerations to gin up the war.
Tuesday, February 26, 2013 (1 comments)









Senator Rand Paul is not the only one with serious questions about the nomination of John Brennan for CIA Director! Is Congress & its convoluted, intensely political committees capable of fully & fairly evaluating the legality of drones? Don't hold your breath.
Saturday, February 9, 2013 (8 comments)









News Release: NYC Rally on Feb 19 to Unite Groups Against Resurgence of Japanese Militarism With all the imperial wars that have been launched and are being launched by the US in the Mid-east, we often forget about the US-announced "China Pivot" occurring on the other side of the world. Please help spread the information of the underlying issues as well as notice about this upcoming rally in NYC on Feb 19th, a real chance to demonstrate against the emerging militarism of Japan's Prime Minister Abe.
Friday, October 12, 2012 (10 comments)









What to Do after 11 Years of War? How About Occupying Your City Council?! The lower levels of city and state governments are inherently more reachable and less subject to corruption than the higher and more powerful levels of federal government. The notion that more real hope exists at the grassroots, civil society and city council level is being borne out. government. The notion that more real hope exists at the grassroots, civil society and city council level is being borne out.
Saturday, September 29, 2012 (3 comments)









The Fuzzy Line of Terrorism The Obama administration's plan to remove a group of violent Iranian émigrés from the U.S. terror list suggests a readiness to pursue the-enemy-of-my-enemy-is-my-friend strategy that put the United States on the side of Osama bin Laden and Islamic extremists in Afghanistan in the 1980s, says ex-FBI agent Coleen Rowley.
Thursday, September 27, 2012









Our (New) Terrorists' the MEK: Have We Seen This Movie Before? Especially in light of breaking disclosure from declassified docs that Assange is now considered "enemy of the state" and US investigating their personnel who meet with WikiLeaks supporters. (I suppose that ultimately leads to making we supporters of freedom of the press "enemies of the state"?! How else can the covert support for "terrorist" assassins, "jihads-on-our-side" and so on and so forth--all the manipulations and i
Friday, August 31, 2012 (8 comments)









Selling War as Smart Power oday's proponents of "Smart Power" make their compelling case for more (endless) war by successfully urging us to "recast the fight against terror and nuclear proliferation " from a dark, draining struggle into a hopeful, progressive cause aimed at securing an international system of liberal societies and defeating challenges to it."
Monday, May 14, 2012 (1 comments)









Reflecting on Mother's Day and War Reflecting on Mother's Day and War May 14, 2012 The original idea of Mother's Day was to promote peace so mothers would not have to suffer the grief that many American moms faced after the slaughter of the Civil War. But some of today's most powerful women, including moms, are war advocates.
Thursday, April 26, 2012 (2 comments)









The US Press Sell-out on Iraq War As President George W. Bush rushed the nation to war in early 2003, some Americans took personal risks to warn the country about the misleading evidence on Iraq, but most U.S. news outlets turned a deaf ear, sometimes leaving the whistleblowers out in the cold.
Tuesday, March 20, 2012 (2 comments)









Dear Department of Justice: Please Investigate Your Old Boss for Material Support of Terrorism! Dear Department of Justice and Department of Treasury Officials: We might have just helped you bag another material supporter of terrorism this week! And you'll never believe who the culprit is! We were even able to tape record some of his own damning admissions! (That's the reason for my calls last week to your duty attorneys and media offices.)
Monday, March 5, 2012









Nothing "Purist" -- Just Everything Hypocritical About Awarding Nobel "Peace" Prize to Promote Western Militarization Obama, who has endorsed the policy that he has the option of having anyone he doesn't like assassinated & notorious war criminal Henry Kissinger are Nobel Peace Prize winners. Neither can honestly be seen as "working for fraternity between nations." So what's up in Norway & has Alfred Nobel's legacy been betrayed?
Tuesday, January 17, 2012









A Rainy Day in D.C., Marching to Close Guantanamo It's hard to know what to do, as mere citizens, to try and fix things so many years after the United States government decided it did not have to follow its own laws, the Geneva Conventions... It's not 10 years since the U.S. went off the rails. It seems more ordinary citizens must therefore take to the streets to demonstrate against war and torture.
Saturday, December 24, 2011 (1 comments)









All I Want for Christmas Is My Civil Liberties! Sad, isn't it, that just one day before Christmas, we have to stand out in the cold and worry about getting another big lump of coal from our politicians?! But unfortunately it's expected that Obama will sign the National Defense Authorization Act (NDAA) into law right after the holiday. Since that's the same day the big sales start, few Americans will probably be paying attention to the police state being officially ushered i
Tuesday, December 13, 2011 (6 comments)









The Danger from Politicizing "Terror" By politicizing who is and who is not a "terrorist" -- pinning the label on American adversaries and sparing purported American friends -- the U.S. government created confusion at FBI headquarters that contributed to the failure to stop the 9/11 attacks.
Sunday, December 4, 2011 (6 comments)









Obama Should Veto Empire Over Republic For the first time in our history, if this Act is not vetoed, American citizens may not be guaranteed their Article III right to trial. Senator Lindsey Graham declared that suspected citizens open themselves up "to imprisonment and death. ...And when they say, 'I want my lawyer,' you tell them: 'Shut up. You don't get a lawyer.'"
Friday, November 25, 2011 (5 comments)









Celebrating Spiritual Death On Black Friday Martin Luther King Jr. warned that a country in continuous war approaches spiritual death. I wonder if he realized that this extinction would play out in the nation's shopping malls.
Thursday, September 1, 2011 (2 comments)









Minneapolis Message to Obama Was Clear: Bring the War $$ Home Americans are learning about the destructiveness of runaway militarism the hard way.
Thursday, May 19, 2011 (5 comments)









Worldwide War Provision Makes Its Way Through Congress (and People Thought the Patriot Act Was Bad) The Patriot Act was one of the worst pieces of legislation ever to come out of Congress. Now we just might have something worse. Sec. 1034 -- the new authorization for worldwide war provision -- buried in the National Defense Authorization Act.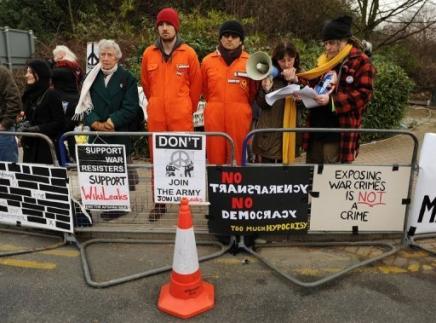 Thursday, February 10, 2011









Julian Assange's Extradition Hearing Resumes Friday E-mail update from London from a Catholic Worker activist there who's organizing another street vigil outside Julian Assange's extradition hearing when it recommences tomorrow (Friday Feb 11) next to Belmarsh Prison in London.
Sunday, February 6, 2011 (2 comments)









NYT's Keller Disparages Assange The point may get close to the real reason for Keller's disdain for Julian Assange -- because Assange and WikiLeaks represent a much purer commitment to the core tenets of journalism, including the principle of objectivity, than does the New York Times.
Tuesday, January 25, 2011









State of the Union: Ignore the Elephant at Your Own Peril We are soon going to hear about our "State of the Union," but no matter what is said and no matter how good the speech, the current war machine dominating the state of the union will remain difficult to turn around.
Sunday, January 23, 2011 (1 comments)









How Top Secret America Misfires; A Call for a 21st Century Church Commission Why Those Who Value Constitutional Rights and Civil Liberties Must Ask Congress to Initiate "Church Committee"-type Hearings Let's not forget how the "war on terror" was originally sold to the American public: as "Let's fight them over there so we don't have to fight them here." But Homeland Security now admits the "war on terror" is increasingly being fought at home.
Monday, January 17, 2011 (2 comments)









Reversing the Erosion of Civil Liberties The Department of Defense (DOD) was caught after years of administering its annual mandatory anti-terrorism test that equated protest with terrorism. The correct answer on the DOD test for "What is an example of low level terrorism activity?" was "protest."
Monday, January 10, 2011 (4 comments)









OMB Orders Government Agencies to Monitor Disgruntled Employees -- What's Next? Under the guise of sealing government from WikiLeaks, OMB Director Jacob J. Lew issued a memo on January 3 to all government agencies providing pages of suggested security procedures and checklists and also recommending "all agencies institute an insider threat detection awareness education and training program" to "gauge trustworthiness" of their government employees. Let's look at some of OMB's ludicrous suggestions.
Saturday, December 4, 2010 (23 comments)









Take Off the Blindfold. Don't Be Afraid to See the Truth! The current quagmire devoid of truth on every level is a vortex sucking us all down. A truly independent media mechanism like WikiLeaks and more government whistleblowers would be a huge part of a root solution and that is why those in power are in the process of somehow (whether thru assassination or prosecution), taking them out.
Saturday, September 25, 2010 (24 comments)









Inspector General Criticism Doesn't Faze FBI Raids on Midwestern Anti-war Activists Obviously the scathing review of post 9-11 FBI "terrorism investigations" targeting various peace and social justice groups completed by the Department of Justice Inspector General (IG) and just issued four days ago gave no pause to the FBI to reflect before continuing to do more of the same. Nor did accompanying media revelations about the FBI having improperly conducted surveillances of an antiwar rally in Pittsburgh;
Wednesday, June 16, 2010









WikiLeak Case Echoes Pentagon Papers Julian Assange & Army Intelligence Specialist Bradley Manning follow in the tradition of fearless tellers of the truth such as Daniel Ellsberg & Thomas Paine.
Sunday, May 23, 2010 (4 comments)









Government Whistleblower Protection: the Long Ignored Way to Better Connect the Dots Without strong protection for Whistleblowers, the US government is hamstrung. Not only in our prevention and response to emergencies, but more often in accountability afterwards. Why were over 60 attempts to report an alleged 9/11 hijacker ignored? And why were these reports buried right after the attacks? Read about pending legislation and the 2010 National Whistleblowers Conference kicking off tomorrow in DC.
Tuesday, May 18, 2010 (1 comments)









Quarles Public Safety Exception to Miranda: The Ethical, Legal and Effective Answer to "Ticking Time Bombs" Law enforcement professionals don't need any of the "dark side" extrajudicial methods begun by the Bush Administration but they do need to use the legal exception to the Miranda Rule in those rare but actual public safety emergencies when lives hang in the balance.
Wednesday, January 20, 2010 (5 comments)









September 11th Advocates In Disbelief and Still Seeking Accountability it's actually worse than just plain lack of accountability AFTER something bad happens; there's also no protection for anyone in government to speak out ahead of time.
Sunday, December 6, 2009 (5 comments)









New Warnings to a New War President American foreign policy has been do what we tell you todo & give us what we want or we will kill you for far too long. Now we have yet another president who thinks it's a good way to do business. Not everybody agrees.
Sunday, May 10, 2009 (1 comments)









What's FISHY?---PawLENTY! Guess who got up at the crack of dawn yesterday morning to try and warn all the people heading out on White Bear Lake at Minnesota's grand "Fishing Opener" to be on the look-out for this Pirate PawLENTY who's known to have sworn in pirate blood not to raise taxes on the wealthy, even if it means holding Minnesotans hostage these last six years
Friday, April 24, 2009









Torture is Wrong, Illegal and It Doesn't Work, Coleen Rowley first wrote this article for the Consortiumnews.com website. We re-publish it here with her permission.