Articles Listed By Date List By Popularity
Page 1 of 2 First Back Next 2 View All
Wednesday, October 14, 2015 (1 comments)









Smashing the Abbas icon of Palestinian non -- violence The Oslo accords were the crown of Abbas' life -- long endeavour. The "burial" of Oslo would inevitably be the end Abbas' era
Monday, September 28, 2015 (2 comments)









Time for UN to shift mission in Yemen It is high time that the UN moves to facilitate an exit strategy for Saudi Arabia from Yemen
Friday, March 20, 2015









U.S. opens up to Hamas, Muslim Brotherhood, Syria, and Iran On 6 March, President Barack Obama's administration appointed Robert Malley as the Special White House Coordinator for the Middle East, North Africa and Gulf region. Malley is scheduled to assume his new position on 6 April, succeeding Philip Gordon.
Saturday, February 21, 2015









UN peace coordinator unwelcome by Palestinians What can Mladenov do that his predecessors, the UN, the Quartet, the Arab League and others, couldn't?
Thursday, December 25, 2014 (3 comments)









Fighting 'Islamic State' is not the Israeli priority "To defeat ISIS and leave Iran as a threshold nuclear power is to win the battle and lose the war," Prime Minister Benjamin Netanyahu told the UN General Assembly last September.
Thursday, December 18, 2014









Israeli role in Syrian conflict brought into the open Covertly however Israel is a key player in prolonging the depleting war on Syria and the major beneficiary of neutralizing the Syrian military.
Sunday, November 23, 2014









Gaza bombings rock Palestinian reconciliation The hands that carried out the bombings in Gaza might be Palestinian and even Fatah or Hamas hands, but those who issued the orders could not have been Palestinian decision-makers.
Tuesday, November 11, 2014 (7 comments)









The endgame of the US 'Islamic State' strategy Conspiracy theories aside, the eventual outcome is a sectarian Sunni military & political wedge driven into the Iraqi geographical connection of the Iran-Syria alliance. The IS was conceived & delivered in an American womb. The US-drafted & enforced current constitution produced the sectarian govt that is still trying to rule in Iraq. Sectarian cleansing & exclusion of Sunnis could not but inevitably create its antithesis
Friday, October 3, 2014









Palestinian-U.S. relations head for stormy times President Abbas, who for decades placed his faith in U.S. good will, has finally reached the conclusion that it is futile to continue to depend on the U.S. and that now is the time to stand up to Washington and turn to the international community to sponsor his negotiating strategy.
Friday, September 19, 2014









Donors will fail Gaza again The donors who attend the upcoming Cairo conference will probably make the same pledges they made at the two previous conferences and then once again fail to fulfil them.
Monday, September 15, 2014









Palestinian reconciliation at crossroads Abbas has, indeed, prioritised "peace with Israel." He has devised plans for resuming negotiations, and is still banking on American support for such talks. This is the only explanation for the current anti-Hamas media campaign.
Saturday, June 21, 2014









Iraqi hydrocarbon prize of U.S. invasion in danger The unfolding collapse of the U.S. proxy government in Baghdad has cut short a process of legalizing the de-nationalization of the hydrocarbon industry in Iraq, which became within reach with the latest electoral victory of the Iraqi prime minister since 2006, Noori al-Maliki.
Wednesday, June 18, 2014









Antagonizing Palestinians, Australia's linguistic blunder snowballs Bishop's and Abbot's "no change" statements tried to imply that their country's policy has not changed and that if there was a change it is a linguistic one only.
Wednesday, June 4, 2014 (1 comments)









Pope's unbalanced neutrality in Holy Land By laying a wreath of white and yellow flowers, the colours of the Vatican, on the Herzl's grave, the pope broke another historic precedent. It was an unbalanced act, 110 years after Pope Pius X met Herzl and rejected the idea of a Jewish state.
Saturday, May 24, 2014









The 'revolutionary' face of the Syrian conflict The horrible image of the "revolutionary" performance in Syria imposed itself on the media and public opinion to an extent that it has become impossible to black it out anymore.
Saturday, May 10, 2014









Israeli ties compromise Asian support to Arabs Asian-Israeli exchanges deprived Israel of an influential incentive for making peace. They should have been at least postponed as an Asian prize for ending the Israeli military occupation of Arab lands in Palestine, Syria and Lebanon
Friday, April 18, 2014 (2 comments)









Survival Is the Saudi Key Word As demonstrated by Obama's visit to the kingdom on March 28, the bilateral differences will remain tactical, while the strategic alliance will hold until the kingdom finds a credible alternative to its American security guarantor, although this seems an unrealistic development in the foreseen future.
Wednesday, April 9, 2014









Assad Is There to Stay The war on Syria has taken a U-turn during the past year. Assad now firmly holds the military initiative. The long awaited foreign military intervention could not take off; it was prevented by the emerging multi-polar world order. Syrian and non-Syrian insurgents are now on the run. Assad stands there to stay.
Wednesday, March 19, 2014









Counterproductive Reactive Saudi Policies Ahead of Obama's visit, the Saudi message is self-evident. They are looking, on their own, for alternative security guarantees, or at least additional ones. They don't trust their decades - long American security umbrella anymore.
Thursday, March 6, 2014









In Birzeit, 'Trigger Happy' Israel Vindicates Amnesty's Report The four – apartment building was bulldozed and shelled out of use and its contents burned and vandalized. Four families suddenly found themselves on the street, waiting for charities.
Saturday, February 22, 2014 (1 comments)









Egyptian historic breakthrough with Russia, not a strategic shift yet It will be premature to conclude that the revived Egyptian – Russians relations indicate any strategic departure therefrom.
Wednesday, February 12, 2014









Playing Al-Qaeda Card to the Last Iraqi No doubt revolution is brewing and boiling in Iraq against the sectarian government in Baghdad, its U.S. and Iranian supporters as well as against its al-Qaeda sectarian antithesis.
Wednesday, February 5, 2014









Cornering a Brave Palestinian Man of Peace The emerging, heavily "pro-Israel" US-proposed framework agreement "appears to ask the Palestinians to accept peace terms that are worse than the Israeli ones they already rejected
Friday, January 10, 2014









The Saudi Bull in The Arab China Shop The three-year old conflict in Syria has somewhat been contained within its own borders, but Saudi Arabia's ongoing warmongering threatens to perpetuate the conflict and, more importantly, to spill it over regionally.
Wednesday, December 11, 2013 (1 comments)









Kerry's Coup from Mediator to Antagonist Kerry and his administration have obviously coordinated a political coup by the adoption of the Israeli preconditions for recognizing a Palestinian state almost to the letter, turning the Palestinian priorities upside down and changing the terms of reference for the Palestinian-Israeli negotiations.
Friday, December 6, 2013









Insurgency Responsible for Civilian Plight of Syrians The early successes of the insurgents were military exploits against peaceful civilians; they were not achieved in military vs. military battles. It was enough for a few rebels to hold any such peaceful town or village hostage, but it needs an army operation to kick them out.
Friday, November 29, 2013









Obama's "Big Prize' to Earn Nobel Peace Prize Obama's "big prize" to make him "feel that I deserve" the Nobel Prize as he had said then will be waiting for him until he ends the ongoing Israeli war on the Palestinian people and occupation of their land, at least since 1967.
Thursday, November 21, 2013 (1 comments)









Syria, Egypt Reveal Erdogan's "Hidden Agenda' Now it seems Erdogan's "Turkey is already carefully backpedaling" on its foreign policy," said Seufert. It "wants to reconnect" with Iran and "Washington's request to end support for radical groups in Syria did not fall on deaf Turkish ears."
Friday, November 15, 2013 (1 comments)









Libya almost Imploding, Status Quo Unsustainable The obvious alternative to Zeidan's western supported government would be a stateless society governed by militia warlords, while the survival of his government promises more of the same.
Sunday, November 10, 2013 (1 comments)









Saudis Fight a Lost Battle against Change Riyadh is fighting several preemptive battles outside its borders in its immediate proximity in a desperate attempt to prevent an historic regional tide of change from changing the country's pre-medieval system of governance and social life.
Tuesday, October 15, 2013









Israeli Factor in Syrian Conflict Unveiled Syria remains the odd number in the Arab peace-making belt around Israel; no comprehensive peace is possible without Syria; Damascus holds the key even to the survival of the Palestinian, Jordanian, and Egyptian peace accords with Israel. Syria will not hand over this key without the withdrawal of the Israeli Occupation Forces (IOF) from Syrian lands.
Wednesday, October 2, 2013









Rapprochement with US Reinforces Iran Hand in Iraq Until recently, Iraq under PM al-Maliki was posturing as tactically placating Iran on Syria while committing quietly to its Strategic Framework Agreement (SFA), which al-Maliki signed with the former US president George W. Bush on December 14. 2008.
Wednesday, September 18, 2013









Tormenting the Souls of Religious Arabs: "Arab Spring' Degrades into Sectarian Counterrevolution The "Arab Spring" was optimistically named after a season in nature during which life is reborn and was supposed to promise a renewal of the stagnant political, social and economic life in the Arab world, but unfortunately it turned instead into a sectarian season of killing, death and destruction by counterrevolution forces
Thursday, September 12, 2013 (1 comments)









The Shortest Path to Peace in Syria To end the Israeli occupation of the Golan Heights and other Arab Israeli -- occupied lands is the shortest US -- Israeli path to dismantling the Syria -- Iran alliance and to peace in Syria and the region.
Wednesday, September 4, 2013









Jordan Invites US Targets for Syrian Retaliation The moment of truth is around the corner for an intervention in Syria either from or with the participation of Jordan, where training in preparation for this moment has been going on by leaps and bounds for the past two years
Thursday, August 29, 2013









The Subterfuge of Syrian Chemical Weapons Kerry's statement was a declaration that Obama has at last given in to the warmongers who have been leading a media blitz that has been beating the drums of war on Syria for two and a half years now; Kerry only added "chemical fuel" to it.
Monday, August 26, 2013









Egypt's Foreign Relations on Tightrope U.S. bilateral relations with Egypt seem about to head to a turning point, but for sure at least there is "no doubt" that Washington "can't return to business as usual" with Cairo as Obama told CNN on August 23.
Thursday, August 15, 2013









The Killers of Peace Ironically, "Israel's settlement project" has evolved "irreversible" nonetheless, mocking the U.S. repeatedly declared illegitimacy thereof as merely a lip service that has been all throughout a thinly veiled cover of the U.S. actual protection of the accelerating expansion ever since of "Israel's colonial" project
Wednesday, August 7, 2013









Kerry's Success Worse than His Failure According to Albert Einstein, "doing the same thing over and over again and expecting different results" is "insanity," but that is exactly what John Kerry seems to have achieved after six tours of shuttle diplomacy in the Middle East since he was sworn in as the U.S. Secretary of State
Thursday, August 1, 2013









Egyptian Revolution Derailed, Contained Washington D.C. is adapting to this "regime exchange" in order to prevent a "change in the regime," which the successive US administrations have nurtured as a strategic asset to both the United States and its Israeli regional ally since the Camp David accords of 1979
Sunday, July 28, 2013









Kerry Uses Arabs to Bully Palestinians* Lebanese analyst Ziad Al-Sayegh recently wrote that "after the failure of the internationalisation of the talks [through the Quartet], we are now going through a regionalisation of the talks [through the Arab League]."
Wednesday, July 24, 2013









Immutable Egypt -- Gaza Bonds* Hamas and the Muslim Brotherhood never hid their ties.But the adversaries of both would have us believe that anything that befalls the Muslim Brotherhood in Egypt will befall Hamas in Gaza, which is an exaggeration
Friday, February 22, 2013 (1 comments)









Palestinians Disqualify U.S. as Peace Broker Releasing a $ 700 million of U.S. blocked Palestinian aid, using U.S. good offices to make Arab donors honor their pledges to them or convincing Israel to release the tax and customs revenue it collects on their behalf are not the kind of U.S. "carrots" that would open a breakthrough.
Thursday, February 7, 2013









Israel Fuels Syrian Fire, Risking Regional Outburst Ironically, Israel cites the presence of those same rebels along the borders of the Israeli -- occupied Golan Heights as the pretext to justify "considering creating a buffer zone" inside Syria
Wednesday, January 23, 2013









Qatar and U.S.: Collusion or Conflict of Interests Given the U.S. -- Qatar alliance, the Qatari Islamist connection threatens to embroil the U.S. in more regional strife, or at least to hold the U.S. responsible for the resulting strife
Wednesday, December 5, 2012 (4 comments)









Israel's Doomsday E-1 Settlement The international outcry is not against the Israeli policy of settlements on Palestinian occupied land per se, but against this one particular E-1 settlement
Tuesday, August 21, 2012 (2 comments)









The Missing Option to Defuse Iran Threat To keep "all options on the table" in the U.S. -- Israel plans to change the incumbent Syrian and Iranian regimes and neutralize what both countries perceive as an imminent "threat" is a formula missing the only feasible option to defuse their perceived threat peacefully
Saturday, May 19, 2012 (2 comments)









Peace-making without Mediators Palestinians have had enough and now saying enough is enough: Peace is a mirage, peace-making is a failure, peace process is a sham, peace mediators are a fake
Monday, January 2, 2012









Unsustainable Israeli Politics of Exclusion in Jerusalem Judaization of the holy city, is a roadmap to de-Arabizing, de-Islamizing, de-Christianizing, de-historizing and de-humanizing Jerusalem
Wednesday, November 2, 2011 (1 comments)









Syria, The Arab Yugoslavia Of Middle East U.S. and NATO seem now in a race against time to preclude the implementation of the Syrian package of reforms, until the ruling regime is coerced into compliance to trade their support of these reforms for the current Syrian foreign policy agenda.
Monday, April 4, 2011 (1 comments)









Where U.S. Chooses to Back "Armed Struggle' Libya is a "unique situation," Obama says, where the U.S.-led military intervention and the backing of an armed revolt is the exception and not the rule in U.S. foreign policy.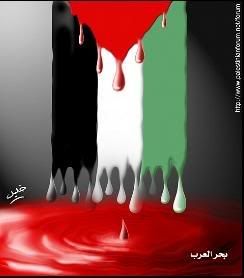 Monday, March 14, 2011 (1 comments)









A Palestinian Wrong Way to Peace We cannot be united until we're willing to struggle against occupation together. And we cannot be democratic until we've learned how to share. So far, the PLO is neither sharing nor struggling, and its quest for peace is therefore doomed.
Thursday, February 17, 2011









Palestinian September 2011 Deadline Doomed Squeezed between external and internal pressures, the PLO as a peace partner is at its weakest breaking point and could not afford the slightest additional pressure.
Monday, January 31, 2011









Middle East at Strategic Crossroads, U.S. as Well In view of the U.S., Arab and Israeli thinly veiled determination to save the moment in Egypt, it was a forgone conclusion that Mubarak will cling to power, thus setting the stage either for a long battle of instability with his own people or cutting this battle short by a bloody crackdown that would make the repression which created the present people's uprising look like a mercy.
Friday, January 21, 2011 (3 comments)









United States Has a Choice in Tunisia Indeed the U.S. has now a choice in Tunisia. The Arab country which is leading the first Arab revolution for democracy is now a U.S. test case. Non -" U.S. intervention would establish a model for other Arabs to follow; it would also establish a model U.S. policy that would over time make Arabs believe in any future U.S. rhetoric on democracy
Sunday, January 16, 2011 (3 comments)









Christian Arabs' Plight: Foreign "Protection' Counterproductive Ironically this sudden western awakening to the plight of Christian Arabs comes at a time when all Arabs, both Muslims and Christians, are crushed by U.S. and Israeli military occupation or foreign political hegemony, but worse still when they are in the grip of a social upheaval
Wednesday, November 10, 2010









Peace Held Hostage to Rotating US, Israeli Elections Once and again, then again and again, U.S. and Israeli elections bring about new players and governments that renege on the commitments, pledges and promises of their predecessors vis a vis the Arab Israeli conflict in general and the Palestinian Israeli peace process in particular, with an overall effect of being much more harmful to peace making than any forces of "extremism."
Saturday, July 24, 2010









Who's aiding Judaisation? PA officials in Ramallah expressed outrage at the tax breaks for private US donations to fund Jewish settlement expansion in the occupied territories.
Saturday, July 17, 2010









No Help from Washington Now the lack of unity and resistance threaten to banish the PLO into the wilderness, or turn it into a lackey of the occupation authorities.
Wednesday, June 9, 2010









Israel Is Fueling Anti-Americanism among U.S. Allies Biden is the least qualified to allay Arab anger for being the most vocal among U.S. officials in "legitimizing" Israel's blunder. The Gaza flotilla episode has dispelled the benefit of doubt the Arab allies have given to President Barak Obama's promises of change in U.S. foreign policy in their region