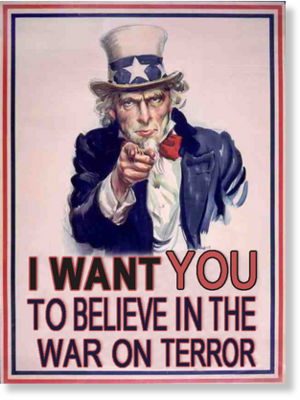 Does anyone believe it anymore? I really wish I had access to a reliable census on what the majority of people in this world believe about the purported 'Islamic terror threat', 9/11 etc. etc. Over the past 10 years several US 9/11 polls have been published. Depending on which of the shockingly few mainstream media corporations you prefer, somewhere between 36% and 62% of the US public believe that the US government is, at the very least, not telling the truth about the 9/11 attacks. If true, (and we have every reason to believe that the media corps down-play the figures) what does that mean for public perception of the 'Islamic terror threat' on which the 9/11 attacks are based?

If a majority of human beings can, at this stage, see through most of the increasingly crass US, British, French and Israeli government and assorted 'Intelligence' agency hyperbole and propaganda, can we expect them to just drop the whole charade any time soon? Sadly, recent media reports suggest otherwise and point to a deepening of the global psychological operation to which we have all been subjected these past 10 years.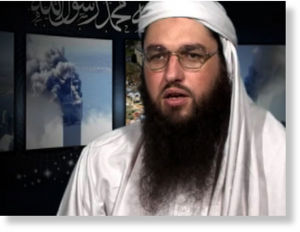 "Media reports". We use and hear that term so often in reference to the 'war on terrorism' that we can easily forget what it actually means. It means that everything you know, or think you know, about the global terror threat has come to you via media corporations that are either owned or controlled by the governments that are waging the 'war on terror' and profiting handsomely from it. Does that bother anyone?

To make matter worse, the stories you watch, listen to and read concerning what's what and who's who in Muslim terror-land are invariably provided by the intelligence arms of the same governments. There are no 'al-Qaeda' TV or radio stations, no 'Muslim Terrorism' weekly magazines with articles and Op-Eds penned by Osama and his alleged cohorts. And before you protest, all of the 'al-Qaeda' internet video and audio tapes that you vaguely remember seeing and hearing have long since been deemed so suspect by objective analysis that they are inadmissible as reliable evidence.

Take for instance the recent reappearance of 'Adam Gadhan', the all-American 'home-grown' spokesman for Osama bin Laden. Gadhan was born Adam Pearlman, the son of Californian hippy goat-rearing parents and the grandson of Anti-Defamation League board member, Dr. Carl Pearlman with whom Adam lived during his childhood. During his teenage years, Adam dabbled in the death metal scene before finally opting for Islam, to which he converted when he was 17. Soon thereafter, he seems to have disappeared off the face of the planet for a while, with reports (from Intel agencies) claiming that he moved to Pakistan in 1998, where, at the tender age of 19, he is said to have married an Afghan refugee.

In March 2001, he cut off all contact with his family, just before Muslim Terror Inc. went live. Later that year, he reemerged (on the internet) with a new name, Adam Yahiye Gadahn', a new Muslim beard and elevated to the position of "senior commander to Bin Laden translator, video producer, and cultural interpreter." I kid you not. Since then Adam has been the front man for 'As-sahab', allegedly the media arm of 'al-Qaeda', and has starred in several video messages where he attempts to combine Californian schmooze with radical Islamic ideology...to limited success. Here's one such video dispatch for your viewing pleasure (note, you can tell he's reading a prompter):



http://www.youtube.com/v/nE2sh2VISTI?fs=1&hl=en_US">



That particular video was released a few years ago by Intel Center, which has released most of the 'al-Qaeda' audio and video tapes. Intel Center claims to be a "private contractor working for intelligence agencies" that "studies terrorist groups and other threat actors and disseminating that information in a timely manner to those who can act on it." It is also a stone's throw from CIA HQ in Virginia. Owned by Verisign, which operates "two of the Internet's thirteen root nameservers, the generic top-level domains for .com, .net, .cc, .name and .tv", Intel Center's CEO is Ben Venzke, a former US intelligence officer. Alongside Venzke is 'Director of Threat intelligence', Jim Melnick who served 16 years in the US army and the Defense Intelligence Agency (DIA) and worked in psychological operations. The IDEFENSE website described him this way a few years ago:
Prior to joining iDefense, Mr. Melnick served with distinction for more than 16 years in the U.S. Army and the Defense Intelligence Agency. During this period, Mr. Melnick served in a variety of roles, including psychological operations, international warning issues with emphasis on foreign affairs and information operations and Russian affairs. He also served in active political/military intelligence roles with an emphasis on foreign affairs. Mr. Melnick is currently a U.S. Army Reserve Colonel with Military Intelligence, assigned to the Office of the Secretary of Defense.
Note that Melnick was assigned to the Office of Donald "Go massive sweep it all up. Things related and not" Rumsfeld'. Melnick does more or less the same job for another company called ISight Partners. Basically, he has his finger on the pulse of all potential 'cyber-threats' and works for a company (Verisign) that should have no problem at all in identifying precisely where in the world any 'al-Qaeda' video or audio message had been uploaded to a server. With his military Intel background, surely he could then notify the recruits manning the predator drones in the CIA's Arizona bunker? Apparently not, because the stars of all these 'al-Qaeda' videos are still at large, after 10 years, and the only people receiving the predator's special brand of freedom and democracy are innocent Afghan and Pakistani villagers. Although I shouldn't be too hard on the Intel Center guys, they are clearly a talented bunch, after all, it takes serious intel savvy to predict the release of an 'al-Qaeda' video in advance!
New Al Qaeda Tape to Be Released

July 05, 2006

Al Qaeda is set to release a new video tape featuring one of the suicide bombers from last year's London attacks, according to Ben Venzke at the IntelCenter. Venzke says the as-Sahab production house will be putting out a tape on the Internet sometime Thursday that includes a video last will and testament of Shahzad Tanweer as well as a new statement from the al Qaeda number two leader Ayman al-Zawahiri.

The tape is also expected to include former Californian Adam Gadahn, who now goes by the name of Azzam al-Amriki. Gadahn is believed by U.S. authorities to be running the al Qaeda propaganda operation from a secret location somewhere inside of Pakistan.
If you'd like the inside scoop on when the CIA Intel Center'al-Qaeda' plans to release another fascinating dispatch from the front lines of Langley 'Tora Bora', their 'Terrorism Threat Intel Package' can be yours for $1,499 per user per year. Really, it's well worth the money, they put a lot of effort into making these videos available. Consider, for example, the 2006 'al-Qaeda' video featuring Islamic terrorism's Mr Magoo, Ayman al-Zawahiri. After its release, the video was analyzed by computer security consultant Neil Krawetz. During a presentation he gave at the BlackHat security conference in Las Vegas in 2007 about analyzing digital photographs and video images for alterations and enhancements, Krawetz showed that the video had been altered in a very interesting way.

Using a program he wrote (and provided on the conference CD-ROM) Krawetz could print out the quantization tables (that indicate how the image was compressed) and determine the last tool that created the image - that is, the make and model of the camera if the image is original or the version of Photoshop that was used to alter and re-save the image.

This is the image from the video he analyzed.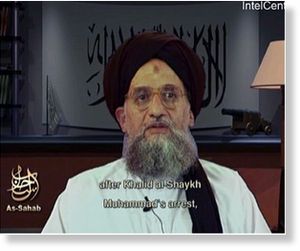 After conducting his error analysis, Krawetz was able to determine that the writing on the banner behind al-Zawahiri's head was added to the image afterward and at the same time as the logo of Intel Center.