Jodin Morey and D. L. Corvin of ImpeachforPeace.org, along with David Swanson of AfterDowningStreet.org, met with a number of Representatives in DC last week, delivering Do-It-Yourself impeachment petitions and copies of "The Genius of Impeachment" by John Nichols, discussing the critical importance of impeachment and encouraging support for H. Res. 333 (Kucinich's resolution calling on the impeachment of Dick Cheney).

Below you'll read the opinions of many congresspeople on the topic of impeachment. However, despite repeated calls, faxes, and emails, the following representatives on the Judiciary Committee failed to make available for a meeting even one of their aides: John Conyers (D-MI), Artur Davis (D-AL), Steve Cohen (D-TN), Melvin L. Watt (D-NC), Howard L. Berman (D-CA), Rick Boucher (D-VA), Zoe Lofgren (D-CA), Sheila Jackson Lee (D-TX), William D. Delahunt (D-MA), Linda T. Sanchez (D-CA), Hank Johnson (D-GA), Luis Gutierrez (D-IL), Brad Sherman (D-CA), Anthony Weiner (D-NY), and Tammy Baldwin (D-WI).

9:45 a.m.

We supplied impeachment materials to the office of Republican Congressman Walter Jones (R-NC), who has been critical of the Iraq war. We encouraged him to support impeachment.

Contact Rep. Walter Jones
202-225-3415
Contact Him

10:00 a.m.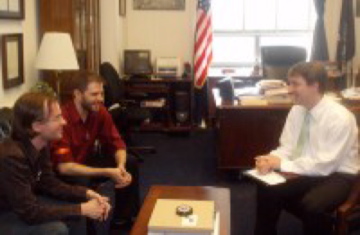 We met with Washington Director John Doty of Rep. Jerrold Nadler's staff. We had a detailed forty-five minute conversation, starting with an explanation of the DIY impeachment process and presentation of ImpeachCheney.org signatures supporting the impeachment of Vice President Cheney. Although Mr. Doty did not choose to accept the memorials for presentation on the floor of the house, we shared with him considerable information about the impeachment process in its historical context and explored in some detail the possible ramifications of impeachment. It was clear that Mr. Doty was informed on the issue in general and had considerable insight into Rep. Nadler's current stance on the subject. Mr. Doty expressed skepticism about some aspects of impeachment, and was particularly concerned about the possibility that a failed attempt at impeachment might make Democrats look weak. Mr. Doty expressed Rep. Nadler's curiosity about the public's perceptions on impeachment and willingness to consider arguments for impeachment. We also presented Rep. Nadler with the book "The Genius of Impeachment."

Contact Rep. Jerrold Nadler's (D-NY)
202-225-5635
Contact Him

10:45 a.m.

We had a meeting scheduled with Rep. Maxine Waters (D-CA) herself, but when we arrived we were informed that Rep. Waters was busy at the moment. We discussed impeachment for about ten minutes with one of her staffers, who was not well informed on this issue and was unaware of Rep. Waters' current thoughts on impeachment strategy. The staffer made an attempt to locate Rep. Waters, but she remained busy. He encouraged us to call the scheduler as we were leaving to make an appointment with the Representative or an informed staffer. When we did so, the scheduler informed us that Rep. Waters would be busy for the duration of our stay. When we asked if we could schedule a phone conference, the scheduler stated they would call us back to do so if they had the chance.

Contact Rep. Maxine Waters (D-CA)
202-225-2201
Contact Her

11:45 a.m.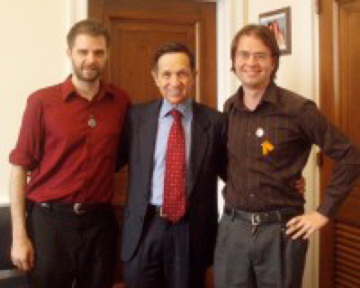 After a series of phone calls by David Swanson, we secured a meeting with Rep. Kucinich himself. Rep. Kucinich was clearly very busy, and this meeting was brief, but his energy and commitment to the cause was immediately apparent. After we explained our purpose in meeting with him, the Congressman agreed right away to submit the DIY Memorials to the Congressional Record in a manner that indicates the house rule which makes their submission possible and that references their historical precedent. The Congressman also agreed to enter into the Congressional Record the more than 100,000 ImpeachCheney.org signatures gathered in support of impeaching Vice President Cheney. Because there is a limit to the number of pages that a representative can submit to the Congressional Record each day, Rep. Kucinich stated he will continue to submit petitions every day until all the names are submitted. He also intends to hold a press conference about this. Details are still being determined.

At one point, Rep. Kucinich stated, "we've got to get this thing going." Although the meeting was only five minutes, this meeting was probably more productive than anything else we did today.

Rep. Dennis Kucinich (D-OH)
202-225-5871
Contact Him

1:00 p.m.

We met with Legislative Aide Adrienne Rose of Rep. Adam Schiff's Staff, again presenting the DIY Memorials and petitions. Ms. Rose was polite to us and stated that Rep. Schiff did not have a position on impeachment, which we understood to mean that the Congressman says he does not currently have an opinion about impeachment. We presented Rep. Schiff with the book "The Genius of Impeachment" and gave some information on the necessity of it.

Ms. Rose did not appear persuaded, but remained polite and emphasized several times that, among other factors influencing his opinion, Rep. Schiff values the opinions of his constituents. Representative Schiff's constituents should contact the Congressman to give their perspective on impeachment.

Rep. Adam Schiff (D-CA)
202- 225-4176
Contact Him

2:30 p.m.

We met with Legislative Director Ellen McLaren of Congressman Robert Wexler's office. Once more we presented the DIY Memorials and petitions, though Director McLaren did not choose to take the memorials or petitions. Director McLaren explained that Rep. Wexler, who has supported censure, has been moving closer to supporting impeachment and that he would likely make his decision on impeachment within the next few weeks, possibly after Congress adjourns in August. We spoke about the necessity of impeachment, its historical context, and possible consequences of supporting an impeachment resolution. Director McLaren noted that impeachment is discussed frequently in Rep. Wexler's office. We supplied the Congressman with other offenses for introducing another impeachment resolution in case the Congressman believes that H. Res. 333 is too controversial for some Representatives to support, and indicated that we could help provide considerable support for this. Director McLaren also expressed the congressman's concern about lack of support for his censure resolution. We explained that we believe the reason for this was because censure is not generally well understood, and when it is, Americans perceive it as weak. We also encouraged the Congressman to consider coming out for impeachment before going on vacation and presented Rep. Wexler with the book "The Genius of Impeachment."

Honorable Robert Wexler (D-FL)
202-225-3001
Contact Him